Large & Trendy: XLIGHT PREMIUM range from Urbatek, Porcelanosa Group
Ceramic tiles offer great potential to experiment with various design elements and are extremely versatile architecturally. This has been further aided by advancements in modern technology. Urbatek, Porcelanosa group is a leading brand in Spain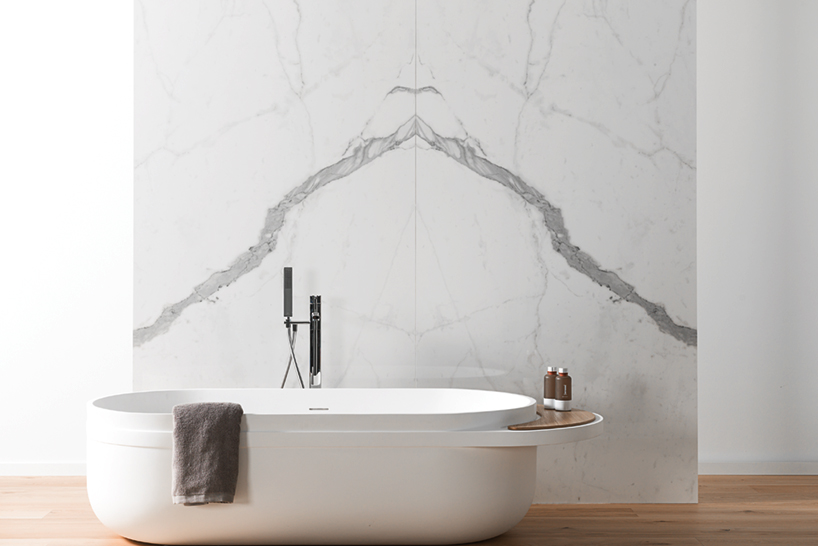 Ceramic tiles offer great potential to experiment with various design elements and are extremely versatile architecturally. This has been further aided by advancements in modern technology. Urbatek, Porcelanosa group is a leading brand in Spain and abroad. The brand has always strived towards values like innovation and quality. With almost 40 year's business experience, the company is present in almost 100 countries throughout the world with a unique business model and strong corporate strategy. Large is what everyone is looking for and the demand has increased through the year. As part of its ongoing line of research and development into large-format slimline XLIGHT porcelain sheets, Urbatek now brings the new revolutionary products from XLIGHT PREMIUM range. Developed using cutting-edge technology, these materials are conspicuous for their unparalleled realism and natural beauty.
XLIGHT PREMIUM
Inspired by marble, the new XLIGHT PREMIUM collection stands out for its rich variety of colours, combined with unique finishes that evoke the very essence of the polished and matt surfaces of the fine stone that they emulate, used in architecture since ancient times.
Synonymous with exclusive elegance, the collection is designed for use on indoor residential walls and floors. Nature, technology and the ingenuity of expert professionals were all combined to produce huge 12mm- thick 150 x 320cm sheets, with exclusive technical and aesthetic qualities. This immense new format ensures more applications for ceramic materials, including countertops, washbasin units, and counters for the contract market, among numerous other possibilities. XLIGHT PREMIUM can be used to create continuous surfaces by cutting the sheets into a wide variety of shapes and sizes, with countless end results.
Quarried marble is synonymous with high-quality fine materials, long-lasting resistance and eye-catching beauty. All these qualities have been recaptured with XLIGHT PREMIUM
Decorative Ideas
Continuity
This huge surface has been created using 4 patterns whose veins run in linear fashion from one ceramic sheet to the next. The materials for this layout are supplied to order sedimentary formations that create a contrasting veined pattern.
Random patterns
Multiple different combinations are possible, thanks to the wide variety of patterns. Laying the ceramic sheets in random fashion gives them an added natural appeal. They are supplied by default to create this kind of layout.
Book Match
Layouts with a book-matched or mirror-like effect, conceived to draw attention and to create an added sense of spaciousness. This layout, available with the LUSH and KALA models, is achieved by using two symmetrical models with particularly eye-catching patterns.
 Finishes
Polished
This high-gloss finish brings out the full intensity of the colours while also guaranteeing an incredibly high reflective capacity.
Nature
This finish comes in two versions: XLIGHT PREMIUM AGED, with satin effects that highlight the particles in the stone, or the rest of the collection's impeccable full matt finish.
Applications
Wall coverings
It can be revamped on the walls. This large-format porcelain tiles can be used for interiors with a truly unique appeal.
Floor coverings
It can be used on floors, bringing stylish elegance to residential floors, with immense potential for the creation of different layouts.
Colors
LUSH White emulates the purity of snow-white marble, with a subtle uniform veined pattern in a rich variety of shades from beige to differing browns and greys.
KALA White is a tribute to the timeless beauty of luminous white marble, with clear grey veins on a flaming background of finer ones.
SAVAGE Dark is dark grey, with dominant shades of tobacco and irregular grey and white branching veins.
NYLO is in a uniform solid shade of black, with subtle fine veins.
Format and Thickness
These large ceramic sheets – in formats ranging from 120 x 250cm for use on walls to modular 120 x 120cm sheets for use on indoor residential floors -have a slim line thickness of just 6mm. This simplifies the handling and transportation process, while still ensuring the necessary resistance.