Reading Time:
5
minutes
Bathroom tiles design goes far beyond functional requirements. When properly leveraged, tiles become a transformative design tool capable of elevating even modest bath spaces. Whether accenting walls, floors or features, the right tile selections empower homeowners to create beautifully tailored looks. This article explores innovative tile techniques and on-trend styles unlocking bathroom potential.
Tiles' moisture-resistant hard surfaces and easy-clean benefits make them ideal for bathrooms. But thoughtful consideration of scale, material, layout and finishing touches unleashes tiles' full beauty-amplifying abilities. Read on for strategic tile tips guaranteed to take basic bathrooms to a new level of sophistication.
Do More with Tile: Creative Techniques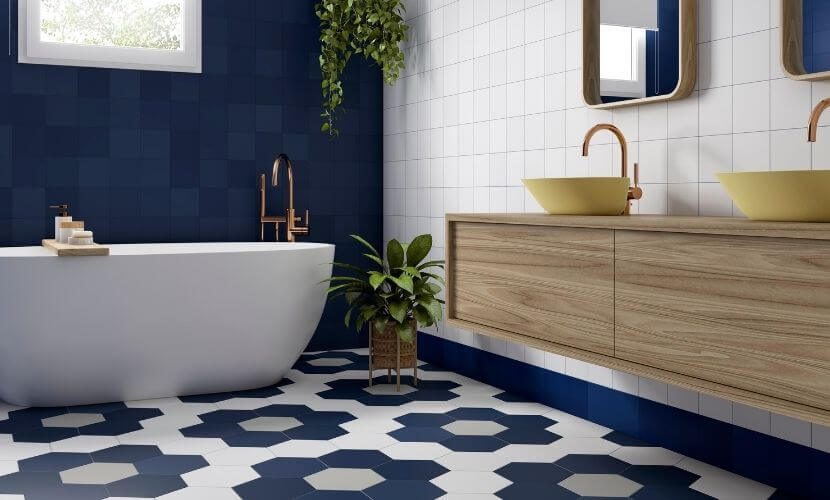 Don't limit tiles' impact by sticking to traditional layouts. Get innovative:
Peel-and-stick tiles – Adhere to any clean, dry surface including awkward areas for an instant refresh. Remove easily if desired.
Mosaics – Arrange tiny tiles into remarkable patterns adding depth, color and movement to walls and features.
Hexagons – Geometric shape brings graphic flair. Form linear or circular designs on floors or backsplashes.
Accent bands – Horizontal or vertical strips of contrasting tile dress up plain spaces.
3D effects – Stacked tiles create dimensional textures. Herringbone or other diagonal patterns introduce visual interest.
Feature walls – Center attention with a boldly tiled wall behind the tub or sink.
Trim tiles – Frame mirrors, windows or built-ins in matching or complementary tiles for cohesion.
Consider scale too. Large-format stone tiles paired with shimmering tiny glass mosaics generate elegant energy. Using maximizing creative techniques and materials unleashes tiles' full visual potential.
Current Tile Trends Setting Bathrooms Ablaze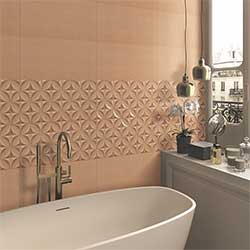 Stay ahead of the curve by incorporating on-trend tile styles:
Medium to large-format tiles – Oversized planks and slabs are installed easily for a modern look ideal in small spaces.
Natural stone looks – Marble, travertine and limestone-esque porcelain options exude luxury at affordable prices.
Textured surfaces – Embossed, hammered, fluted tiles add tactile appeal to walls.
Metallic tiles – Brass, copper and pewter tones lend a high-end spa vibe.
Graphic patterns – Geometric medallions, architectural motifs and geometric mosaics capture the eye.
Greens and blues – Tranquil earthy and aquatic hues relax bathers surrounded by nature.
Dark tile with light grout – Dramatic contrast gives depth to pale tiles and small rooms.
Layering on-trend materials alongside creative installation methods sets any bathroom remodel apart from the norm. Thoughtful tile colour and pattern selection enhance ambience as much as style.
Material Magic: Choosing the Right Tile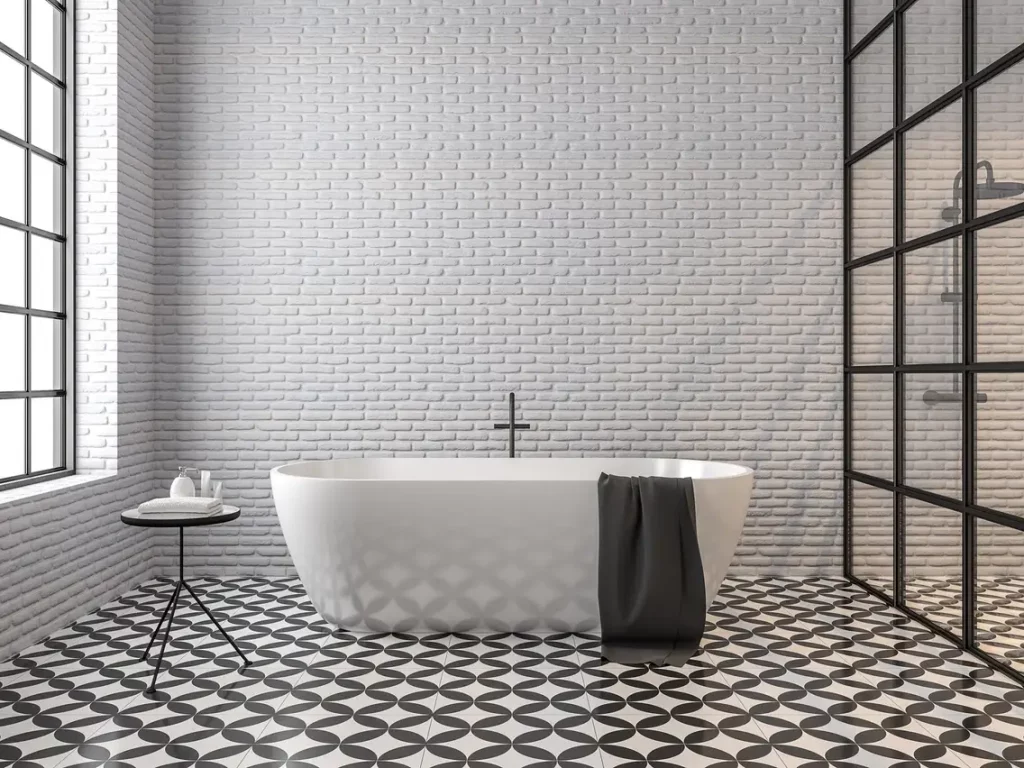 Tile type impacts functionality and maintenance as much as appearance. Consider these factors when selecting:
Ceramic – Affordable, durable and versatile in hues and textures. Less heat-resistant than other materials.
Porcelain – Practically impenetrable, heat resistant and looks just like an expensive stone at a fraction of the cost. Most hygienic material for high-moisture areas.
Stone – Luxurious appearance with narrow grout lines but higher costs. Requires more maintenance than non-porous tiles.
Glass – Shimmering clarity or interiors. Durable but may dull over time if not heat-strengthened. May discolour along grout lines.
Cement and resin – Eclectic looks, cost-effectiveness and low maintenance. Can yellow over time without adequate sealing.
With porcelain's practicality paired with other materials' cost-effectiveness, creativity takes priority over budget considerations. Harmonizing various tile types creates aesthetically balanced bathrooms. Mix textures and formats while coordinating colours for cohesion. And always confer with an expert to ensure proper installation suited for bathroom conditions. Well-anchored bathroom tiles built to withstand moisture guarantee long-lasting style.
Walls, Floors and Accents: Maximizing Tile Impact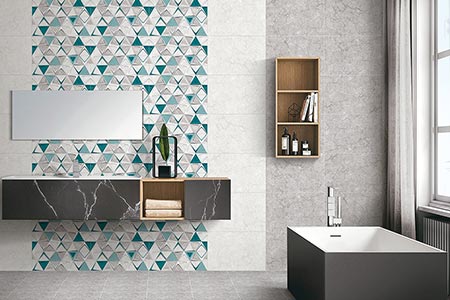 Every inch of the bathroom serves as a canvas when considering tile applications:
Floors – Sleek stone-look large-format or geometric mosaics. Ideal materials include porcelain and natural stone.
Full walls – Floor-to-ceiling tiles surround bathers in an oasis. Fully tiled elevates ordinary baths to spa-like escapes.
Half wall – Accentuate tub or shower areas with chair-rail height wainscoting protecting lower wall areas.
Backsplashes – Statement tile behind sinks coordinates countertops and cabinetry for kitchen-like polish.
Showers – Floor-to-ceiling tiles or decorative niche features enclosed steamy zones.
Accents walls – Draw eyes to focal points with a standout tiled wall behind toilets or tub/shower combinations.
Shelves and niches – Personalized storage Flows naturally from pendant-style mosaics or decorative ledges.
Window treatments – Introduce greenery with living wall planters accenting tiled bands surrounding windows.
With strategic tile placement, even small-scale bathrooms appear thoughtfully designed and refreshingly expansive. And the ensuing hygienic benefits serve a function as beautifully as form does.
Popular Tile Patterns Adding Personality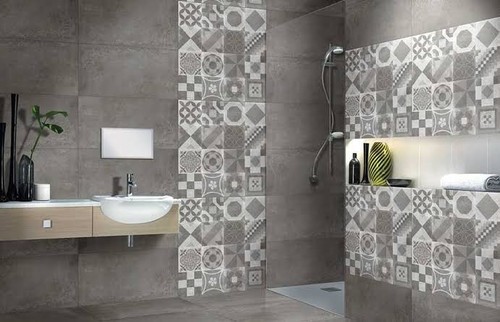 The tile layout introduces personal flair. Consider these tried-and-true and on-trend motifs:
Subway tile – Endlessly versatile with horizontal rectangles behind sinks. Infuse personality-coordinating colours across multiple walls.
Herringbone – Timeless texture flows like parallel zigzags on floors or walls. Blend patterned and solid tiles for balance.
Basketweave – Interlacing diagonal tiles evoke woven textures. Introduce peaceful movement.
Hexagons – Modern geometric magic appears downright artistic gracing floors. Disguise seams with coordinating grout.
** Statement mosaics** – Bring focal point drama with iridescent aquatic scenes and botanical prints in tidily cut glass or stone.
Chevrons – Pointed wedges trace V-shaped lines directing attention. Experiment with accenting a single wall or full vanity backsplash.
Books and ledger – Embrace traditional cottage charm with staggered rectangle "books" or "ledgers."
With even distribution and careful grout choice, complex patterns outfit baths in personality while avoiding clutter. Layer motifs harmoniously for a balanced design.
Tile Finishing Touches Polishing Bathroom Beauty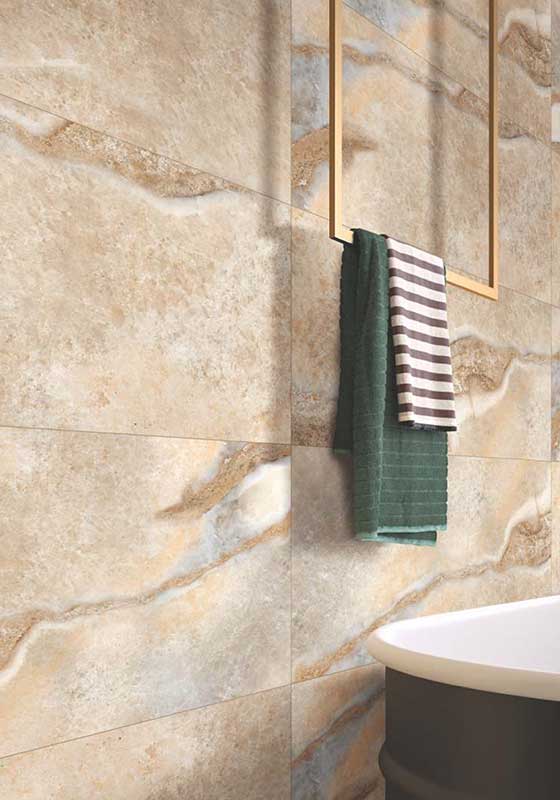 Now that tile brings style and structure, elevate the finished bathroom:
Polished stone countertops – Durable surfaces withstand moisture while complementing luxe tile aesthetics.
Fixtures – Sleek modern or antique-inspired fixtures like freestanding soaking tubs, pedestal sinks and rainfall showerheads flatter tile selections.
Mirrors – For functional beauty, frame mirrors in decorated tiles or install tiled surrounds as design accents.
Lighting – Sconces, pendants or recessed lights prevent shadows and magnify tile textures day or night.
Hardware and accessories – Brass, pewter or matte black accents tie in tile hues while preventing fingerprints.
Flooring – Marble-look porcelain or sleek engineered hardwood transitions between tiled zones in style.
Hardware – Sleek pulls and polished knobs avoid snow-like fingerprints on surfaces.
With coordinated sinks, tiles, lighting fixtures and hardware, your bathroom comes together as a seamlessly beautiful oasis providing function at its finest. Transformed spaces motivate daily self-care rituals.
Final Touches: Tile Installation and Maintenance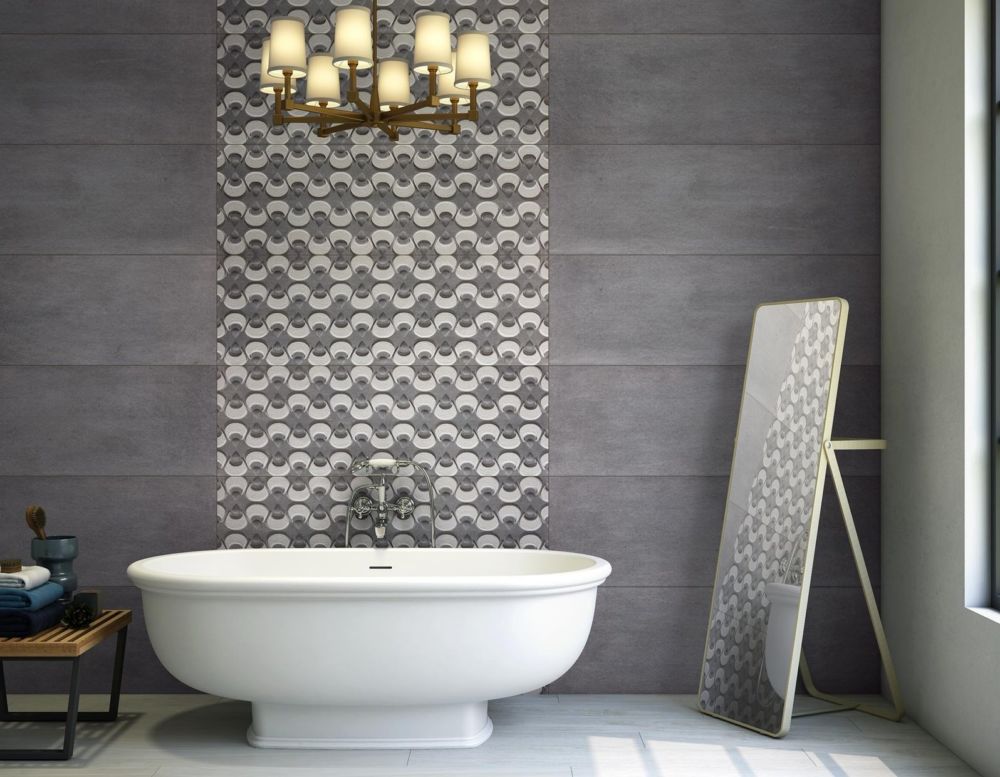 To preserve bathroom brilliance:
Prep surfaces thoroughly – Remove old materials, and patch imperfections for a smooth stable surface.
Use appropriate setting materials – Cement-based mortars bond tiles permanently whereas mastic adheres short-term for peel-and-stick tiles.
Select grout carefully – Epoxy resists staining and cracking better than sanded or unsanded traditional grout.
Keep tiles sealed – Natural stone risks etching, and staining. Reapply sealant twice annually.
Inspect grout periodically – Brush or wipe away mould, and mildew with oxygen bleach or hydrogen peroxide.
Wipe up spills immediately – Quick drying prevents long-term water damage.
Use gentle cleaners – Avoid abrasives which damage tiles, and grout over time.
With proper installation and care, your distinctively designed bathroom maintains its beauty for years of enjoyment. Now go unleash your tiling dreams!