Tiles are widely used on interior walls and exterior walls. They can immediately enhance the look and feel of the interior space. Whether to use as a wall highlighter for your living room or to add pop up colors in your kid's bedroom or giving a soothing effect in your master bedroom, wall tiles have become an ideal choice for interior designers. Wall tiles also highly preferred for external wall cladding as they are easy to clean and do not absorb heat. Popular tiles for walls that are highly recommended and used are polished vitrified tiles and glazed vitrified tiles. It comes in various textures such as rustic, matt, glossy. The availability of unique sizes and extraordinary finishes make them a popular choice for interior space.
Living room Walls
Tiles for living room walls add an outstanding touch and style to your space besides interior décor. Make your living room more beautiful, by adding textured walls or a statement piece of tiles, with an artful mosaic design. One can customize walls as per matching your interior decoration. Using large size marble look-a-like tiles matching floors gives a bold and contemporary touch to space. White polished tiles give an effective way to keep your living room bright. One can give some depth to space by installing striking three-dimensional tiles. Natural stone tiles giving tremendous texture to your walls with modern living space.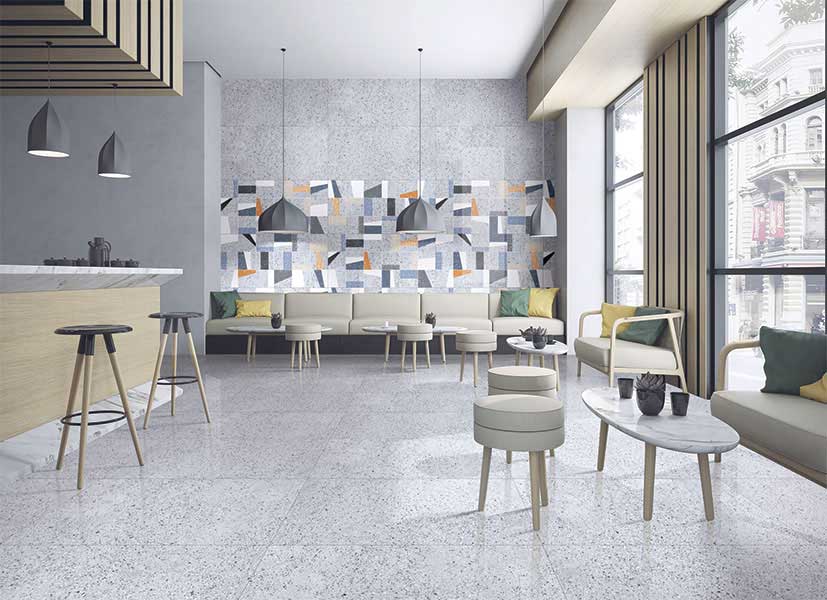 Bathroom Walls
Bathroom Wall Tiles are one of the best ways to transform your bathroom into a beautifully stylish look and a relaxing spa retreat. Choosing the perfect wall tiles can make all the difference in a bathroom and help you to create the bathroom you've always dream of. From mosaic to ceramic or natural stone look, will give your bathroom a very stylish look, which is very affordable and easy to clean. Glass mosaic is the easiest way to add pop-up colors, shine and shape to your shower backsplash. You can create a stripe, a framed accent, or a full wall with a glass mosaic, matching your floors. Contrasting both the color and shape of your shower tile is a great idea. Other tiles which are popular for bathroom walls are different textures, colorful patterns, such as subway tiles, gives a very different vibe to your bathroom. One can also add large-format wall tiles which will come with fewer grout lines and will work great for walls giving full coverage to the walls which will turn into a modern wallpaper look.