Reading Time:
6
minutes
Introduction: Enhancing Your Bedroom with Tiles
Looking to revamp your bedroom and create a haven of relaxation and style, then the transformative power of bedroom tiles is the way forward. With their versatility, durability, and aesthetic appeal, tiles are an excellent choice for elevating your sleeping space to new heights. In this comprehensive guide, we'll explore the myriad of possibilities that bedroom tiles offer, providing valuable insights and inspiration to help you design a bedroom that exudes elegance and comfort.
Dreamy Bedroom Tiles: Transform Your Sleep Space with Style
Having the right bedroom tiles can completely transform your sleep space and set the tone for relaxation. The tiles you select have the power to make or break the aesthetic and vibes in your bedroom. In this article, we will explore various bedroom tile options, design ideas, and tips to help you choose tiles that match your style and needs.
Bedroom tiles are one of the easiest and most affordable ways to completely change the look and feel of your bedroom. Whether you choose to update your floor, walls, or both, new tiles can bring a bright, fresh design wherever they're used. Follow along to find inspiration and practical guidance for incorporating on-trend tiles into your bedroom.
Choosing the Right Tile Material
The vast selection of tile materials available today provides endless possibilities for customizing your bedroom design. Ceramic, porcelain, stone, and wood-look tiles each have their own unique characteristics to consider. Ceramic and porcelain tiles are very durable, water-resistant, and inexpensive options suitable for floor and wall use. For natural beauty, stone tiles like marble or travertine are luxurious selections but require more maintenance. Faux wood tiles provide the warmth of real wood without the demanding upkeep. No matter your budget or style preference, there is a tile material that aligns with your needs.
Floor Tile Design Ideas
Bedroom floor tiles set the foundation for the entire room's aesthetic. Coordinate floor tiles with your bedding, wall colours, and furnishings for a cohesive finished look. Light-coloured large-format floor tiles will make a small space feel more open and airy. Warm neutral tones are soothing for a bedroom while bold patterns or glossy high-shine surfaces add visual interest. Mix and match tile sizes, colours, and textures for contemporary flair. Lay tiles on the diagonal for an elongated appearance. Consider practical factors like traffic areas when choosing textures. Tiles with some slip resistance are preferable for safety around the bed.
Incorporating Wall Tiles
Bedroom wall tiles can transform a dull wall into a focal point. Full wall tile installations are a dramatic option but easier to maintain than wallpaper or paint. Accent tiles around windows, above baseboards, or in a half-wall configuration are sophisticated design elements. Play with different layouts like herringbone or diagonal patterns for dimension. Light-reflecting wall tiles work well in small rooms. Install tiles only on one accent wall to preserve an airy feel. Wood-look planks or slats on the wall deliver natural charm without the commitment of real wood panelling. Use your bedroom wall tiles to set a serene, spa-like mood.
Tiling Techniques and Material Combinations
Bedroom tiles provide endless creative freedom to design one-of-a-kind spaces. Explore combinations of materials, sizes, and patterns on the floor and walls. Lay floor tiles on the diagonal and walls vertically for visual contrast. Use large format floor tiles and smaller mosaic wall tiles for balance. Create defined zones with different tile materials like a platform bed framed by porcelain trim tiles. Accent chevron or hexagon-shaped feature tiles add personality anywhere in the room. Overlap floor and wall tiles slightly for a cohesive flow between surfaces. Experiment with tiling backsplashes, built-in niches, or surrounding mirrors for completeness. Play is encouraged when mixing up textures, colours, and styles for a unique bedroom personality.
Top Tile Choices for Various Bedroom Styles
Classic bedroom designs call for traditional tile options like porcelain or ceramic tiles in neutral tones. Ivory, beige, grey, and muted pastels suit elegant, timeless aesthetics. Wood-look planks widely suit rustic, cabin, or beach themes. Natural stone tiles lend an air of sophistication whether in contemporary or traditional interiors. Modern spaces shine with sleek large-format glossy tiles in solid colors or geometric patterns. Subway tiles never go out of style and work for all design eras. Eclectic mixers can blend materials, textures, and colours fearlessly for one-of-a-kind vibes. Embrace your individuality and experiment with trendy designs. Let your style preferences guide you toward the perfect tile match.
Decorating Tips Using Tiles
Tiles offer unique opportunities beyond basic wall and floor installations. Consider tiles for shelving, headboards, bed frames, and window seats, built-in niche decor. Floating shelves made of small square tiles or planks display personal items beautifully. Frame a mirror or gallery wall with decorative field tiles for visual interest. Bind together throws, pillows, and soft goods on a tile tray to set the relaxing tone. Install decorative tile backsplashes behind upholstered headboards or tufted benches. Play with texture and dimension using large and small mosaic tile cut-outs. Let tile details enhance your bedroom furnishings for a cohesive style. Tiles allow for creativity and function wherever they are applied in a room.
Choosing Bedroom Tiles on a Budget
Updating your space does not have to break the bank when you shop smart. Look for discounted remnant pieces and combinations for the remaining tiles. Search clearance sections for deals on classic colors easy to coordinate. Ceramic floor tiles tend to be the most affordable option suitable for high-traffic areas. Consider DIY installations with simple tile patterns for savings. Home improvement stores regularly run sales on the in-stock tiles. Explore online-only retailers where overhead costs are lower. Backsplash tiles or smaller wall applications require less material keeping costs down. Wood-look plank tiles simulate the real thing at a fraction of the price. Budget-friendly faux materials match expensive counterparts beautifully. With patience and strategy, you can refresh your space affordably.
1. Discovering the Beauty of Tile Flooring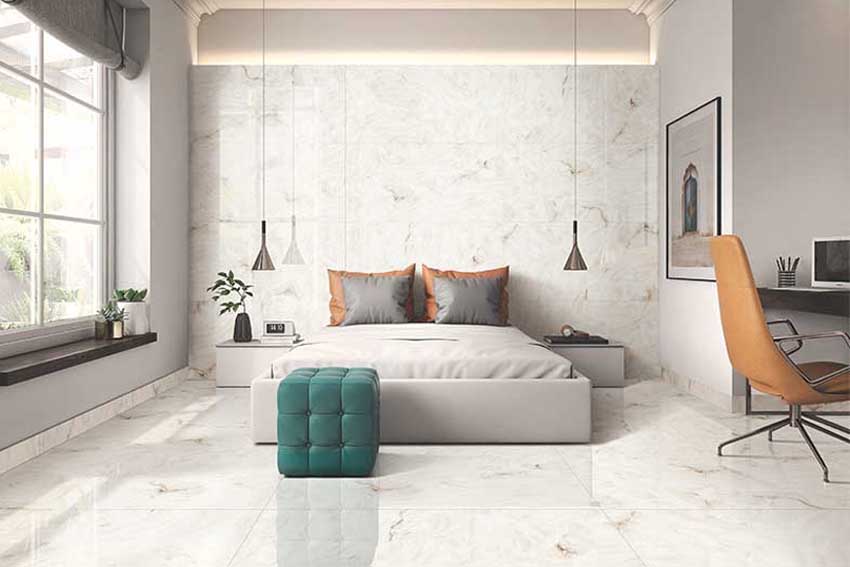 Gone are the days when tiles were confined to kitchens and bathrooms. Today, tile flooring has emerged as a popular choice for bedroom design, enabling homeowners to enjoy a seamless flow of style throughout their living spaces. Imagine waking up every morning to the soft touch of cool tiles under your feet, creating a refreshing and invigorating start to your day. With a wide range of colours, patterns, and textures available, tile flooring allows you to unleash your creativity and design a bedroom that reflects your unique personality and taste.
2. Embracing the Allure of Wall Tiles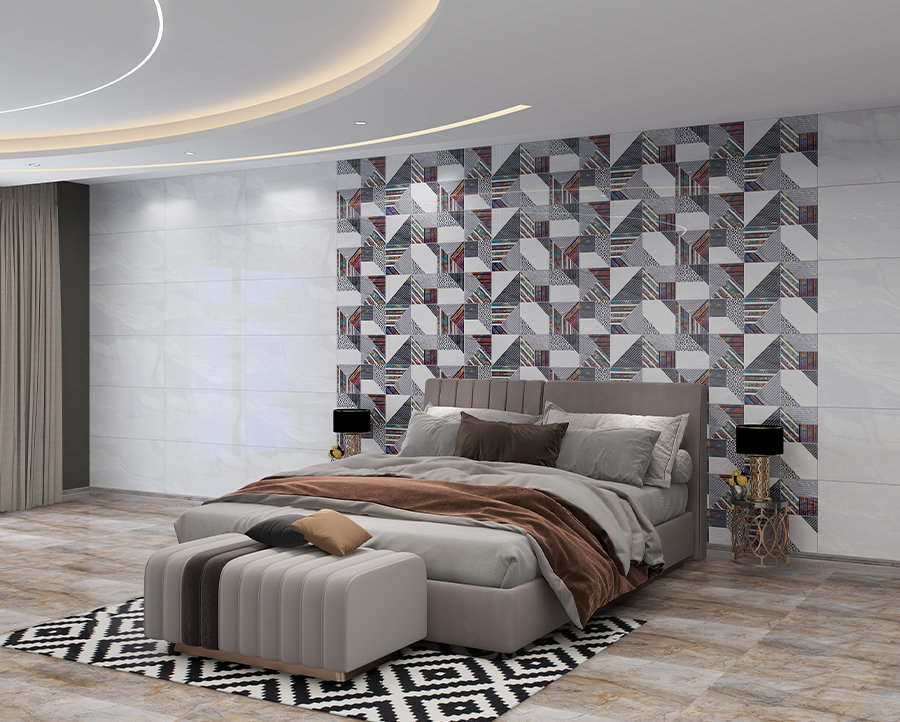 Don't overlook the impact that wall tiles can have on your bedroom's overall ambience. Whether you desire a serene retreat or a vibrant expression of your personality, wall tiles can help you achieve your vision. Consider creating an accent wall adorned with mosaic tiles, instantly adding drama and sophistication to your bedroom. Alternatively, opt for larger format tiles in soothing colours to create a tranquil and harmonious atmosphere. The possibilities are endless, and the choice is yours to make a bold statement or create a serene sanctuary.
3. Unleashing Creativity with Tile Patterns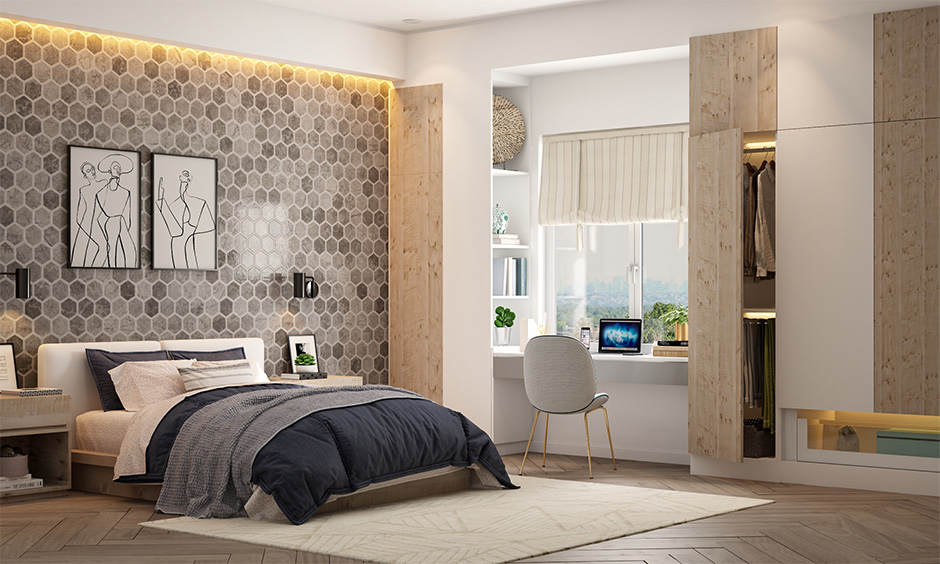 Dare to be different by incorporating creative tile patterns into your bedroom design. Whether you prefer classic herringbone, geometric shapes, or intricate mosaics, patterns can add visual interest and depth to your space. Play with contrasting colors and textures to create a dynamic focal point or opt for a more subtle approach, using patterns to subtly enhance the overall aesthetic. Let your imagination run wild and experiment with different tile arrangements to create a bedroom that truly reflects your unique style.
4. Elevating Luxury with Tile Accents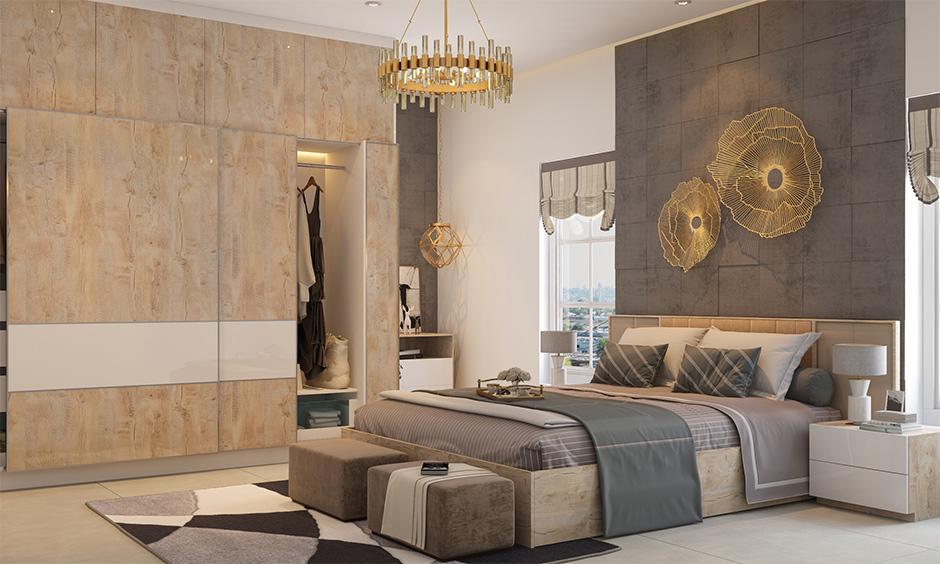 Add a touch of luxury to your bedroom by incorporating tile accents. Consider using mosaic tiles to create a stunning backsplash behind your headboard or install a decorative tile border around your room to add a touch of elegance. Remember, it's the small details that make a big difference, and tile accents provide an opportunity to infuse your bedroom with personality and sophistication.
5. Embracing the Warmth of Tile Colors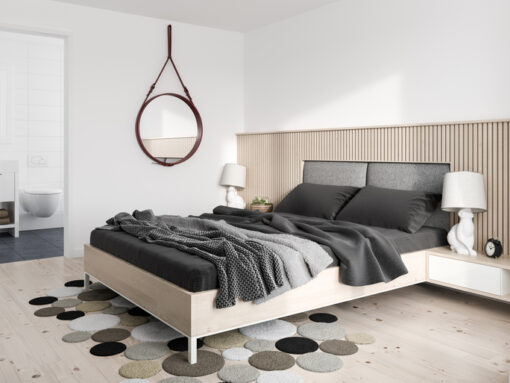 Colour plays a crucial role in setting the mood and atmosphere of your bedroom. Choose tile colours that resonate with your desired ambience. Opt for warm earth tones, such as terracotta or sandstone, to create a cosy and inviting retreat. Alternatively, cool shades like pale blues or soft greys can evoke a sense of serenity and tranquillity. Experiment with different colour palettes and let your imagination guide you towards creating a bedroom that feels like a personal oasis.
6. Creating a Seamless Look with Tile Coordination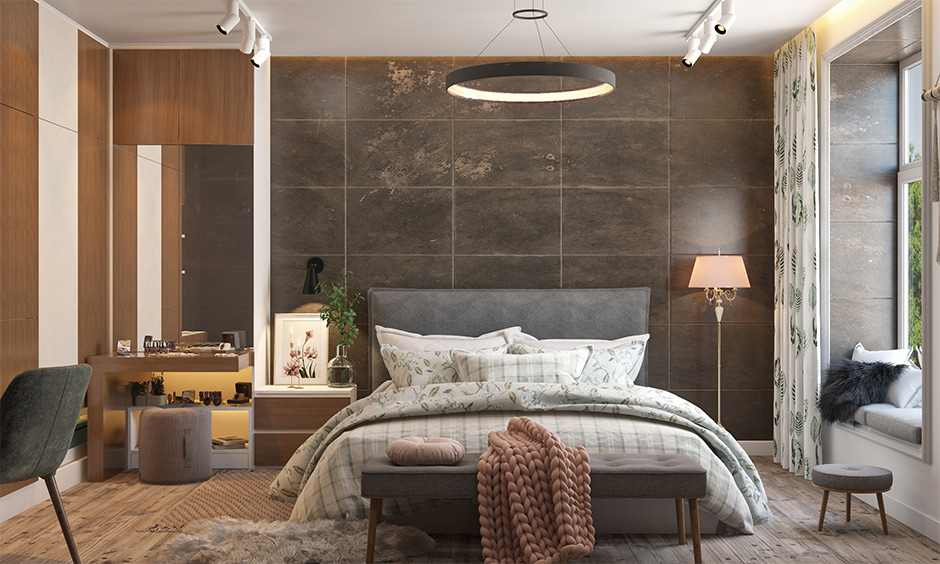 Achieve a cohesive and harmonious look by coordinating your bedroom tiles with other design elements. Consider matching your tile flooring with your bed frame or integrating the colours of your wall tiles into your bedding and curtains. By ensuring a seamless integration of tiles with other elements, you can create a visually unified space that feels inviting and well put together.
7. Maintenance and Care: Long-lasting Beauty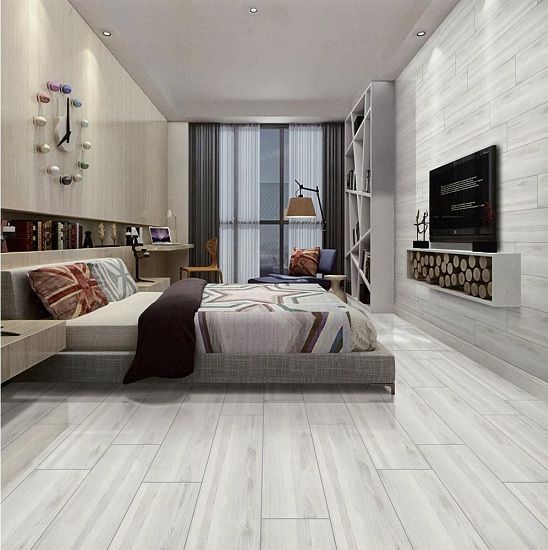 Investing in quality tiles is not only an investment in style but also in durability and longevity. Ensure you choose tiles that are easy to clean and maintain, allowing your bedroom to retain its beauty for years to come. Follow the manufacturer's recommendations for cleaning and care, and enjoy a bedroom that remains effortlessly stunning with minimal effort.