The LocHal, a world-class and a creative library in Tilburg, Netherlands
The LocHal is a new, world-class urban living room for Tilburg in an iconic former locomotive shed of the Dutch National Railways. It is located next to the station, in the heart of Tilburg's new City Campus, and houses the Midden-Brabant Library, the cultural institutions Kunstloc and Brabant C and the co-working spaces of Seats2meet.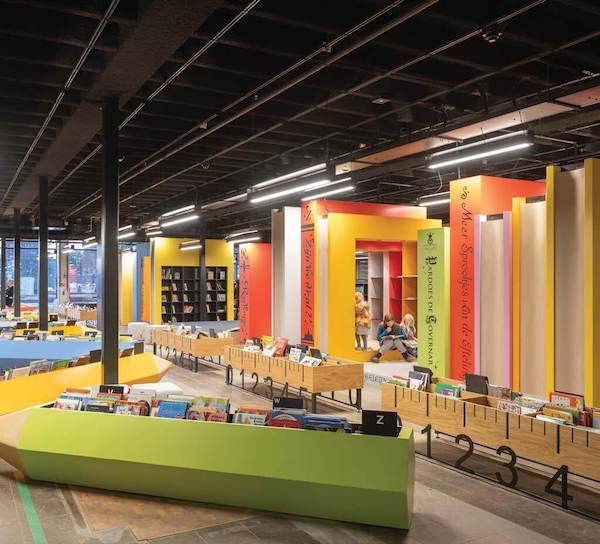 The LocHal is a space for both young and old to read, learn, study, meet, and gather. It is a place for testing, creating, exhibiting, and presenting the latest innovations. Mecanoo's playful and innovative interior design forms striking contrasts by combining characteristic historical elements with new oak and steel additions. A colour palette of reds and oranges contributes to a warm atmosphere. There is a diversity of settings for meetings, collaboration, and concentrated work. The eye-catcher is the city café featuring a bar with red, brown, and gold ceramic tiles, crowned with a neon LocHal logo.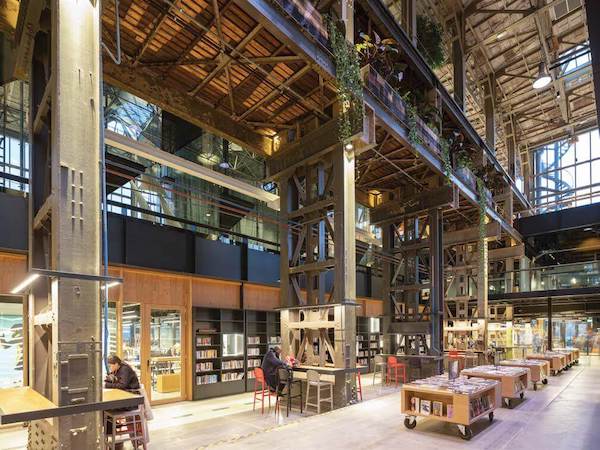 Old tracks remain visible in the concrete floor and are used to move three large wheeled "train" tables. A single table can become the extension of the bar or, when combined with another table, forms a stage with the stairs as a tribune. They can also be moved outside to form a stage for outdoor events.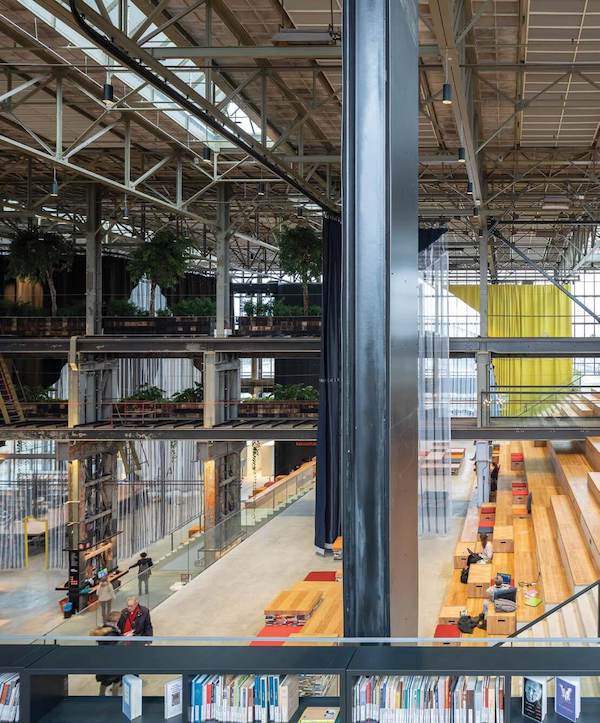 Full-height textile walls, designed by Inside Outside and the Textile Museum, soften the industrial hall. They conveniently divide the space into larger or smaller activity areas. Crossing the building is an interior street lined with historic industrial columns on which the old layers of paint are still visible. By fitting the columns with wooden tables and lighting, they are given a new lease of life as places for reading and studying. The street is flanked by bookcases and more inviting bookshop-style display units.
The nearby fairytale theme park Efteling is the source of inspiration for the children's library. Bookcases take on the form of colored pencils or rulers. Children can walk through giant fairytale books, read at tables shaped like mobile phones, or listen to storytelling sessions while lying on an open book. Even the sitting poufs have playful letters in the form of fairytale animals. Braaksma & Roos and CIVIC architects carried out architectural design and renovation.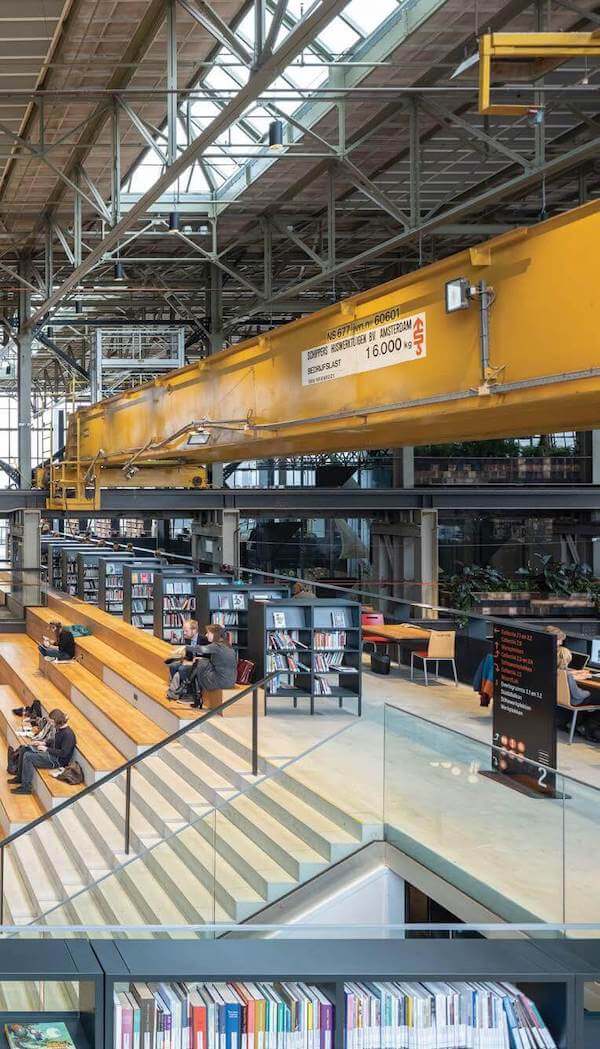 The stair landscape that Civic designed for the monumental LocHal takes you to the upper floors. The LocHal is not only a library but also a laboratory where visitors are challenged, gain new knowledge, and learn about new innovations. Specially designed labs can be found throughout the building: the Digilab, GameLab, FutureLab, FoodLab, KennisMakerij (LearningLab), TijdLab (TimeLab), Stemmingmakerij (DialogueLab), WoordLab (WordLab) and workshop rooms.
Contact Details: www.mecanoo.nl
This article was originally produced in The Tiles of India Jan-Feb 2020 issue