A pool yard house by Architect Badrinath Kaleru
Architect Badrinath Kaleru from Studio Ardete has designed a pool yard house by Stonex India with a tranquil and comforting ambiance.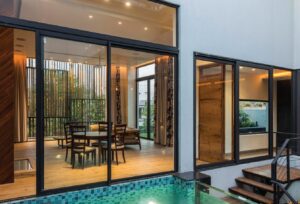 The design brief was to visualize a house excluding comfort, designed for relaxation and leisure. The concept was to place emphasis on the courtyard and pool areas, with these actions as the focal point of the space.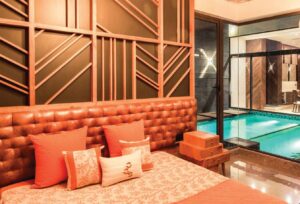 The façade has been designed in two individual masses. A screen compromising of vertical members reduces visual contact with the busy street outside while allowing the occupants a view of the trees lining the road across. Another district mass is created by the staircase façade, clad in dark grey textured stone. A small rectangular void has been created in this façade to break the monotonous mass and add lightness to it. A water body planned near the entrance sets a tranquil tone for the interiors.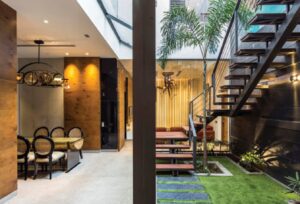 The main staircase and the wellness areas have been connected to the rest of the spaces via the courtyard establishing a strong correlation between the inside and the outside, a fact that achieves greater importance when the climatic zone, characterized by both, extreme heat and cold, is taken into consideration.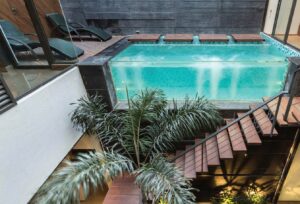 The Pool on the first-floor level can be seen from many areas, making it the nucleus of the house and lending the project its name.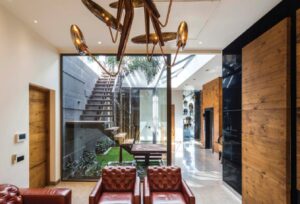 Contact Details: www.studioardete.com
(The article was originally produced in The Tiles of India magazine, Sept-Oct 2018 issue)