Reading Time:
2
minutes
Aijaz H. Hakim of AHA delivers spectacular beauty.
As a principal architect, he brings over twenty-five years of comprehensive experience. AHA [aijaz hakim architect] was founded in Pune, India in 1994. It is a proprietary owned multi-disciplinary firm that has completed a broad range of projects in architecture, landscape, and interior design. Aijaz brings his vast experience in International and Domestic design, which includes dealing with a timely deliverable, and exacting international quality standards in an effective framework along with hands-on project experience.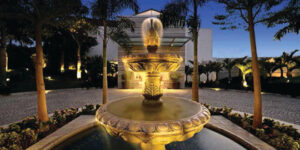 Aijaz is responsible for providing leadership on local knowledge and adaptation for architecture, and interior design. Together with his team, he delivers cost-effective construction and design solutions. The Pune office started in 1994 and since then they have successfully executed numerous projects. Their studio is made up of experienced professionals from a range of disciplines. The strength of their work lies in a very modern and non-conformist approach to the profession, as is evident in their projects and from the reputation that they have gained through their projects. Their firm believes in taking selected projects based on the interest of the client and the scope of work.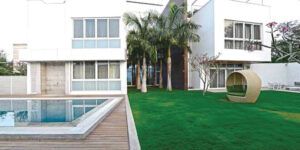 The project is situated on a flat site within Ahmednagar city and is envisioned as a home having Expansively treated spaces defined by linear parallel walls overlooking the landscape on all sides. It is a four-level house with five bedrooms spread over roughly 20,000 sq. ft. plus an outhouse containing two bedrooms. The house has minimum fenestration on the south side. It complies completely with the ancient principles of Vastu shastra which dictate the positioning of all rooms.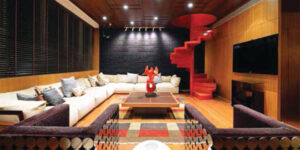 A very special feature of the house is the lions and the three-tier Düsseldorf fountain made out of monolith blocks of yellow Siena marble. The marble blocks have been hand sculpted by a renowned American Sculptor. The entire house embraces technology, to enhance its environmental performance, and all active systems run on automation making the use of lighting and appliances efficient.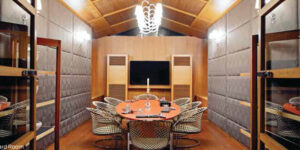 The article was originally produced in The Tiles Of  India magazine, Nov-Dec 2016 issue.