Reading Time:
8
minutes
We tour some of the best Modern Japanese Houses of 2023 that have been designed by international and local architects. These houses present all kinds of dwelling possibilities from extreme minimalism to communal, thereby giving us a broader understanding of this style.
Japan has a long history of building beautiful and stylish homes. Their love for straight clean lines and minimalist, yet stylish aesthetics with a strong focus on functionality and utility is known all over the world. Japanese people are a very disciplined community and their houses reflect that passion for structure and order. They focus on what is really important while letting the unnecessary slide, this creates a very unique style of language that is strikingly beautiful in its simplicity. Japanese homes are easy to maintain and clean. They are inspired in many ways by the Zen way of life. Although minimalistic in expression these houses are very elegant and contemporary at the same time.
The choice of colour pallet is always in muted and earthy shades with a heavy leaning towards white, grey and bamboo beige. They are essentially lovers of balance and strive to create that within their spaces. There is ample use of symmetry and a harmonious use of contrast to create a relaxing atmosphere. Modern Japanese Houses have an infusion of greenery in the form of indoor and outdoor plants which they love to take care of. Decor is always practical, and timeless and surfaces are clutter-free. Lighting is key to a Japanese home, the choice is always soft and diffused lighting and natural light are incorporated as much as possible.
To understand this better, we tour some of the best Japanese Houses of 2023 that have been designed by international and local architects. These houses present all kinds of dwelling possibilities from extreme minimalism to communal, thereby giving us a broader understanding of this style.
Sophistication with Functionality: 12 Best Modern Japanese Houses 2023
1. Ikema Japanese House by 1100 Architect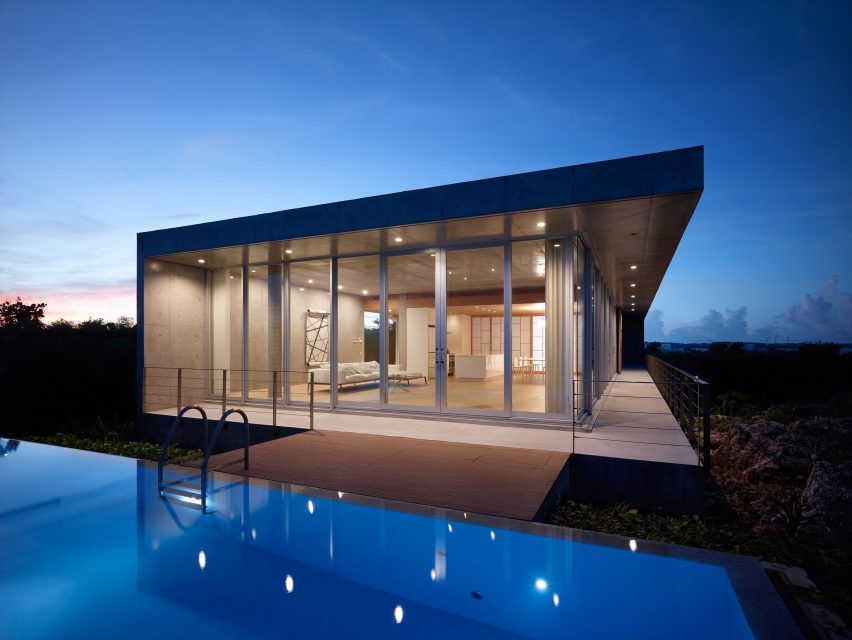 On the secluded island of Ikema, part of the Okinawan archipelago in the East China Sea, 1100 Architects has recently completed a cliff-top home looking out to sea. Built of concrete to withstand extreme weather, the architects detailed the home with traditional Japanese materials to soften its edges. A quiet retreat in Ikema, it is both traditional and contemporary with a clean modern aesthetic.
2. Shofuso Japanese House by Junzo Yoshimura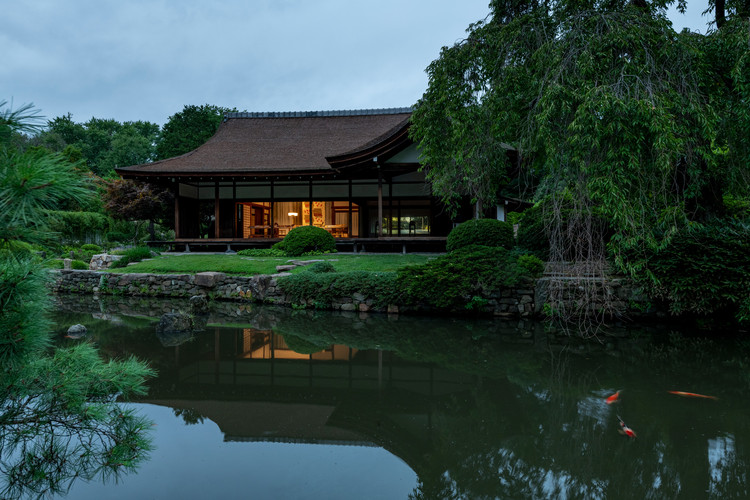 Shofuso Japanese House and Gardens, a shoin house (a type of traditional Japanese residential architecture) subtly infused with modernist details, was built in Japan in 1953 by the Tokyo-based architect Junzo Yoshimura, before being shipped to America's East Coast for a 1954 outdoor exhibition titled 'The House in the Museum Garden' at New York's Museum of Modern Art. Shofuso, which moved to Philadelphia in 1957, is an expression of Yoshimura's interpretations of the Japanese classical shoin-zukuri style of architecture.
3. Shigeru Ban Modern Japanese Houses at the Simose Art Museum in Hiroshima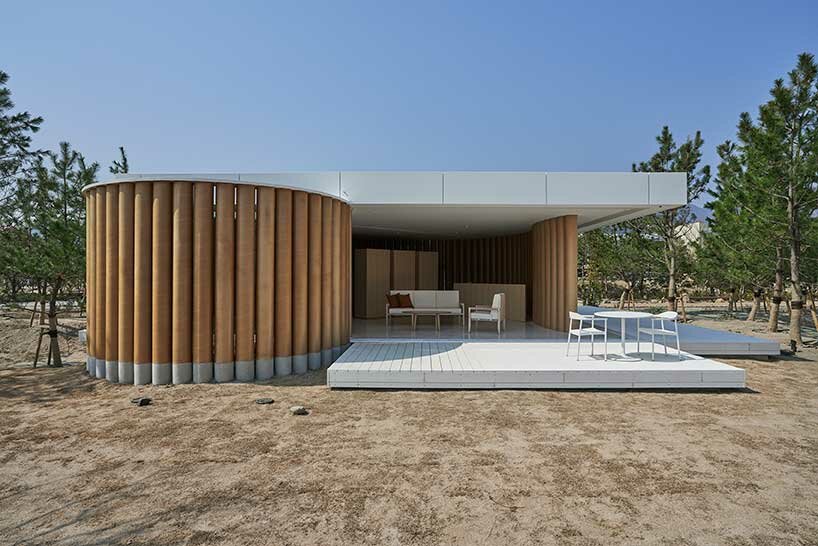 With the opening of a series of Shigeru Ban houses at the ambitious Simose Art Museum project outside of Hiroshima, fans of the architect now finally have an opportunity to experience some of Japanese architecture's most iconic homes first-hand. The new museum, also created by the architect and opening on 1 April 2023, offers a holistic experience of Japanese design, art, craft and Shigeru Ban's work.
With three sides made entirely of floor-to-ceiling sliding glass doors, Wall-Less House by Ban, originally from 1997, does indeed appear to be little more than a slab floor and floating roof. The windows open wide to blur the border between inside and out. The architect's Paper House, built using 110 paper tubes, with a single oversized one housing the toilet, is a testament to the architect's well-known fascination with the particular material – and a true joy to experience up close.
4. Kubomi Apartments by Organic Design Inc
Conceived as a 'pocket in the city,' the Kubomi Apartments by Organic Design Inc. are set in the sprawling Tokyo suburbs, a short trip from the city centre. The project was created as compact studios for the area, which has a high demand for pied-a-terre homes due to its nearby hospital and nursing school.
The minimalist, flowing design is centred on a main, shared courtyard, which serves as a place for meeting and socializing for the residents, as well as the wider community. 'As a strategy for encouraging community members to use the courtyard, they incorporated curved walls that invite passersby to slip into the concave "hollow." They also visually integrated the courtyard and sidewalk by using the same asphalt to pave both, further encouraging people to gather in the "hollow".
5. C4L by Hitoshi Saruta / CUBO design architect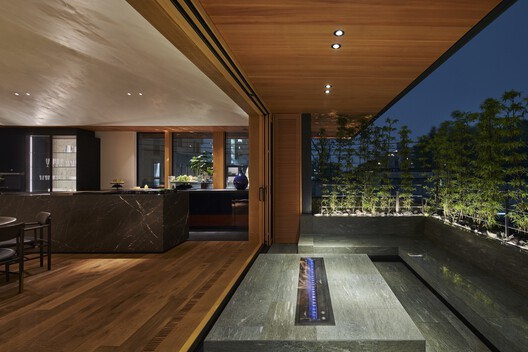 C4L is a modern Japanese house with a traditional twist. The residence, situated in the heart of Tokyo, draws on traditional Japanese architecture as well as notions of home, designed by Hitoshi Saruta and his studio, CUBO design architect. Saruta and his team took their cues from Junichiro Tanizaki's book on Japanese aesthetics, In Praise of Shadows, which places an emphasis on 'materials and furnishings whose beauty and comfort can only be fully appreciated in the half-light of a traditional home', the team explain.
'In traditional Japanese homes, deep eaves linked the interior with the garden,' the architects continue. This allowed the structures to have soft light inside, keeping the interiors layered and gentle, while the gaze is turned towards the much brighter garden outside. The same principles were employed in this project in order to play with shadow and light to create a comfortable domestic space.
6. Tiny house by Schemata Architects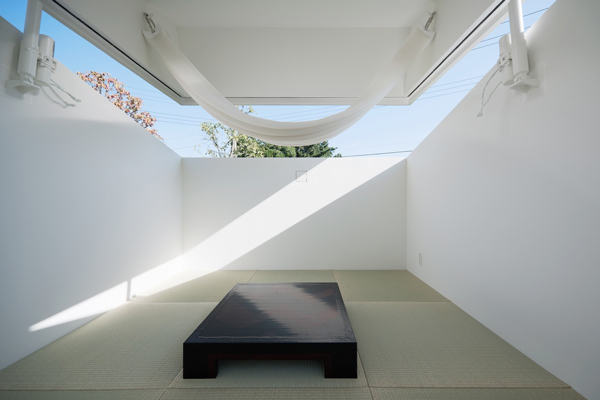 This tiny house, perched on a slope overlooking the Seto Inland Sea, is the perfect lookout point to take in the idyllic surroundings, comprising green nature and blue waters. Situated on one of the many small islands of the Japanese archipelago, the compact structure is a guest house – part of the grounds of a larger property, K Residence.
The new building, along with a smaller dining pavilion next to it, are the latest additions to a universe of structures that compose K Residence and have been designed by Tokyo-based Schemata Architects, headed by the studio's founder Jo Nagasaka. Conceived as a miniature house to host family members and friends, when visiting the main house's residents, the guest house offers spartan accommodation and welcome isolation, within minimalist architecture surrounds.
7. Esprit by APOLLO Architects & Associates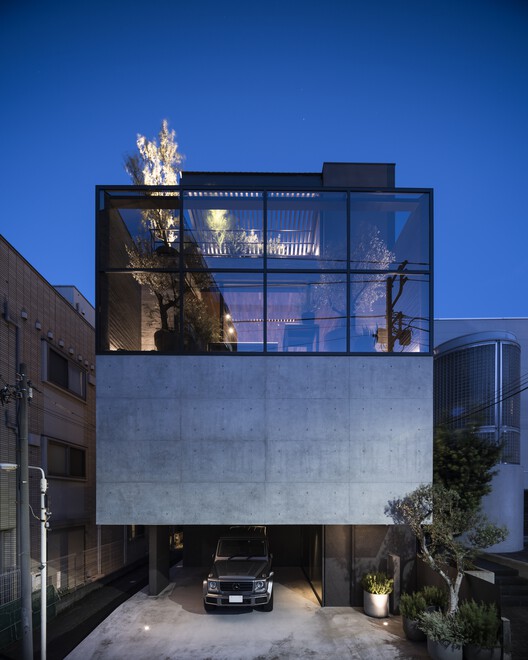 This sleek home in a quiet residential corner of Tokyo's Shibuya district is defined by its blocky concrete volume, which appears opaque and mysterious on the lower levels, but becomes light and transparent as guests move upwards. Titled Esprit, and designed by architect Satoshi Kurosaki, who heads the local studio APOLLO Architects & Associates, the structure also features an airy two-car piloti garage that marks its entrance.
The client – a family with children – can now enjoy a minimalist space that feels generous and open, however protects their privacy through tricks of the trade, such as one-way glass and semi-open in-between areas filled with plants. Tasked to create a home where the owners can also comfortably work if needed, the architects ensured Esprit features all mod cons, such as a separate gym, a library, a concealed rooftop garden, and a chef's kitchen.
8. The Umbrella House by Kazuo Shinohara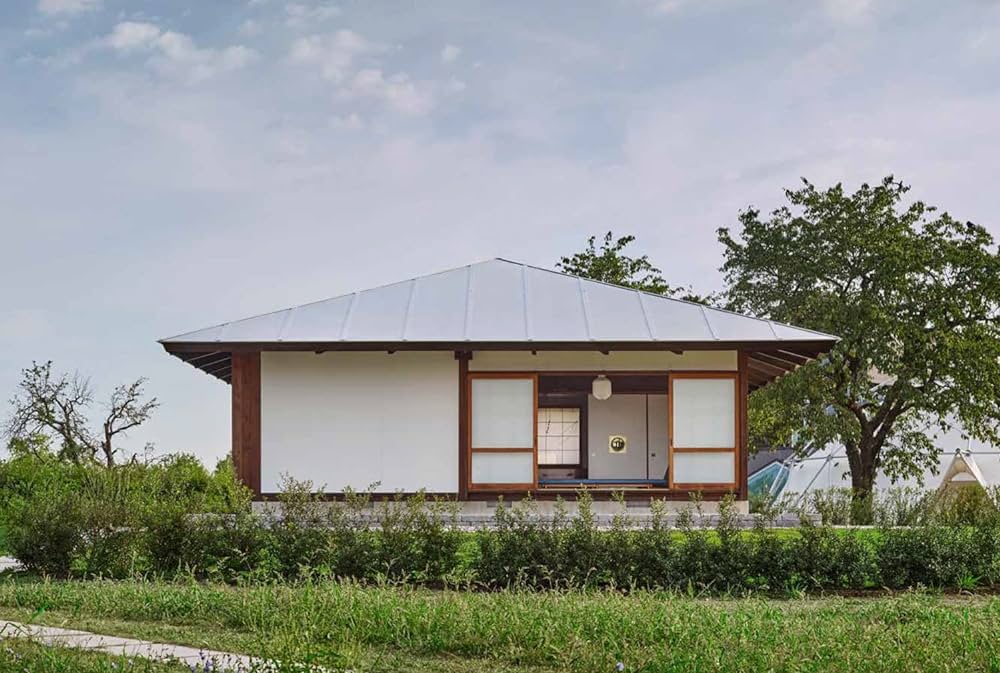 Visitors to Vitra's Weil am Rhein campus this year will find a new arrival among the furniture brand's park of architectural treasures. Standing temple-like in a greenfield site next to buildings by Jean Prouvé and Buckminster Fuller, the Umbrella House by Japanese architect Kazuo Shinohara has a quiet but compelling presence. The wooden design, built-in 1961 in Nerima, a residential neighbourhood of Tokyo, is the smallest and one of the last remaining residences from the first of Shinohara's four self-titled 'styles'. Its arrival in Germany is the result of a rescue mission that began when the Japanese architectural firm SANAA contacted Vitra.
It had been informed by the Japanese organization Heritage Houses Trust that the house was at risk of being demolished to make way for a new road. Recognizing the building's significance – Shinohara is considered one of the most important Japanese architects from the latter half of the 20th century, but is still little known internationally – Vitra worked with the Tokyo Institute of Technology to dismantle, ship and rebuild the house on its campus, where it will serve as a venue for small gatherings.
9. Espace by Satoshi Kurosaki / APOLLO Architects & Associates
This relatively boutique, two-story, wood-frame house sits nestled in the Shinagawa ward of Tokyo. Designed by Satoshi Kurosaki and his studio, APOLLO Architects & Associates, it combines drama and minimalist architecture. The architecture team emphasized a sense of space, creating clean surfaces and working with an imposing double-height living space where a timber-clad ceiling follows the roof's pitch and becomes the room's main architectural centrepiece.
This Japanese house is also awash with natural light, which floods in from a courtyard and clerestory windows. Clean, flat, vertical and angled surfaces throughout ensure daylight bounces off to help illuminate every corner of the property. 'By treating the entire building as a reflector, they succeeded in creating a separate universe of diffuse light that makes the rooms feel spacious and echoes the uniquely tranquil character of the residents,' the architects explained.
10. Hayama House by Case-Real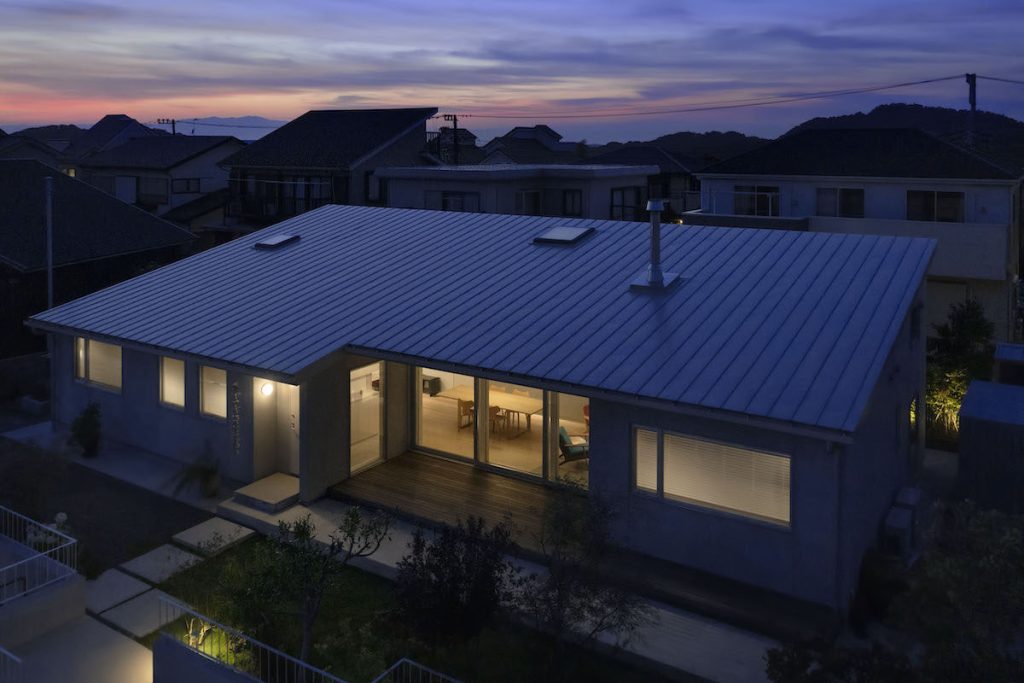 When escaping the urban sprawl of Tokyo becomes a priority, many Tokyoites look to the seaside town of Hayama. Facing Sagami Bay and within a fairly easy commute of the big city, but with a much slower pace, it's easy to see this beachfront little town's attractions. It is also the setting for this new Hayama house, commissioned by a family who approached the Japanese architecture studio Case-Real for the design.
While the client, a family of four, had been living in the area for some time, they jumped at the opportunity to buy the neighbouring plot to their current home in order to expand their footprint. With most residential plots in Japan being modest in size, the norm is to build in two or three floors to allow for the necessary square footage. Having secured a second plot, however, the client could afford to ask Case-Real's Koichi Futatsumata to design a single-story home to fulfil their needs – a move seen as something of a luxury in Japan.
11. Sakaragicho Residence by Key Operation Inc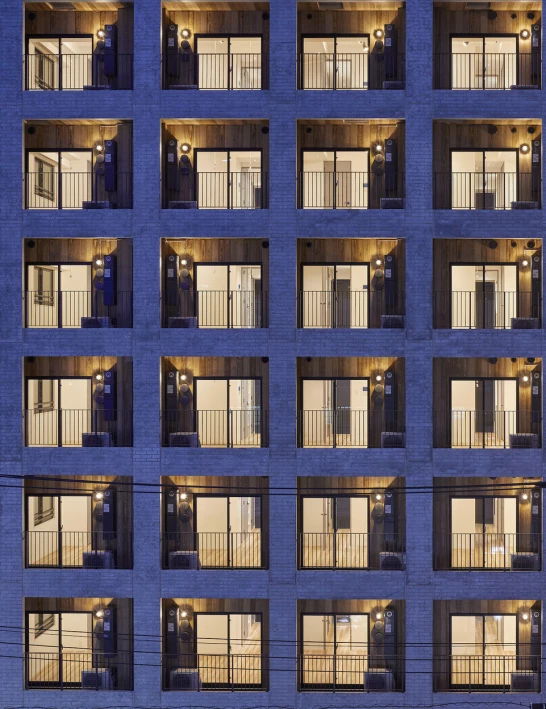 This boutique Yokohama apartment building may be multi-family housing, but it offers the attention to detail and serene design of a single-family project. An outer skin and geometric external grid rhythm create a unified facade that brings neatly together the upper-level residential floors with the ground-floor commercial units. The result is a calming, minimalist appearance in what is in fact a fairly large-scale urban building.
12. Stone House by Hiroshi Sambuichi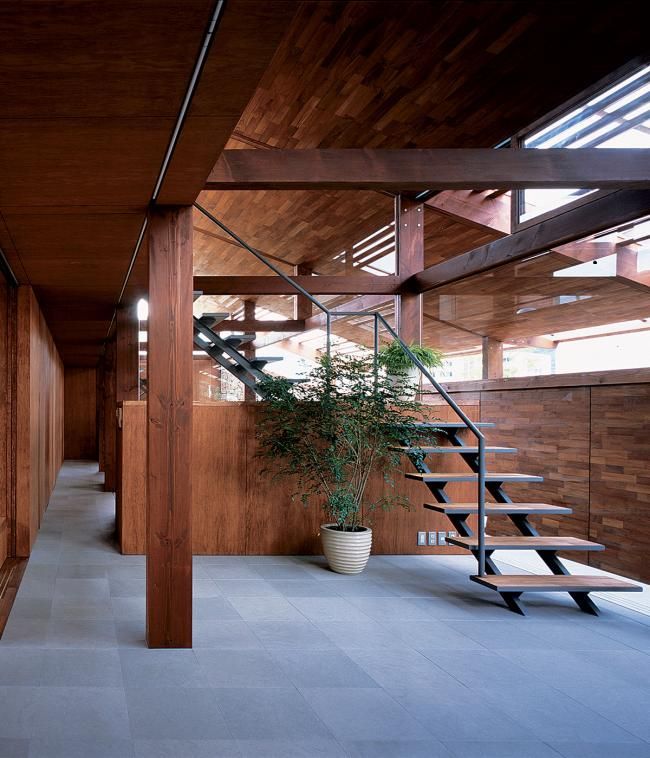 Hiroshi Sambuichi designed the Stone House, a family home built in the mountains on a bed of crushed river stones. Sambuichi has already been garlanded with awards for buildings that manage to be both good-looking and good for the environment. The Stone House has been executed with utmost care and precision with carefully thought-about materials that Sambuichi uses (and often reuses) while creating ingenious ways for the building to operate with as little heating and air conditioning as possible.
Simplistic elegance is the hallmark of Japanese modern design that brings to the fore their preference for a simple way of life and traditions.
Content sourced from various online resources