Reading Time:
2
minutes
Marble Caves of Patagonia Chile
The Marble Caves of Patagonia Chile (also known as Cuevas de Marmol) are located in the Patagonian Andes, on a peninsula of solid marble. It is a unique geological formation featuring a group of caverns, tunnels, and pillars created in monoliths of marble and formed by waves over the last 6,000 years or so. This unique geological formation sits in waters shared by Argentina and Chile can be accessible only by boat.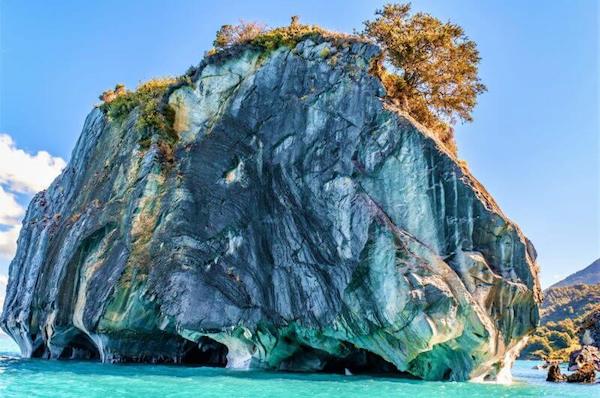 Though the marble itself isn't a brilliant blue, it dances with cerulean displays of colours when the water reflects its light. As a result, it changes colours in the beautiful hues of blues, greens, blacks and yellow, throughout the year, depending on water levels and season. Over thousands of years, this mineral-rich glacier water also changed the shapes. The swirling pattern on the cave interiors is a reflection of the lake's azure waters, which change depending on the water levels dictated by weather and season.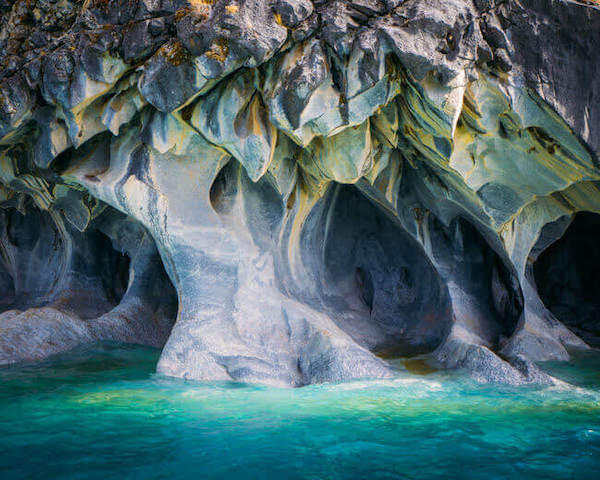 Visitors are enamored by the Marble Cave's unique ability to constantly change its appearance. In early spring, the shallow waters are turquoise and create a crystalline shimmer against the caves' swirling walls. In summer, the water levels increase and create a deep blue hue which gives the cave a unique unearthly shade. The water levels are significantly affected by the freezing and melting of the surrounding glaciers. It's also from these glaciers where the lake takes the fine silt sediments that rest on the lake bed.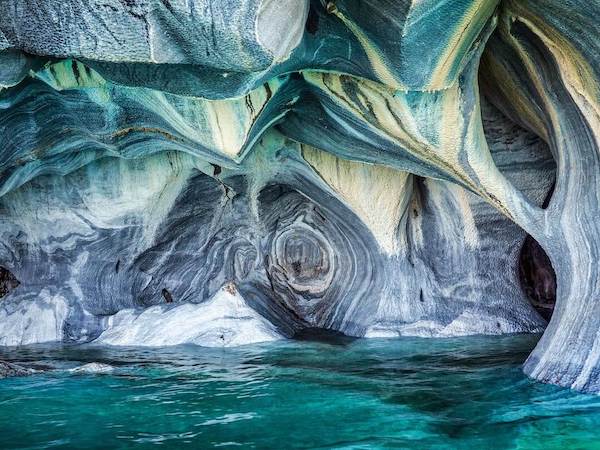 To get to the caves, one must embark on a long and difficult journey starting from a flight to the Chilean capital of Santiago. Visitors must then travel 800 miles on major highways to the next big city Coyhaique, followed by a 200-mile drive on rough dirt roads towards the lake.
Finally, a boat is needed to access the caves. But though the journey is long and challenging, many agree the enchanting beauty of the caves is definitely worth the effort.
(Images and text: With inputs from various online sources)