Coverings 2020
Coverings 2020 is gearing up for its latest edition in New Orleans, Louisiana USA Coverings 2020 is gearing up for its latest edition in New Orleans. Louisiana USA from April 20 – 23. The show will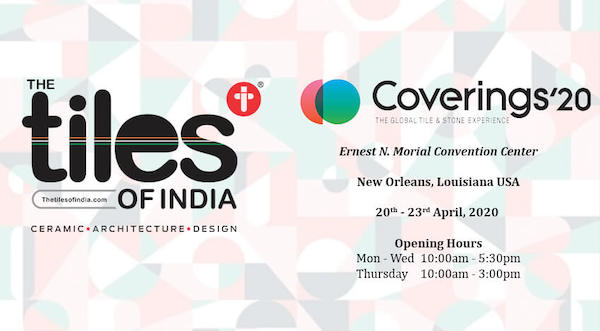 Coverings 2020 is gearing up for its latest edition in New Orleans, Louisiana USA
Coverings 2020 is gearing up for its latest edition in New Orleans. Louisiana USA from April 20 – 23. The show will provide more 50 educational opportunities, including CEUs, through conference sessions, hands-on workshops, live demos, show floor tours and so much more each year.
One can view the latest products, trends, and tools from 1,100+ of the world's leading manufacturers and suppliers. Coverings 2020 pavilions include North America, Italy, Spain, Turkey, and Brazil.
The education at Coverings keeps attendees current in today's highly competitive marketplace, with many opportunities even offering CEUs at no cost. New for 2020, Coverings is focusing on three key tracks relevant to today's industry professional:
Access crucial tile & stone content on and off the show floor. When you're not busy exploring 9 miles of tile & stone on display by 1,100+ global exhibitors, make time to check out: Get an up close look at how top contracting pros handle a variety of challenging tile installations. Experience short, 20-minute single-focused presentations on the latest tile & stone trends and installation. Hear one-on-one insight from industry leaders who are setting trends and influencing design and installation innovations. Be part of an immersive learning experience focused on branding and practical technology solutions for your business.
See you at Coverings 2020, April 20-23 in New Orleans, Louisiana.
Contact Details: www.coverings.com