Reading Time:
3
minutes
Table of Contents
Surat Diamond Bourse (SDB), becomes the world's largest office building, designed by the architecture firm, Morphogenesis
A New landmark for Surat – Key Highlights of the Project
Surat Diamond Bourse (SDB) designed by Morphogenesis has become the world's largest commercial office space.
Spread over 47 acres with a built-up area of over 27 lakh square feet, SDB houses over 7,500 offices.
An interior street invites people to interact in an otherwise large complex.
Banks, cafes and retail spaces turn SDB into a self-contained community.
SDB will generate thousands of jobs and promote Surat as a global diamond hub.
Attracting new businesses to Surat, it will boost the city's economy.
The iconic building is set to transform Surat's skyline for years to come.
Sustainable Design
Double-layered facades reduce cooling and lighting costs. Rainwater harvesting and STP systems ensure zero waste discharge.
Surat Diamond Bourse (SDB) is a diamond trade centre located in Surat, India and has been designed by the architecture firm, Morphogenesis. It is the world's largest diamond trading hub with a floor space of 660,000 square metres (7,100,000 sq ft). The building is the world's largest office building, ahead of The Pentagon.
The SDB project was initiated in 2015. Though COVID-19 slowed the construction progress of SDB, the pace was increased after the lockdown was lifted and the entire project was completed in 2022.
The building is located in the newly built Diamond Research and Mercantile City, a business district. It is spread across 14.38 hectares (35.54 acres) with an availability of 61,000 square metres (660,000 square feet) built-up area encompassing 4,000 offices for national and international traders. The bourse comprises nine towers each with 15 floors, accommodating 4,200 offices ranging from 28 square metres (300 square feet) to 700 square metres (7,500 square feet). There are 131 lifts (elevators), with a speed of three metres per second.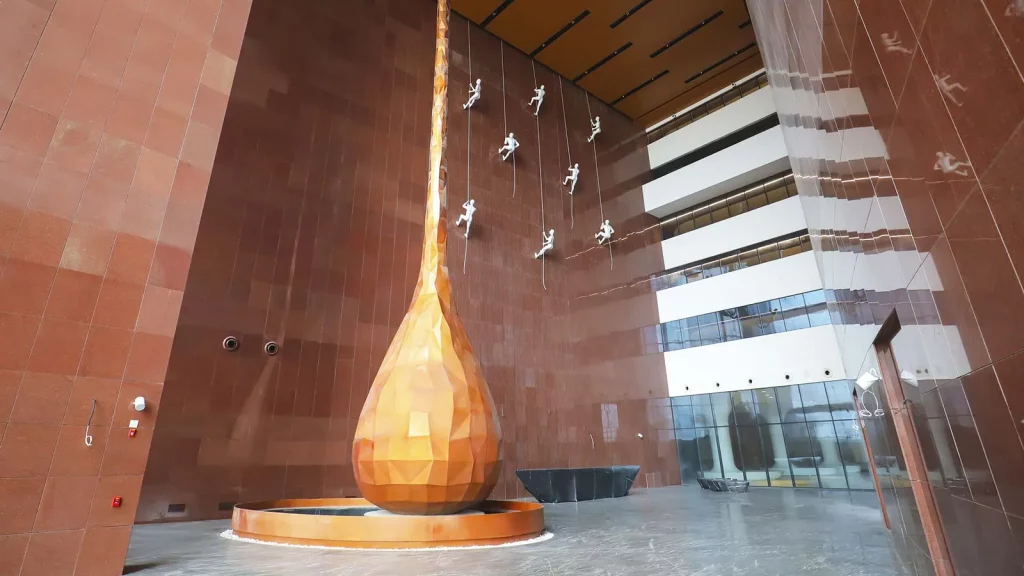 The building provides amenities such as conference halls, multi-purpose halls, restaurants, banks, and retail shops along with security plans. In addition is a dedicated custom house with a national diamond research institute, an international convention centre, international education facilities, and five-star hotels.
It is touted as a "one-stop destination" for over 65,000 diamond professionals, including cutters, polishers, and traders. Praising the Surat Diamond Bourse, Prime Minister Narendra Modi said that the building's architecture shows the dynamism and growth of Surat's diamond industry.
"It is also a testament to India's entrepreneurial spirit. It will serve as a hub for trade, innovation, and collaboration, further boosting our economy and creating employment opportunities."
The project is set to welcome its first occupants in November. Prime Minister Narendra Modi is most likely to inaugurate the grand building, whose home state is Gujarat.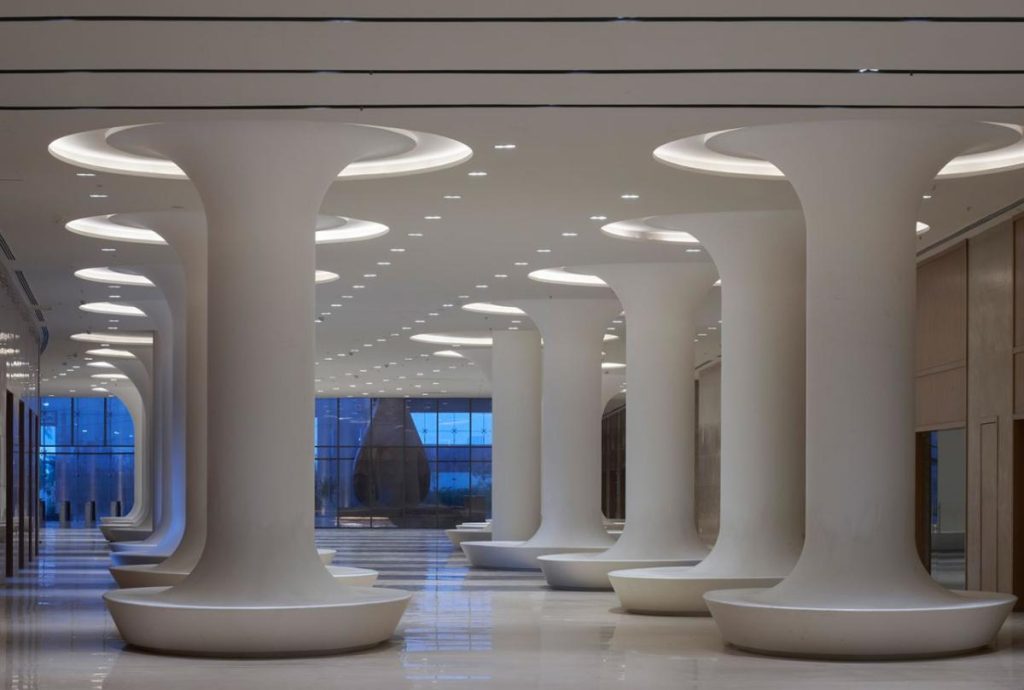 The building was masterminded by Indian architecture firm Morphogenesis following an international design competition. The project's CEO Mahesh Gadhavi said the diamond bourse will save thousands of people from traveling to Mumbai by train to do business.
The ₹32 billion project houses dining, retail, wellness, and conference facilities for workers along with 131 elevators. The building also comprises marble floors and light-filled atriums connecting over 4,700 office spaces. Sonali Rastogi, Morphogenesis co-founder said no office takes longer than seven minutes to reach from any of the building's entry gates.
The CEO has claimed half of the building is cooled using natural ventilation, while common areas are powered using solar energy.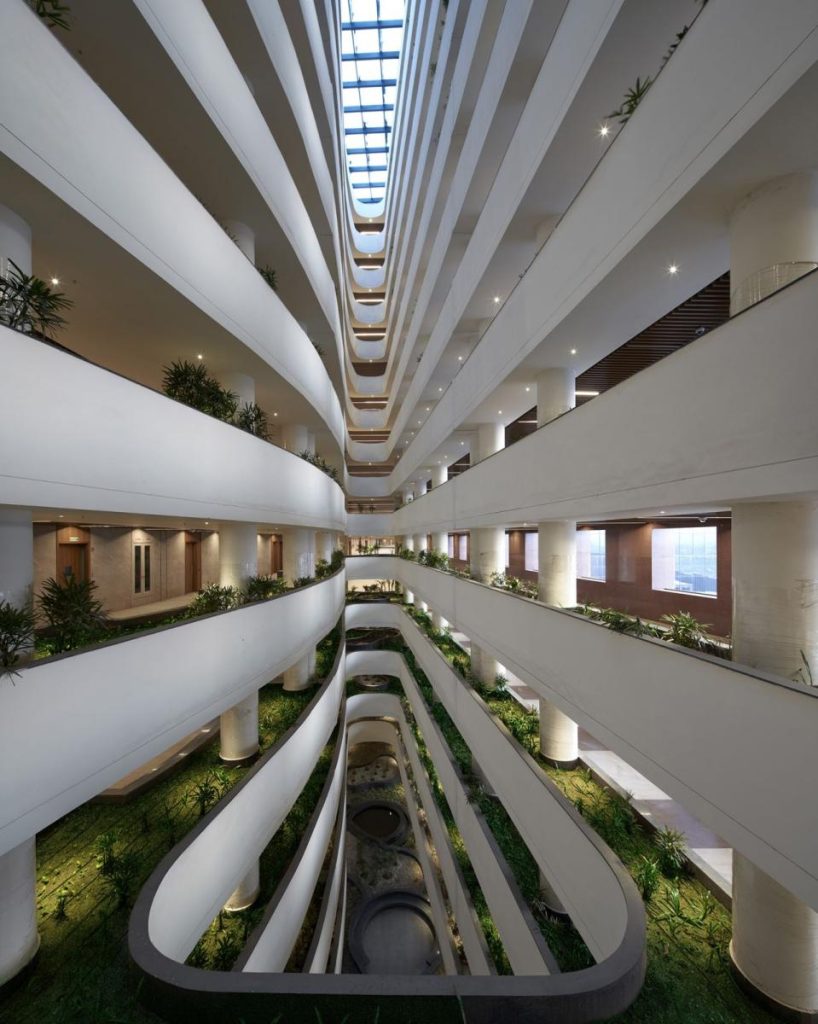 Morphogenesis said that its design consumes as much as 50% less energy than the maximum permitted to earn a "platinum" rating from the Indian Green Building Council. As per the CNN, a flared shape has been designed to funnel prevailing winds through the structure, and "radiant cooling" circulates chilled water under its floors to reduce indoor temperatures.
Contact Details
*Content sourced from various internet resources