A fashion boutique in Mumbai by MuseLAB
Huzefa Rangwala and Jasem Pirani of MuseLAB, in Mumbai, has designed Seams, a fashion atelier boutique with soft hues of pink, sparkling brass finishes, and silver grey-hued terrazzo floor.
Seams, a fashion atelier situated in an industrial estate in suburban Mumbai for its inaugural store gave a free rein to MuseLAB to interpret their brief and design. They visualized a palette of refined, delicate materials for this 900 sq.ft double-height space with a partially recessed basement for storage of inventory and a mezzanine workspace.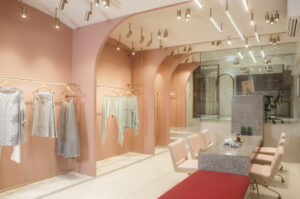 A veil-like brass-hued facade weaves a narrative of the atmosphere and materials held within. This modular facade is constructed from mild steel sections in a textural scalloped pattern that forms the outer layer of a screen, fused with a painted cement sheet layer. Some of the brass-like finished scallops are pocketed embracing plants.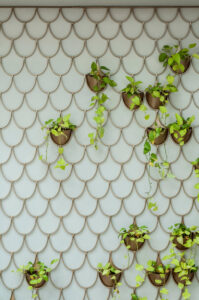 The space features delicate, feminine, and strong elements. Inside the cuboidal volume, one is exposed to a palette of dusky pink-hued walls, silver grey-hued terrazzo floor, and brass inlay; all of this amidst an architectural intervention in the form of an arcade of asymmetrical arches which extend into shallow vaults in the ceiling. This arcade also systematizes and exhibits the ateliers' collection on brass-like finished floor mounted, wall, and ceiling suspended self-lit hanging system.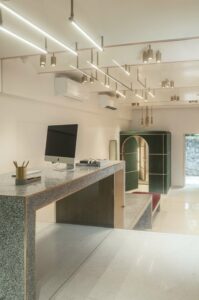 A sculptural terrazzo table cascades from the studio/ workspace level into the retail space to form a conversation table for discussing custom bespoke pieces that descends into a bench. Terrazzo flooring found on the floors climbs the stairs and flows into the workspace with brass joints.
A jewel-box like fitting room sits in one corner of the space, wrapped in emerald green velvet fabric within a brass-like finish framework with a customized light. The contrast between the firm terrazzo surface and the softness of the embroidered upholstery and custom dull gold light fittings accentuates the unique experience. This project has won the Times of India Home and Design Trends awards 2018 for Best Retail.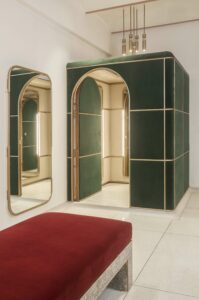 Contact Details: www.muselab.in
(This article was originally published in The Tiles Of India July-Aug 2019 issue)