Reading Time:
3
minutes
A Restoration project by Yatin Pandya – Sanskar Kendra
A living monument of history transcends time to become a tradition.  Tradition remains alive because it constantly updates itself to suit the changed time and circumstances. The architecture of Ahmedabad, through history, has stemmed from such a spirit of constant updating and change. The works of the two modern masters, i.e., Le Corbusier and Louis Kahn, in Ahmedabad, while imbibing the ethos of the place, reinterpret its visual syntax, evolving intriguing compositions on city's historic architectural canvas. Ahmedabad, which boasts of five designs by Le Corbusier, provided a free ground to Le Corbusier to realize many of his architectural theories to their fullest potential.  The Sanskar Kendra at Ahmedabad, for example, as a precursor to his museums in Chandigarh or Tokyo, is the first realization of Le Corbusier's idea of the Museum of Unlimited Growth, the spiraling, ever-growing, yet standardized exhibition space conceived by him in 1929 at the Geneva Exhibition Pavilion.
Changed values saw the Sanskar Kendra, a cultural institute, degenerate into a venue for organizing commercial sales. In order to maintain the democratic accessibility of the civic building, it was decided to restore Sanskar Kendra and convert it to a permanent City Museum that would depict the various facets and diverse overlays of Ahmedabad's life. This decision was supported by the need to create something the people of the city would feel belonging to.
The first step in the sequence was the restoration of the building to its original state and removing all alterations such as collapsible metal shutters, masonry partitions, etc. Exposed concrete elements were cleaned with a mild detergent to remove stains, posters and paper bills, etc. Eroded exposed bricks were selectively removed and replaced with new ones, all the while respecting the original bonding pattern. The most challenging task was the treatment of concrete ceilings that had spalled.
The structural slab near the elevator shaft had deteriorated considerably due to leaking services from the toilets overhead. Extensive spalling had occurred, exposing rusted reinforcement bars. The bars were chemically treated with an anti-rusting agent and concrete was re-applied through gunniting with pressure guns. The original concrete slab had been cast with steel plate formwork, retaining impressions of their joints, smooth texture, and rivet marks. These were reproduced in the repaired work. While the repaired concrete was partially set and partially wet, steel plates conforming to the existing, original formwork were pressed from the soffit to mark rivet impressions as well as create a surface texture matching the rest of the slab.
The next step was the installation of the City Museum. This involved arranging the display installations as barriers, creating winding paths recalling the experience of moving through streets of the traditional districts of Ahmedabad, along with their unfolding vistas and simultaneously a parallel effort was made to maintain the spirit of Le Corbusier's architecture through the use of display designs conforming to his Modulor, colours from the Corbusian palette and oneness of space and volume through visual continuity. A truly challenging project that never ceases to amaze…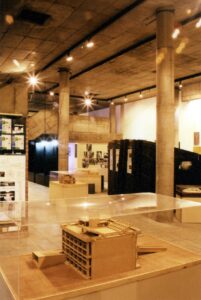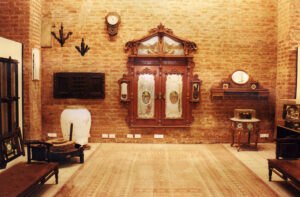 Contact Details: www.footprintsearth.com