BRABBU
Carlton House Terrace, a luxury apartment near Buckingham Palace by TG Studio and BRABBU is a luxurious space that merges seamlessly with the British spirit. In the heart of Central London, near Buckingham Palace, a 1970's two-bedroom apartment was thoroughly reconstructed for a Hong Kong-based family.
Given their international background, their brief was to create a British feel for the property – from the furniture and accessories selection to the finishes all throughout the residence. The end result is a stunning home away from home for a client who has it all. TG Studio was tasked with reimagining the apartment, transforming it to suit modern life. In order to convey the British feel that the client so desired, the studio chose a brand that reflected Britain's rich history and cultural diversity – BRABBU.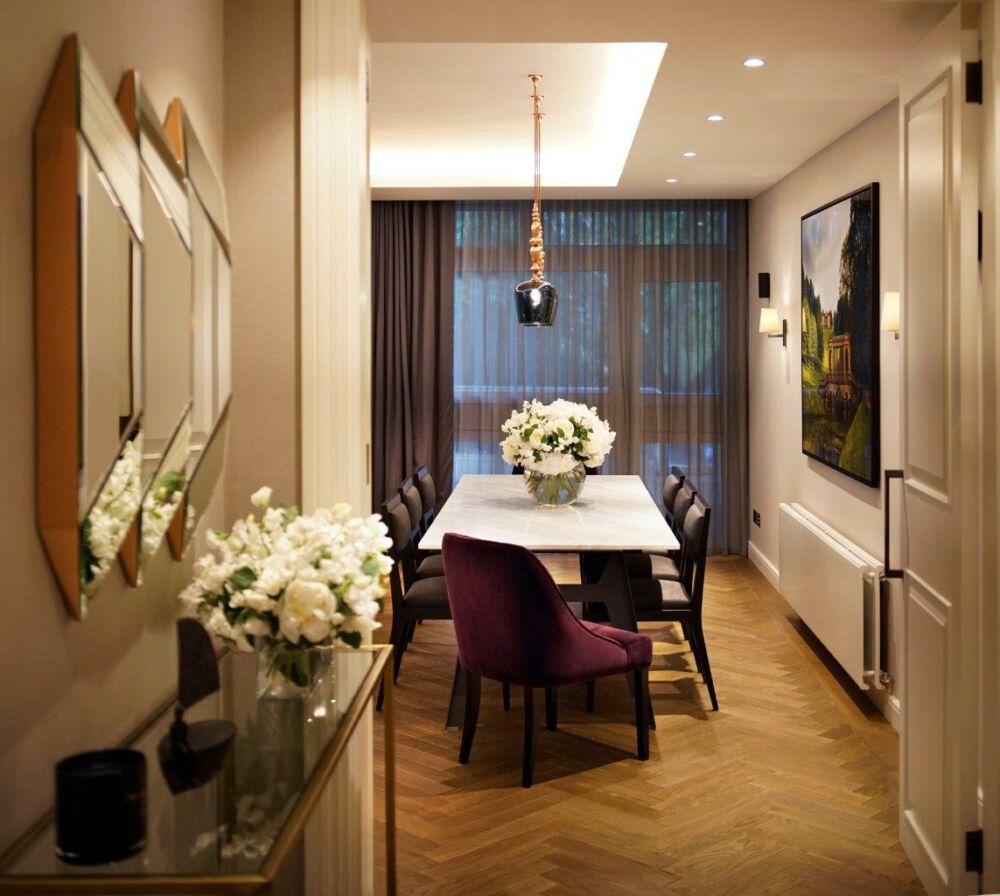 BRABBU's pieces are inspired by nature and cultures of the world, having an intense sensory presence in every modern division. BRABBU is a design brand that reflects an intense way of living, bringing fierceness, strength, and power into an urban lifestyle. With a diverse range of furniture, case goods, upholstery, lighting, and rugs, and through sensory design, Brabbu passes on a unique experience in every product that they design and produce. A generous entrance foyer – styled with a mirror that reflects different views of the apartment and a sleek console table – separates the entertaining and private spaces, with the two large bedrooms sharing a secluded study area in the hallway.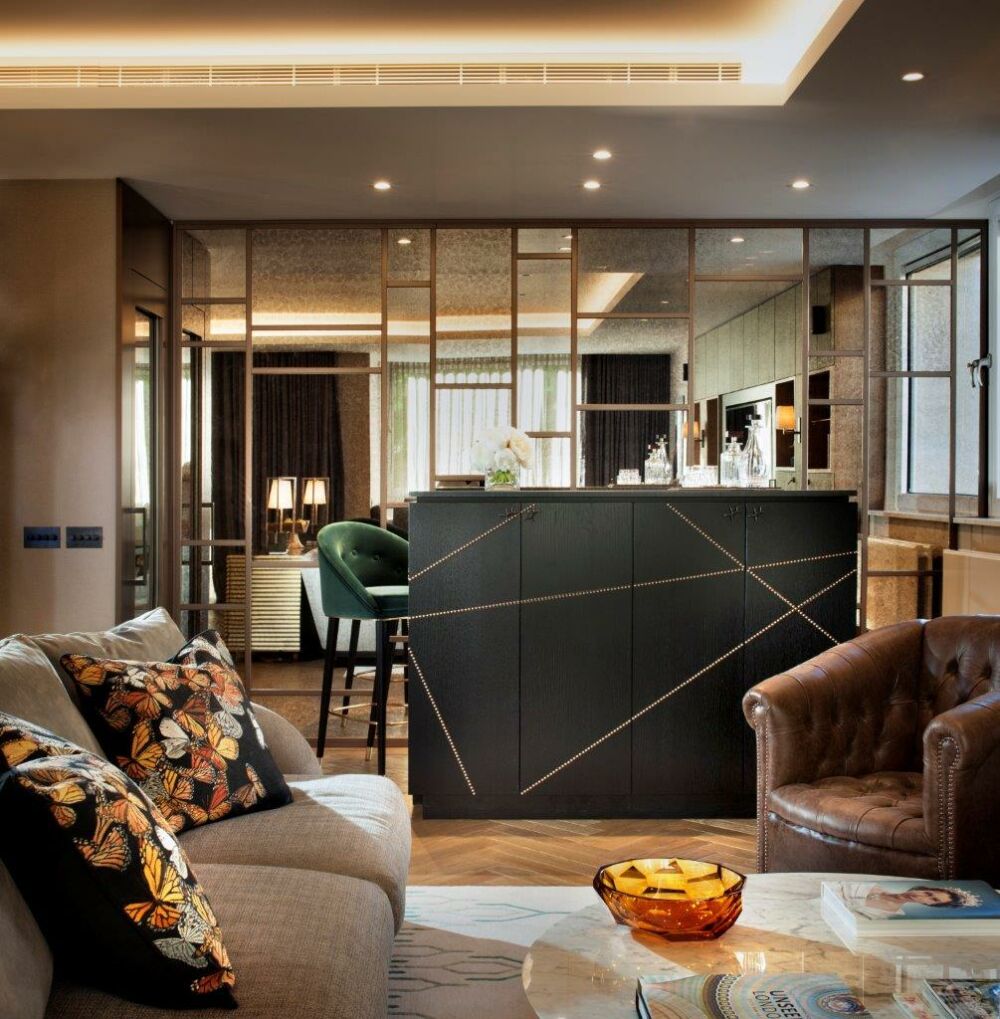 Previously separated rooms, the living and dining room were combined along with a bar area to create a large entertaining space for the family and their guests. The entertaining area – which includes the new open-plan living and dining room – features a wine fridge and a leather-clad bar embellished with hand-hammered studs facing the main seating area. Behind the bar, counter stands a mirrored wall with brass bands, which grants the room added depth through its irregular geometric pattern. It is next to this outstanding bar area that you'll find the MALAY Bar Chairs.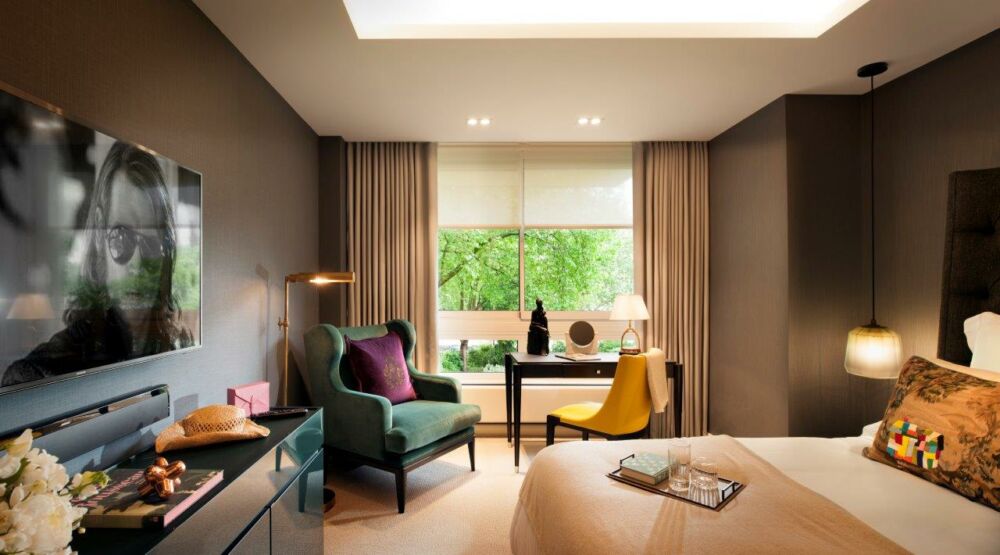 Their pine green colour gives a graceful touch with a mystical soul and fills the entire ambience with raw, natural energy while the delicateness of its velvet finish contrasts wonderfully with the ruggedness of the leather-clad bar. Throughout the private spaces, such as the study and the bedrooms, warm tones were used in order to create a sense of comfort and cosiness – a sense that was amplified through the use of contrasting textures.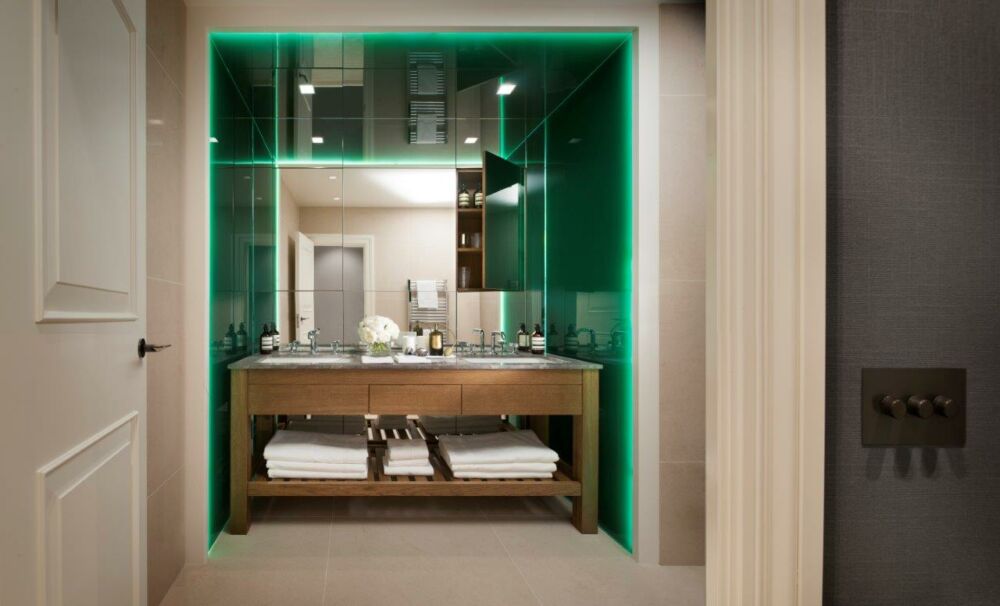 Through the renewal of the master suite's structure, TG Studio was allowed to create a new walk-in wardrobe in cedarwood, which serves as a stunning opulent detail in an already luxurious home. In this same suite, sits the master bathroom: a calm and relaxed room featuring a double vanity with full-length mirrors, surrounded by edge-lit glass in British racing green.
The second bedroom, the kids' room, houses two bespoke double beds and marble-topped bedside tables, as well as a second ensuite bathroom with wood paneling all around. Meticulously curated ambient lighting illuminates the dashing leather accent wall immediately next to the bar area, with niches to display various items from the client's collections and plenty of concealed storage.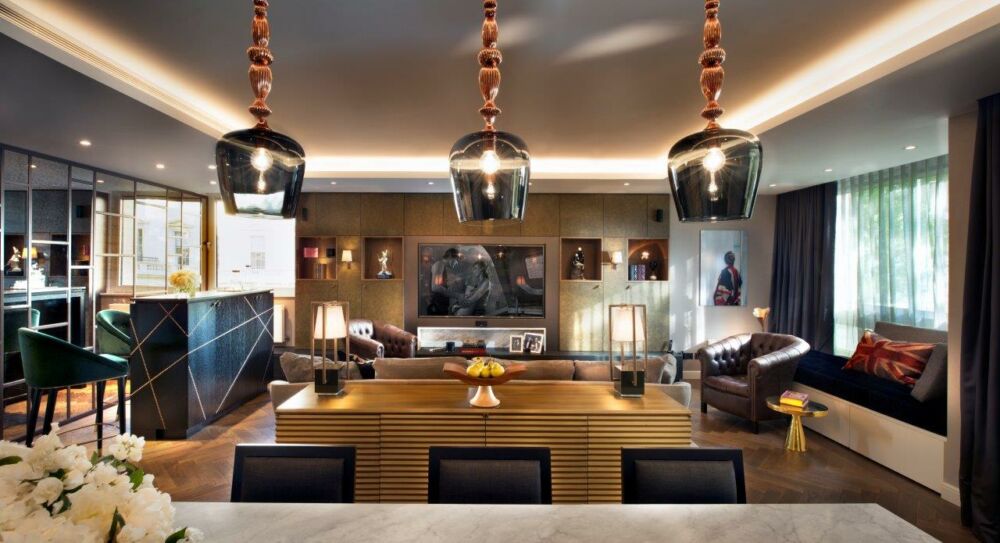 This wall opposes a living room filled with a variety of artworks, tapestry, and furnishings that combine comfort, history, and disparate cultural influences, selected with the goal of creating a truly worldly home. All in all, the eclectic mix of furniture chosen for the room is a true art statement that ultimately creates an inviting and luxurious space that merges seamlessly with the British spirit.