Minimalist style residence
The luxury of minimalist style and the power of light colors in one residence project designed by april und bonnie studio brings to life the parisienne style of design.
The april und bonnie studio is located in München, Germany, and was founded in 2008 by Kyra Hildebrandt (product designer) and a former colleague. Kyra is a very experienced designer, she has had many jobs in her field of study and one of them with a lot of recognition, in an international architecture agency, where she worked for 8 years.
The focus of her work has always been the planning, execution, and implementation of corporate design for internationally renowned clients. In addition to staging branded architecture for commercial spaces, she has a particular taste for creating classic furniture and interior design for private residential areas.
Her roots have a strong influence on her approach to interior design; she is the daughter of a Spanish and a German, which means a strong cultural knowledge. Her need to search for inspiration makes her create unique pieces that tell stories, which makes her the protagonist of any project.
The studio April und Bonnie created a residential project with a minimalist style but was luxurious at the same time. It is everyone's desire to have a house with a super modern design, with the latest trends; however, we always look for comfort and functionality. In these recent times, people spend more and more time at home, much work at home and make their homes areas for leisure and work, and our homes have to be prepared for that, and all these parameters are gathered in this project.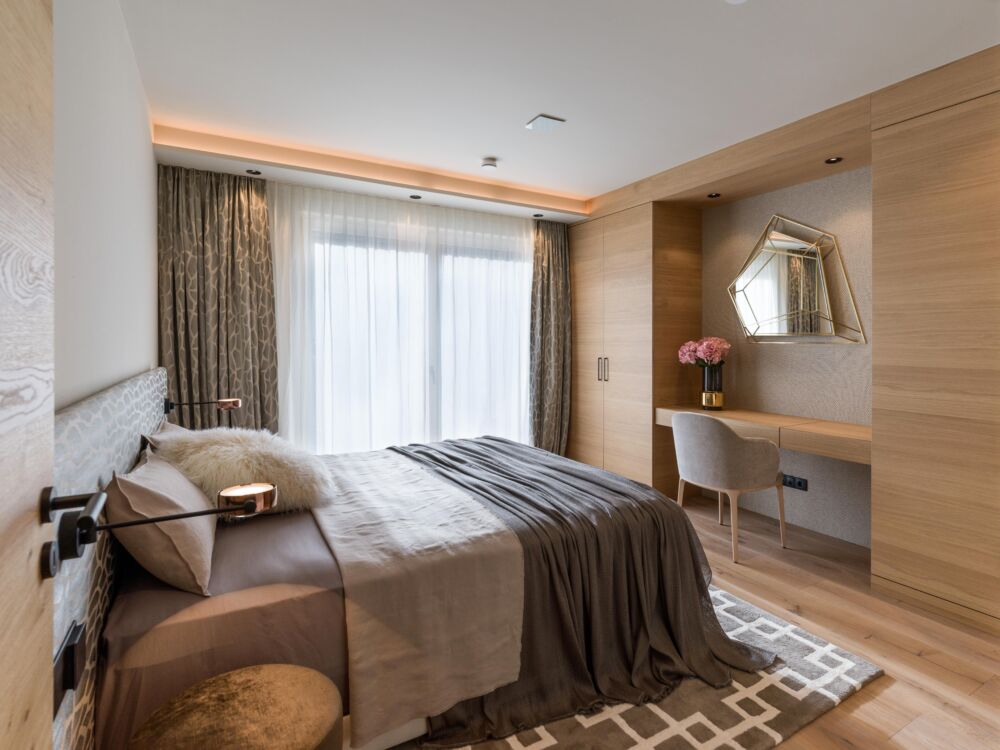 In the living room and bedroom, we can see the predominance of light tones in both wood and textiles, which is ideal to convey the idea of comfort, besides never going out of fashion, they combine easily with other colors in any style. The light color also gives us a feeling of spaciousness, especially when used on the floor. To balance it out, some darker tones were used to contrast with the rest of the environment.
This style, the minimalist style, goes far beyond architecture and design, it represents a lifestyle and the causes we care about. Thus, there is a continued emphasis on the rational functionality of well-defined aesthetic formalities, because the furniture when arranged intelligently, provides an enhanced perception of the environment and facilitates the movement and entry of air and light, as we can see in this residence, in addition to highlighting the beauty of the combination of simplicity with luxury.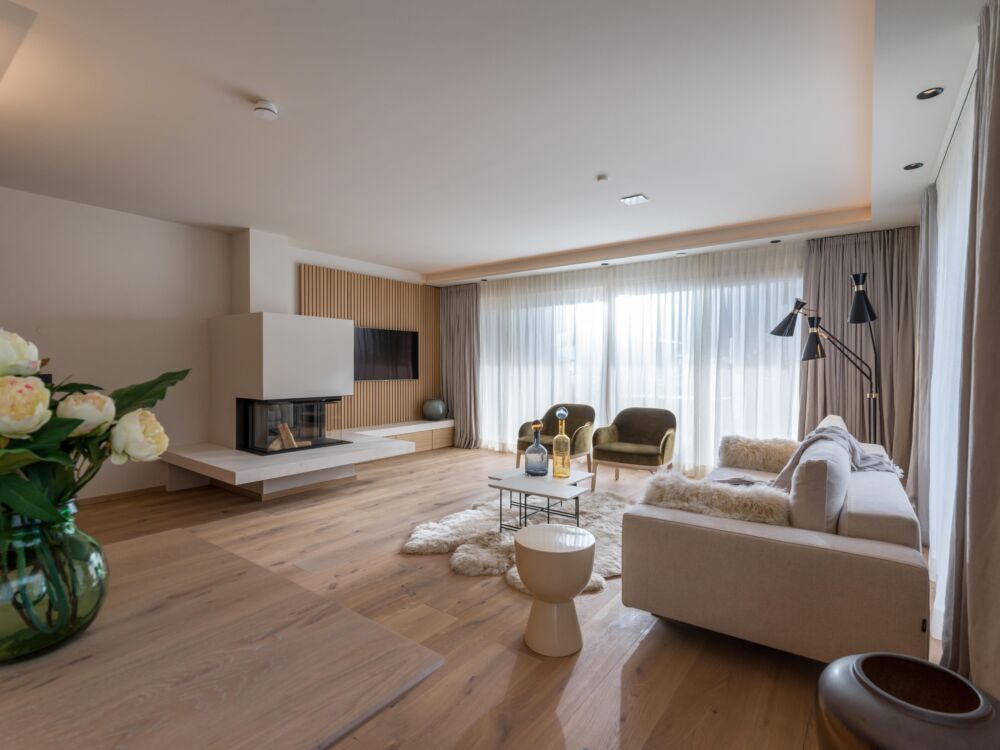 This project features high-quality products that transport us to a luxury environment, and one of the highlights is the Essential Home mirror. In the bedroom we can see the Small Diamond Mirror, inspired by the asymmetrical shapes and shine of a diamond rock, this polygon-shaped mirror is the ultimate combination of geometry and design.
The use of a polished brass frame highlights the element of luxury within this object, resulting in a sophisticated dynamic part that stands out throughout the room. The Diamond Small Mirror is the key piece of this minimalist design, it manages to give a touch of mid-century style with its geometric lines, and with the gold color, it manages to bring history to this room, which makes this room special.
Essential Home sees this style as a stylish sanctuary from the stresses of life.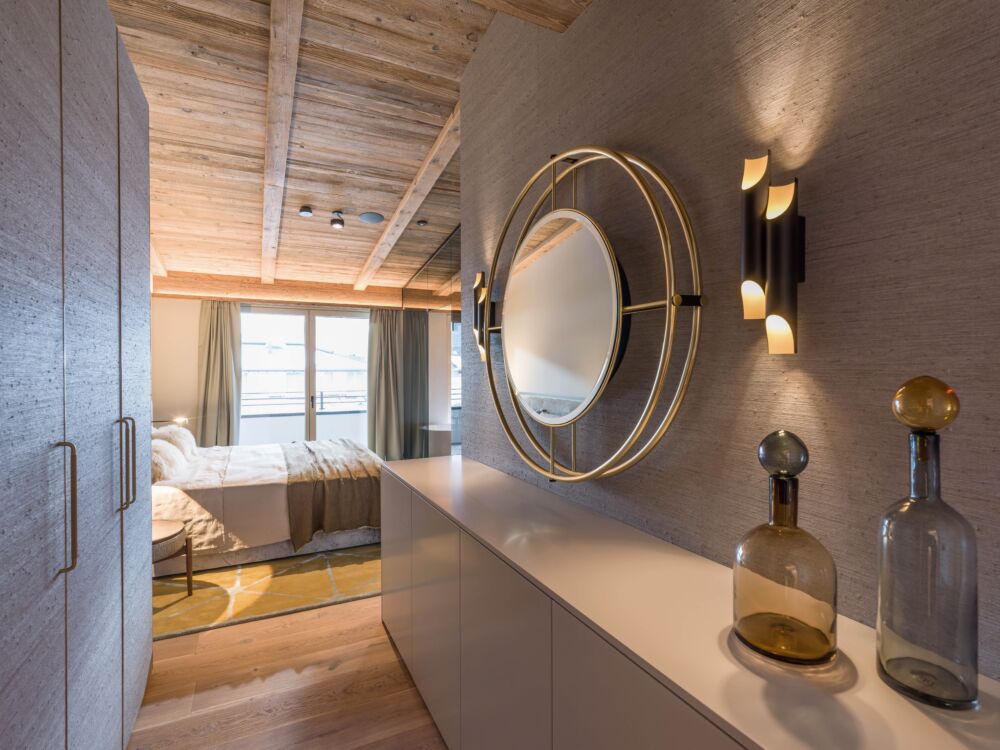 In interior design, it's all about respect for history, you should bring together the iconic character and elegance of the space with practical luxury. But Paris has its fun and magic side, and the Parisienne style is centered on the whole idea of anti-decor, it always has to look like you've done it yourself like a true French. What better way to represent them than to mix the soft and clean Marco Dining chair with the robust and sturdy Bertoia marble table. The key was to keep it simple, mixing vintage with new, and allowing the memories and treasures brought home from travels to shape the space rather than sticking to any particular interior style.