Reading Time:
2
minutes
Architect Fabio Novembre has designed Casa Milan, a new building in Portello
AC Milan's new headquarters designed by architect Fabio Novembre takes inspiration from the iconic history of the club.
After almost 50 years in the old headquarters in Via Turati, AC Milan are moving to a new building in the Portello area designed by architect Fabio Novembre called 'Casa Milan'. The building stands as of the three key points of the new history of the club; man, motion, and emotion.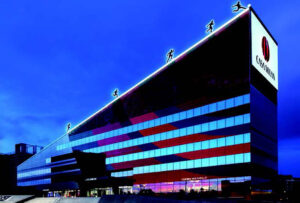 With almost 10.000m2, the new headquarters are divided into floors, with the management area of the Club, a restaurant, a museum, an official store, and the Milan Lab. In the restaurant, the concept used for the structure is again based on the idea of propagation, but in this case, focused on a vertical and circular dimension. Columns formed by circles of different colors and proportions grow from floor to ceiling. The store, with access from the outside and from the museum, is the first of the series of shops that AC Milan will open progressively worldwide.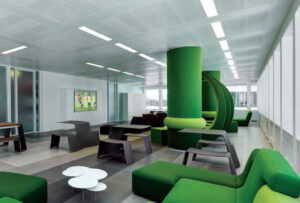 Right after the entrance, the visitor can experience the history of AC Milan through statistics, interviews, and texts; also, a collection of unique items shows us the most significant moments. In the next area, the Trophy Room exhibits the international and national cups won by the club. Also, a 3 meters high replica of the UEFA Champions League trophy dominates the room.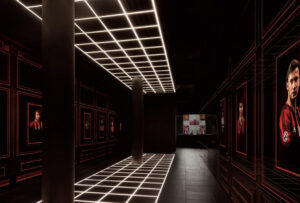 The area known as Galleria del Campioni shows the portraits of Ac Milan champions through interactive screens full of contents and stats. In the last space, the visitors will find different temporary exhibitions together with an interactive table where we can choose between discover and interact with different data images about the club or navigate through the most emblematic places in the history of AC Milan on a big display of Google Maps.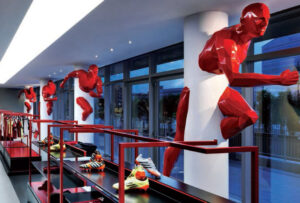 Contact Details: www.novembre.it
(The article was originally produced in The Tiles of India magazine, Mar-Apr 2018 issue)