Reading Time:
2
minutes
Essential Home is an innovative mid-century modern furniture brand that takes important historical and cinematographic references. From the conventional art and turns them into unique furnishing pieces. Essential Home is currently located in Porto, Portugal. Also, the alluring designs are present in the most important interior design centers around the world, including London, Paris and New York.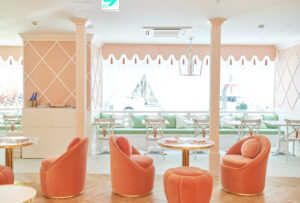 Ch Tea Room Kobe is the perfect place to do the two most important things in life, eat and relax. It is best when you are in an exotic place surrounded by the mountains and the sea to top this amazing feeling. Ch Tea Room Kobe has a terrace where you can feel like you are in comfort of a real-life dollhouse. Pastel pink spreading wide from wall to wall and contrasting with cold and chic mint velvet armchairs and hand painted floral wallpaper, gives a soothing and magical effect to the entire décor.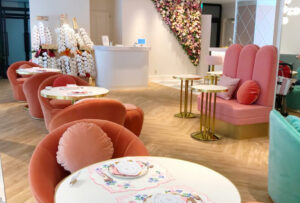 Monroe Armchair is inspired by one of the most seductive movie icons of all time Marilyn Monroe. An elegant and chic chair with a color which is a true hit nowadays. Millennial Pink in perfect armchair lines is formed to give this feminine tea room that midcentury modern twist.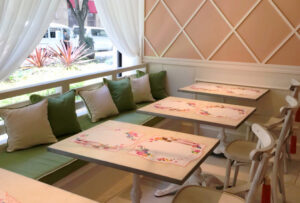 We also need to talk about Florence Stool, it was also chosen to be an important part of Ch Tea Room Kobe just like Monroe, Florence has a strong personality and presence in a room and can always make a difference. With a somewhat cylindrical shape and the cushioned seat upholstered in velvet fabric.
A real doll house with Flower mint green chairs and Millennial Pink geometric stool sounds like a dream come true. Yeah but it is true with Essential Home