Modern medical design- Seeds of Innocence Project  
Seeds of Innocence project is a perfect example of modern media design requirements. To think as a pregnant woman, was the design brief from Dr. Gauri Aggarwal (Gynaecologist & IVF Specialist) when she first met us with the requirements of her dream project; "Seeds of Innocence: An IVF & Surrogacy Centre". The mood swings, anxiety, and increased irritability of a pregnant woman or a childless couple could be forgotten as soon as one enters into the positive & cheerful environment of the clinic, which was the main concern while designing.
The upper floors have stark Marsala coloured lacquered panels with the reflection of moving sky all day long which creates a magnificent playfulness along with the backlit perforated box in the center clad with ACP sheet making the structure dynamic in appearance. The perforated ACP sheets have been used to create an enclosure around the lacquered box to demarcate & define the critical zones with the other areas. The Mezzanine floor has complete glazing which divides the building into two, separating the upper floors from the ground floor.
As one enters the building the embossed floral pattern on the wall & ceiling welcomes you to the building. The basement has a custom-designed table supported by a vintage wrought iron partition on both sides with the Marsala coloured lacquered panel clad on the wall at the backdrop which invokes a sense of impenetrable liveliness. The Waiting area at the back has a very interesting setup of couches & undulating fixed seats with geometric-shaped center tables in a cluster pattern.
The counseling room sits in the center with a continuous passage on 3 sides to access the OPDs. It is an enclosed glass room screened partially by laser cut MDF panels placed in a rhythmic organic form providing transparency and privacy at the same time. It acts as a focal point with alternate horizontal 35 mm thick MDF board member & a gap of 2 inches till the top with varying sizes creating undulating free-flowing curves on all the sides. The ceiling of the whole area has been kept simple with a chequered pattern with alternating different shades of greys, beiges & off-whites.
The NICU on the mezzanine has big glass panels which overlook to the dense greenery outside. The small colourful beds of the newborns have wallpapers on the remaining walls & ceiling with geometric shapes, fishes & figurines printed on it.
The terrace area caters to the recreational needs of the patients by providing yoga rooms and other facilities along with the building services present at other parts of the floor.
Seeds of Innocence is a beautiful interpretation of architecture evolving to balance the clinical demands of a healthcare institution. It is communicated as a fresh vocabulary towards developing the image of the hospital as a space delivering an integrated arena combining healthcare with comfort, positive ambiance and liveliness.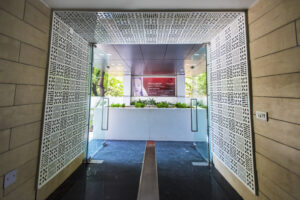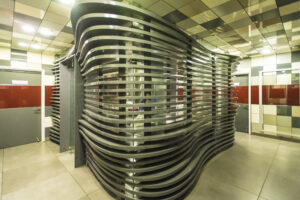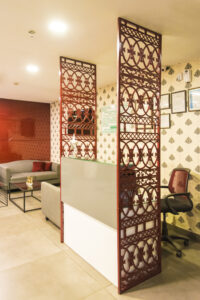 Global Architects Award Winning Projects