An Extract…
Philippe Starck speaks about his new bathroom series CAPE COD.
In conversation with Philippe Starck: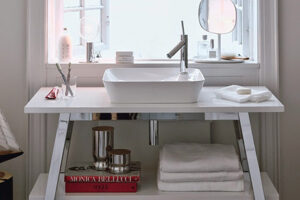 How much design needs a bathroom series today?
Design marks an important moment. Nowadays it's integrated in the society. In the end, beside the design, it's simply honesty and usefulness that counts. First, it's about choosing absolutely honest partners and serious industrialists like Duravit. And further, it's about creating a useful product. We can never save lives with design, but we can try to improve them by creating useful design objects. That's why it's worth to work with a partner like Duravit. Making a pretty product is easy, but if nobody buys it, it's not interesting. The beauty of this is being able to deliver a good product at a good price. I think that's what we achieved with the new series ME by Starck and CAPE COD from Duravit.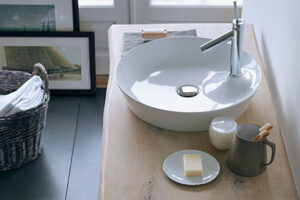 How do you choose materials for the series?
We went back to durable fundamentals like long-lasting ceramics and natural high-quality materials like wood. Further it's important to offer a mind-opening choice of colors like both light and dark wood which makes room for a lot of individual ideas. We worked a great amount of time  on the CAPE COD bathtub, with tenth of millimeter between shape and function, and on the new material we developed with Duravit, the DuraSolid. It is surprisingly smooth, feminine and human to the touch. It is also incredibly bright and deep and extraordinarily solid. DuraSolid allows a sculpture-shaped bathtub with amazing light effects and a fine interplay between light and shadow.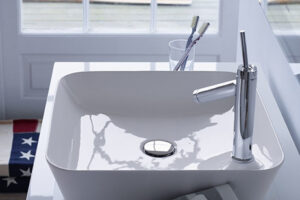 Contact Details
www.starck.com
www.duravit.in
(The article was originally produced in The Tiles of India magazine, Mar-Apr 2016 issue)