Syska house in Pune designed by Beyond Design Architects
SYSKA House in Pune designed by Beyond Design Architects brings a fresh new perspective to office design.
Corporate commercial design poses unique challenges. The 30,000 sft SYSKA House in Pune was conceptualized as a focal point of further growth for the brand. They were already operating from many multiple offices and wanted to integrate their functions under one roof. The structure identified as an under-construction structure with two basements, ground, and five upper floors. The structure also had a lot of balconies/pocket terraces. Architect Alhad Gore windows or façade.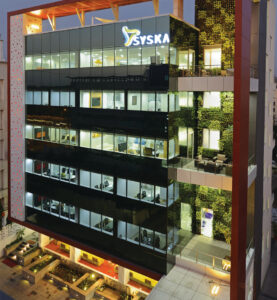 The plan optimized space utilization with the ground floor being the entry-level. The floor in the building consisting of a large reception, which can take care of 25 visitors at a time. The entire length of the reception on the ground floor is fully glazed and without any blinds from inside, giving it more like a lobby lounge feel in a hospitality environment.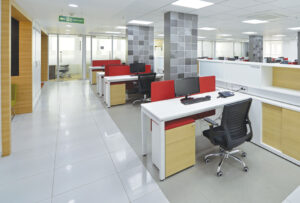 A large reception and desk Flanked by two meeting rooms on the side make sure that there is no chaos, even at peak hours, large-screen displays keep portraying the corporate video of the company while the visitor is seated and also directs him to his/ her destination floor. The five upper floors have been divided into various departments, each having its own meeting rooms, cabins, cubicles, and workstations.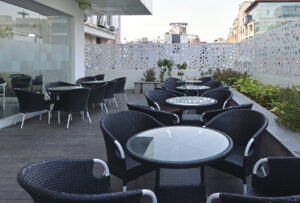 The 1st, 3rd and 5th floor have attached terraces on the street side. While the 1st-floor terrace is kept empty with a green wall, the 3rd floor and 5th-floor terraces become attached terrace lounges for the Managing Director and Chairman respectively. So they get their private lounge space connected to their cabin. A strong external element was envisaged and detailed in such a way that it reflects on the brand image. The same element was then taken inside the structure into interiors, which then relates to every floor entry.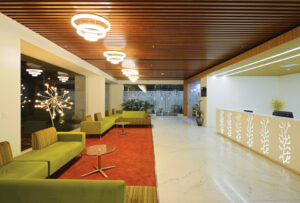 As evening falls, the structure comes to life with a dynamic change of colors from inside due to the changing LED's behind. The right show for the right brand…amazing indeed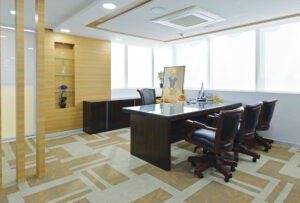 Contact Details: www.beyonddesign.in
(The article was originally produced in The Tiles of India magazine, May-June 2018 issue)