Tailwater faucet from Jaquar, an award-winning collection
Artize, a luxury bath brand from Jaquar Group, has been introduced to cater to customers who aspire for luxury in their bathing spaces. Artize pays a tribute to the fine traditions of exquisite craftsmanship and precision through a wide range of products that are designed to create trends in the bathing industry. The brand has recently won The Red Dot Design Award for Tailwater faucet which is designed by the London-based product design consultancy Danelon Meroni Design Studio.
The studio is led by founders Claudia Danelon and Federico Meroni, who have designed for a diverse range of global brands.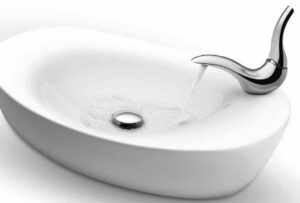 Claudia Danelon, Co-founder, Danelon Meroni commented, "We are extremely elated to receive the significant Red Dot award for Tail Water. We always wanted to create something unique for Artize, which inspired us to explore the abstract image of the bird, perched on the edge of a pool emerged. Tailwater expresses how technological know-how and inspiration from the natural world can be embodied in a beautifully engineered piece of industrial design." Inspired by nature and the elegant, fluid lines of contemporary architecture, Tailwater is the result of the designers' deep research of freeform, combining technological know-how with a unique vision for modern bathroom ware.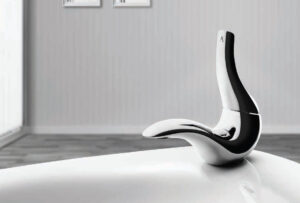 A beautiful faucet that reminds you of a bird perched at the edge of a pool, the Tailwater faucet's that reminds you of a bird perched at the edge of a pool, the Tailwater faucets lever and spout are united in a single, friendly form, which is simple and enjoyable to use. The 'tail' acts as a mixer level, which moves smoothly backward and to the left and right.
The curve of the tap's body echoes the movement and flow of water, while its reflective surface appears as seamless as liquid metal. Extensively prototyped and finely tuned for ergonomic comfort, function, and aesthetics, the curved lever is both intuitive and inviting to the touch. When titled backward, the taps is transformed into a graceful silver arc.
Artize Tailwater is now available in over 40 countries around the world.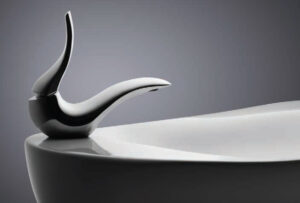 Contact Details: www.jaquar.com
(The article was originally produced in The Tiles of India magazine, Jul-Aug 2018 issue)