The Kindred House
The Kindred House by Architects Madhav Raman and Vaibhav Dimri is a very good example of design evolving to meet the needs of our Indian familial traditions. Kindred House was conceived as a residence for two brothers and their families.
Unlike a traditional Indian family which usually spans three or more generations with strict filial hierarchies, the clients in this project are kindred nuclear families. Therefore, the design called for multiple social spaces of overlapping territories and usage along with specific zones for each family unit and family member. It seeks to house an environment where the teenage cousins are together fostered by the four parents.
Taking a cue from the kinship between the two families, the design seeks to create internal and external residential spaces for the families by evolving close and nuanced volumetric relationships between built masses. Three materially diverse,  cuboidal volumes are supported on an interlaced, cantilevering structural system in front of a larger monolithic block. Through this jenga-like arrangement, the volumes appear to float between a pergola on the roof and a pool of water at the entrance, held in place by shared spatial relationships. The voids thus created allow landscaped, external spaces to penetrate deeply into the living spaces, flooding them with light and fresh air while allowing access to garden spaces on the ground as well as on the terraces.
Materially, the design seeks to enhance the conversation between diverse materials and built volumes through pattern, texturing and layering. In terms of massing, the apparently floating blocks progress from the framed hollow cube of the entrance porch to the perforated meditative spaces to the monolithic guestroom block. The tiling pattern of the wood-clad guestroom block is evinced as minimal fenestrations in the river stone gabion of the meditative spaces and is carried further onto a layer of stone slabs that acts as the brise-soleil for the monolithic block at the rear.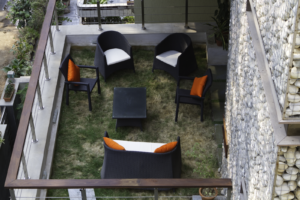 Contact Details: www.anagramarchitects.com
Global Architects Award Winning Projects