Tile Trends and innovations
Tiles are analogous to an artist's canvas, presenting a blank surface ready for an endless range of design and creativity from both aesthetic and technological standpoints.
Patterns, bold and contemporary graphics, a texture of cement, and concretes with metallic touches are sparking the surface industry. So too, in seemingly a first, were stones with glitter effects. Wood-look, fade patterns, printed on the planks, and dimensional effects are big too.
With the digital revolution, architectural space can be manipulated evermore by using the surface. Architects are going beyond merely painting or applying a surface coating or facing, Architectural surface can literally become space that our eyes move through. With digital media, motion can also be applied to such surfaces, giving space more depths and varying dynamic movements. We present some popular innovations in surface titles by international brands.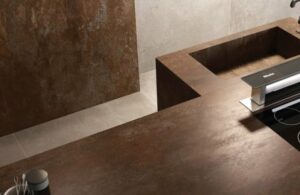 Marble
For forty years, the Italian fashion house Valentino and luxury ceramic tile manufacturer Ceramiche Piemme have collaborated to make a glamorous wall and floor tiles. Majestic is inspired by a gorgeous glamorous wall and floor tiles. Majestic is inspired by gorgeous veined marbles like Carrara, Calcutta, and Emperador. While the materials imitate the naturally occurring rock, these ceramic alternatives are much more cost-effective and are heat-treated to last for decades.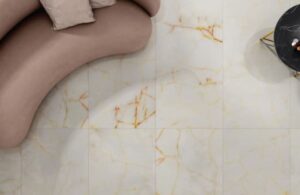 Wood Finish
Versace has launched tiles Inspired by Shou sugi ban- the traditional Japanese technique to preserve and finish wood using fire-these tiles feature a charred, tactile motif rendered by high-resolution digital printers. The Full effect is accentuated by gold inlay tracing the frame of the trim with the original Versace bordering that surrounds the Medusa head in the brand's logo and the brand has launched newer larger formats tiles.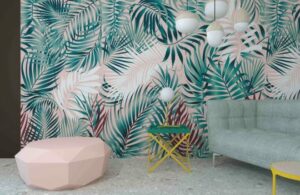 Technology
Designed by Italian architecture Fabio Novembere, the Concreto collection by Lea Ceramiche of Laminated porcelain tiles incorporated Lea Ceramiche's Slimtech technology to create ultra-thin, large format porcelain slabs. Suitable for indoor wall and floor applications, the 0.23"-thick tiles come in 48"-by -102", 24"by-48," and 48"- square formats. Available in five colors, four design variations.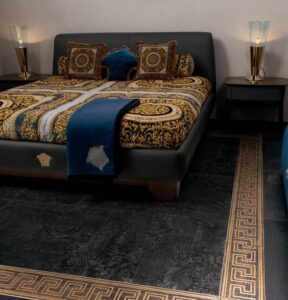 Textile Texture
Ceramic becomes like texture in PAT, the latest collection of FAP Ceramiche. The series highlights a tactile feeling thanks to a redefined pattern creating a pixilated tight weave. PAT comes in a wide range of pastel colors ranging from the sky to ECRU, beige, and grey as well as in two darker textures.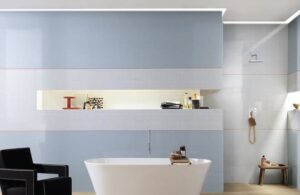 (The article was originally produced in The Tiles of India magazine Sept-Oct 2018 issue)