Marazzi new porcelain marble tiles
Marazzi new porcelain marble tiles – Allmarble is the outcome of painstaking research and state-of-the-art production technology…
Trends in the tile and stone industry are continuously evolving, offering designers and architects more and more options to decorate spaces and express their creative individuality. The introduction of high-tech tools to cut the tiles, stone and marble has made it possible to expand the intricate mosaic detail and make it available to everyone. The beautiful fabric patterns of the past can now be duplicated using tiles, natural stones and marble of all colors.
Porcelain tiles have also evolved very quickly from the traditional squares and rectangles to hexagons, extensive planks and much larger sizes and patterns.
Porcelain tiles now resemble natural products and it has become hard to tell them apart. Colored patterns in porcelain are starting to gain momentum. A timeless black and white combination will always make a bold statement. Combination of more than two colors is the latest trend.
Marazzi's latest collection Allmarble, the porcelain marble tile, is inspired by precious marbles: Lasa, Statuario, Raffaello, Altissimo, Travertino, Saint Laurent and Frapuccino. In addition to the traditional lux, natural and structured finish, the range includes the new silk surface. The sizes range from 60×120 to 7×28 and include the 40×120 slab (20 mm thick) for outdoor use. Allmarble is suitable for both indoor and outdoor floor and wall coverings. A new rationalism, it conveys subtle elegance, synthesis of style and convenience.
The outcome of painstaking research and state-of-the-art production technology, the collection comprises seven carefully-selected, choice quality slabs available in four surface finishes. The new silk surface calls marble with a time-worn look, rubbed smooth with the passing years and use. The collection is completed by mosaics, decors and three-dimensional elements.
The purity of the material, the use of subdued shades and the reproduction of details are the basis for contemporary spaces where the effects generated by finishes and sizes become crucial.
Adapting easily to various lifestyles, it is ideal for walls decorated in sophisticated colors, fine fabrics. It compliments stylish yet functional furniture, with a strong personality. Allmarble decorates rooms with taste and originality.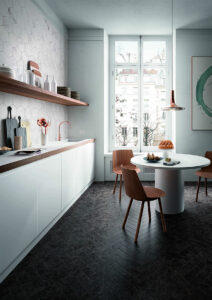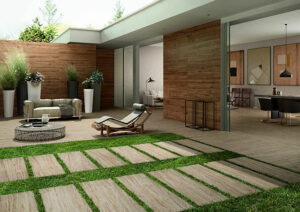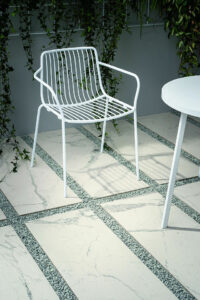 Contact Details: www.marazzigroup.com