Interior trends and ideas for 2019 by Designer Alena Capra
Designer Alena Capra shares interior trends and ideas for 2019 and also throws light on her upcoming projects. With more than 16 years of experience as an interior designer, she is also accredited through the National Kitchen and Bath Association, as a Certified Master Kitchen & Bath Designer (CMKBD). She has completed numerous interior design projects throughout South Florida, as well as in other areas of the country, including New York, Arizona, and Minnesota.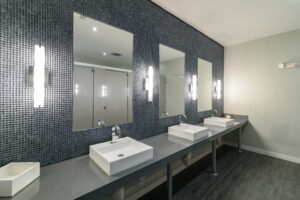 As an industry ambassador for Coverings for the past four years, the largest global tile and stone exhibition in North America, she shares her tile and design trends for each year. "We are seeing a lot of mixed metals in design- gold's, matte black, brass, chrome, etc. It is becoming a huge trend from fixtures, to lighting, to furnishings. Also a lot of large scale floral and botanical prints (in textiles, wall coverings, and tile).
I am currently working on remodeling of the building- the hallways, public restrooms, and lobby. This is an exciting project, and I will be incorporating a lot of tiles as well. I am also working on the remodel of the dining room and common areas of a local Country Club. In addition to that, I have quite a few residential projects in the world.
I love using the tile to enhance the décor and I use it almost in every project in some way- even as an accent wall, in a room where tile on the wall may not be a traditional choice. I've used tile as an accent wall in bedrooms, family rooms, etc. There are so many great ways to use tile for a huge impact on the design. Especially now with all of the beautiful gaged porcelain panels.
Contact Details: www.alenacapradesigns.com
(The article was originally produced in The Tiles of India magazine, Mar-Apr 2019 issue)