KPF's Azrieli Tower in Tel Aviv will be Israel's tallest building
Kohn Pedersen Fox has sculpted this 340-meter high super long Azrieli Tower, a skyscraper for Tel Aviv that is proposed to be the tallest building of Israeli. The tower will have a spiraling glass façade that narrows in stages towards the pinnacle.
Open for viewing to the public at the top this skyscraper will attract the eyeballs providing a view of the Mediterranean Sea. For now, the 238 meter-high Azrieli Sarona Tower is both the tallest tower in Tel Aviv and  Israeli.  When complete with multiple use Azireli Tower will have 65,000 square meters of office space and 17,000 square meters of apartments also with 15,000 square meters each of hotel and retail space.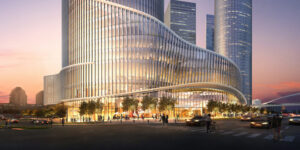 The Azrieli Centre will also include a metro station, a system of bike lanes, and a stop of the planned high-speed rail link to Jerusalem. International architecture firm KPF has built several record-breaking skyscrapers before.
Contact Details: www.kpf.com