Curvaceous Bamboo Design house in by Wallmakers, India
A curvaceous bamboo element that makes this family residence authentic, calm, and distinguished in the busy city of Thiruvananthapuram, India. The residence was designed by Kerala-based architecture practice Wallmakers, who have devoted themselves to the cause of using mud and waste as the chief components, to make structures that are both, utilitarian and alluring.
Their latest project is called IHA Residence and was designed for a couple Mrs. Tara Pillai and Mr. Sreekumar, based in Delhi. They only wanted an eco-friendly house that also retains the peace and quiet in the busy city of Trivandrum.
The architect's innovative approach made this residence unique and more authentic by using local craftsmanship and materials, as well as its rustic atmosphere in the interior. By adding a sinous bamboo element to the façade, it is not designed as an attractive addition to be perceived as natural beauty, it is quite functional and creates an interface area to sit, relax, and a naïve staircase in its own scale.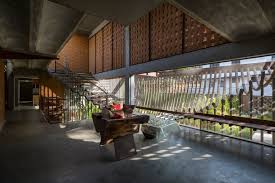 "The design of this residence breaks the shackles of a lot of generic ideas. The main concern while designing was to avoid creating an environmental imbalance in the area as it was a low-lying region," said Wallmakers. The architects said: the idea was to raise the building from the ground, consequently forming a pond at the lowest point in the site which edges into the house with a staircase dangling over it.
The project site was situated on a low-lying terrain with issues of water-logging, which was the primary obstacle the architects had to tackle."The primary idea was to ensure that the building wasn't creating a hindrance in the flow of water. Being in a state like Kerala, where rains are frequent, we had to ensure that the water percolates into the ground and that it could be harvested," the firm added.
The architects had to come up with an alternative and sustainable solution which could also enhance the spatial quality a pond in the lowest point of the site so that water is retained in the site as well as, adding to the artistic vibe of the residence. Using bamboo for the façade had a downside to it – which is that it is precarious and cannot support an entire edifice of enormous size. This is the barrier that was demolished and proven wrong by dint of this project.
The bamboo façade is created and conserved in a stable position by reinforcing the bamboo with steel rods.  The continuous string of bamboos hands you the front elevation to the residence supporting the staircase that hangs from it, also creating a semi-open place for your quiet thoughts.
Contact Details: www.wallmakers.org