Reading Time:
2
minutes
Handmade ceramics by Sam Baron & Costas Vyotazis
Sam Baron and Costas Vyotazis, founder of Yatzer, have created a collection of irregular, handmade and hand-painted ceramics for Swedish design company Mateus.
The collection is a collaboration between French designer Baron and Voyatzis, founder of Yatzer an online platform celebrating fine and applied art. It will be launched at this September's Maison & Objet to mark Mateus's 25th anniversary. Named Mateus meets Sam Baron meets Yatzer, all the ceramic pieces in the collection are handmade and hand-painted, using a palette of subtle neutral colours and a clean design language.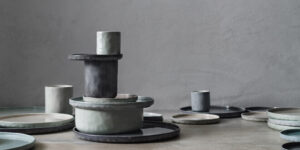 "Conceived as a tribute to the company's origins, as well as a homage to pottery, the collection's clean lines and stylistically pure design language draws from both the pre-historic and the modernist principles of form follows function to create a line of timeless, elemental objects," said Mateus.
The collection consists of four basic forms – a plate, a bowl, a vase and a cup that come in various sizes and colours, based on a palette of earthy colours found in nature and with an unglazed, uneven finish."We went back to humankind's earliest ceramics by designing humble and simple containers for food with a singular presence in their users' daily lives," said Baron and Voyatzis. "Their irregular but geometric shapes and subtle tones mean they used for different occasions or even as decorative pieces."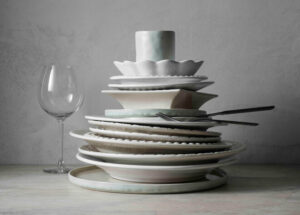 The toned-down palette allows the pieces to be easily mixed and matched, both within the collection and with Mateus' previous products. Mateus is known for creating hand-painted ceramics with vibrant colours and decorative patterns. This muted collection presents a different approach for the brand and is a nod to the oldest methods of crafting ceramics.
This is Baron and Voyatzis' second collaboration – the first was for a Yatzer pop-up shop in Milan in 2016. The new collection, Mateus meets Sam Baron meets Yatzer, will be on show at Maison & Objet 2018's September edition in Paris.
Courtesy: www.dezeen.com