Easy Ideas for A New Bathroom Look
Bathrooms are one of the most neglected spaces in a home. But they can be easily renovated and can provide an instant fresh feeling as we use them every day! Neat and clean bathrooms can be one of the best ways to start your day! So here are some easy ideas to renovate your bathroom making it fashionable and functional all at the same time! Also, before you see the ideas for a new bathroom look, you can also check out How to Pick Tiles for your Bathroom, which will make your job easier! https://www.thetilesofindia.com/tips/how-to-pick-tiles-for-your-bathroom/
1. Matt Finish Taps
Experimenting with color and texture in design is one style statement but black and white matt tap fittings are also in vogue. Once considered a strictly high-end taste, it has today percolated to the average household. Black matte instead of the usual white can create a sense of drama and luxury at perhaps half the price of what an entire renovation would cost you. These fittings are a true style statement!
Monochrome has an everlasting allure that is unlike other options available in the market today – shiny, crisp, and even clinical, it is an investment you will love for ages. Pale gold fittings are also catching up and you could check these out to add a special dose of glam to your bathroom.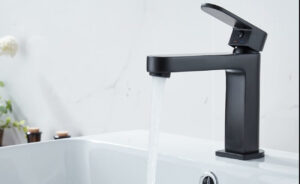 2. Bringing the Green Inside
Planting works wonders for home design, while our ancestors may have compartmentalized the planting in the house for specific corners, you could go nature friendly and create small green zones throughout your bathroom. Spider plant, peace lily, aloe vera or perhaps bamboo does very well in the bathroom area and can deal with the steam that emanates from the shower or jacuzzi area.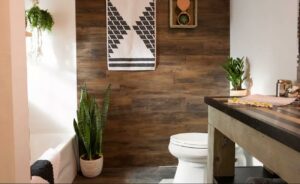 3. Systematized Luxury Spa
Spas have always attracted us with the specific ambiance, soft hues, neutral furnishings, you could recreate the exact ambiance in your bathroom and enjoy the luxury of a spa every day without having to go to a real one as often thus helping you to minimize those extravagant spa bills! An abundance of wicker baskets to hold your toiletries and towels will help recreate the sense of calm well-being you find in a luxury spa. Basin units constructed from rustic wood materials are proving popular, too, particularly when twinned with the bold, industrial brassware that has become the centrepiece of many bathroom designs.