Asian Granito India Ltd showroom in Gujarat
Asian Granito India Ltd showroom in Gujarat Asian Granito India Ltd showroom in Gujarat is the largest tiles and sanitaryware display showroom. Showcasing the company's production and technological excellence in one place, Asian Granito India Ltd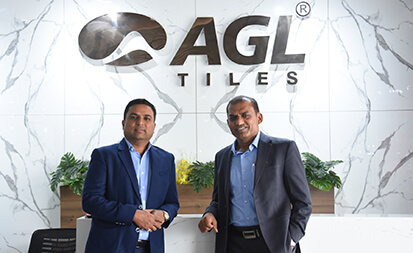 Asian Granito India Ltd showroom in Gujarat
Asian Granito India Ltd showroom in Gujarat is the largest tiles and sanitaryware display showroom. Showcasing the company's production and technological excellence in one place, Asian Granito India Ltd has launched its largest display showroom unveiling the wide range of tiles and Sanitaryware at Himmatnagar, Gujarat.
The 25,000 square feet showroom will have an exclusive and elegant range of products including, ceramic floor, digital wall, vitrified, parking, porcelain, glazed vitrified, outdoor, natural marble, composite marble & Quartz, etc under one roof. The showroom will also house the newly launched Sanitaryware range.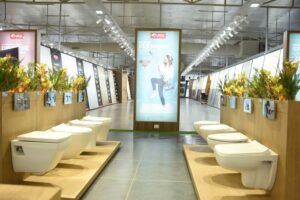 Trusted for reliability, adaptability, innovation, quality consciousness, the company has created a strong brand identity for itself which is well recognized globally. A must-visit for all, the showroom will catch the attention of dealers network and customers nationally with a wide range of 1400+ products in all sizes, designs, and finishes in sync with evolving customer preferences. The company also organized a dealer meet during June 16 – 22 and invited its business partners across India to have the look and feel of the exclusive collection.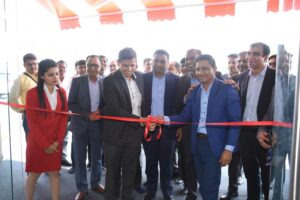 Speaking on this occasion, Mr. Kamlesh Patel, Chairman, and Managing Director and Mr. Mukesh Patel, Managing Director, Asian Granito India Ltd said, "This will be the largest display showroom of tiles and sanitaryware in North Gujarat and will showcase its entire product range offered by Asian Granito at one place. We had started our journey from a small unit in Himmatnagar in the year 2000 and today have become one of the leading tile brands in India with 10 manufacturing plants, employing over 6,000 people.  All our manufacturing plants are located in the surrounding hence we decided to set up the display center here so that one can have our entire range of products at one location."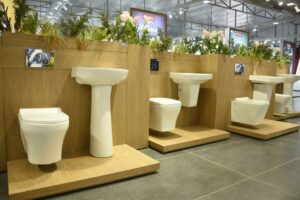 The company looks to strengthen its identity as the leader in the Indian ceramic industry by consistently introducing innovative and value-added products in the market to keep pace with its valued customers. Asian Granito India Ltd today is ranked amongst the top 3 listed ceramic tiles companies in India and will focus on high-end products such as premium GVT tiles, Nano Crystal, Quartz, and Marble, etc. In the next 2-3 years, the company has set a target of Rs. 2,000 crore revenue; Expand retail network to 500 exclusive showrooms and entry in sanitaryware and CP fittings to provide 'Complete Bathroom Solutions'.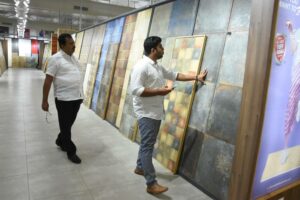 The company has over 6,500 touch points with dealer & sub-dealer network; 300+ exclusive AGL Tiles showrooms and 13 Company-owned Display Centres across India. The company exports its products to 60 countries and aiming to take the toll to 100 countries in the coming time.
Asian Granito India Ltd. (AGIL) has emerged as one of the largest ceramic companies of India having around 1400 design across segments. The company offers a wide rand of products including, ceramic floor, digital wall, vitrified, parking, porcelain, glazed vitrified, outdoor, natural marble, composite marble & Quartz, etc.
Contact Details: www.aglasiangranito.com