A new destination for the lovers of Japanese cuisine opens its doors in Castellanza (Varese), the K-Kaiseki Restaurant. It was designed with the greatest attention to detail by Andrea Langhi Design, who thought of a place that could represent the dish that inspired the venue: the kaiseki, a traditional Japanese meal composed of many small dishes, which together give life to an unforgettable sensorial experience. Precisely to recreate the combination of taste and sight, the restaurant has been conceived as a stage on which dishes and courses come to life, causing amazement in the audience just like in a theatrical show.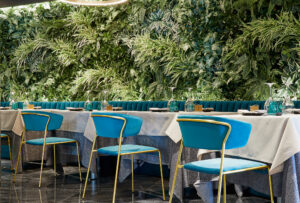 For the restaurant, they chose the brass finish for the frame and a teal blue velvet fabric for the padding of the seat and backrest. A whole collection to offer maximum relaxation in convivial moments."K – Kaiseki is extreme simplicity and rigor; it is using technique and research to highlight the superior quality of the best ingredients.A place to hang out with company.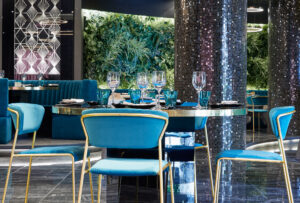 Large circular sofas alternate on different levels to create a series of artificial "islands" where each table becomes an opportunity to taste the chef's creations together," explains Andrea Langhi, and continues,"A design far from the stereotypes of ethnic restaurants,but vibrant, eclectic, and scenographic like that of a club, where food is as important as entertainment, where eating also means having fun and getting excited.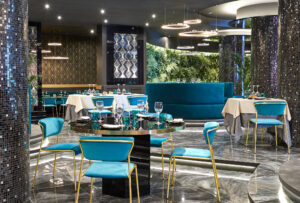 A large central counter becomes the fulcrum where the skilled hands of the chefs create the kaiseki dishes. Black marbles, mosaic columns, ceiling mirrors, gold counters and green walls, designer lamps and refined light decorations, velvet sofas and designer chairs – the Lisa chairs. A place of strong sensations you can't be indifferent to. According to tradition, the kaiseki." Architect Andrea Langhi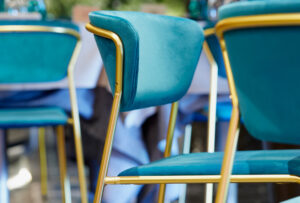 Courtesy: