Kohler new age bathrooms
Kohler infuses technology to elevate our bathrooms experience to another level. Kohler presents the latest washroom technology with its range of bathroom fittings. These products are guaranteed to elevate your experience with the state of the art technology for a state of the art bathroom.
Verdera
See yourself in a better light. KOHLER Verdera lighted wall mirrors deliver optimally bright, even, and shadow-less bathroom lighting that is exceptionally close to natural light Pivoting side panels let you direct light exactly where you need it, making daily grooming tasks easier than ever.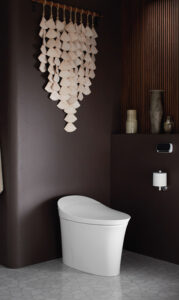 Veil
With its flowing and immaculately balanced curves, the Veil is a one-piece toilet with integrated cleansing functionality epitomizing minimalist and ergonomic design. Its sculpted core provides a suite of precision features finely tuned to offer optimum hygiene and ultimate individual comfort, from personal cleansing to an LED nightlight to hands-free opening and closing. All of the features are easy to control on a touchscreen LCD remote control.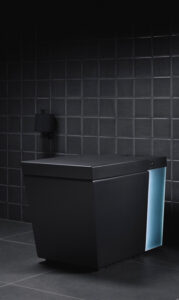 Numi
The Numi toilet combines unmatched design and technology to bring you the finest in personal comfort and cleansing, Kohler's most advanced toilet now offers personalized settings that let you fine-tune every option to your exact preferences, from ambient colored lighting to wireless Bluetooth music sync capability to the heated seat and foot warmer. Play your favorite music and podcasts-simply stream wirelessly with any device enabled with Bluetooth technology, store MP3 files to the SD card, or plug in your device using the auxiliary cable. Other upgrades include the power-Saver mode for energy efficiency, emergency flush for power outages, and an intuitive touch-screen remote. From its striking form to its exceptional water efficiency, the Numi toilet marks a new standard of excellence in the bathroom.
Contact Details: www.kohler.co.in
(The article was originally produced in The Tiles of India magazine, Mar-Apr 2018 issue)