Designer and Silestone trendspotter Cheryl Kees Clendenon designs a true Green house live-in Kitchen with the collaboration of Kohler and Benjamin Moore Paints.
Silestone with the leading plumbing manufacturer Kohler Co. and Benjamin Moore Paints were challenged to envision kitchens that embody the very best in design while using Silestone Trend spotter Cheryl Kees Clendenon is an award-winning designer with more than 18 years experience in the design industry.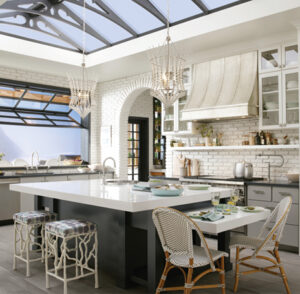 An Extract…
Outdoor space plays an enormous role in your kitchen design. Why is marrying indoor and outdoor spaces important to you as a designer? And do you think it's a trending element in kitchen design?
 I live on the Gulf Coast, so the outdoors is just another room to me! In Florida, outdoor living is a way of life. My goal is to make the indoor/outdoor connection as seamless as possible. Whenever possible, I try to design a kitchen with outdoor access close by. The idea of indoor/outdoor spaces is certainly not new. The idea is influenced by a higher awareness in people about choosing healthier lifestyles which includes a strong interest in growing one's own food. This is gradually bringing about a revolution in how we approach kitchen design by allocating space for small gardens. For smaller homes, outdoor spaces expand into entertaining space. The outdoor area also becomes a part of the cooking and dining experience enabling guests to move freely from the inside out.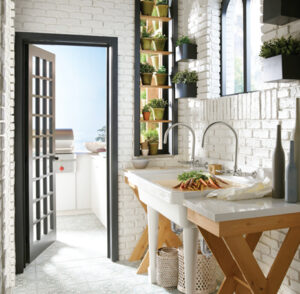 How does this kitchen design address the change in household demographics?
 We have multiple seating options. The lowered seating at the end of the island is ideal for young children, as well as those in wheelchairs. Table-height seating at the island is a fantastic solution not only for those who love to entertain, but those looking to age in the place. We also have multiple sinks, which is crucial when you want help in the kitchen! They're even more important than multiple cooking surfaces. But the overwhelming concept was for this kitchen to be family-centric with opportunities for everyone—family and guests alike—to participate in the making of a meal.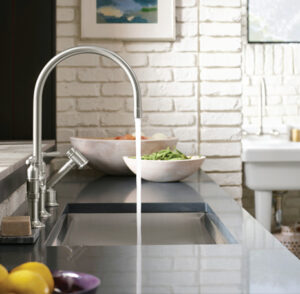 Contact Details
www.silestoneusa.com
(The article was originally produced in The Tiles of India magazine, Sept-Oct 2017 issue)