The urban vintage style from Flaviker conquers the world of large panels.
Flaviker, born in the early 60s, anticipated market trends by pioneering porcelain stoneware in the Emilia ceramic tile district of northern Italy. Today innovation together with design and a marked awareness of eco-sustainable practices- are the qualities that distinguish Flaviker as a benchmark for porcelain stoneware Made in Italy.
COZY
Cozy from Flaviker is a warm, welcoming material that brings a sense of comfort to any project. The appearance of the COZY planks is enhanced by realistic and almost three-dimensional details such as the presence of filled cracks. The soft and lightly textured nonreflecting surface has been created using new materials specially selected for this kind of product.
Technology
Dry pressed porcelain panels.
7 mm Sizes
20×170 cm, 26×200 cm
Colors
Desert, Honey, Havana, Brown, Bark.
River
The new River ceramic tile collection skillfully combines a uniform surface with the beauty of fragments, firmly positioning itself within the macrotrend of agglomerates and textured materials. The project offers are interpretation of the old terrazzo floors created by master craftsmen that are still conserved in stately homes without hiding the signs of wear and tear that have accumulated over the centuries.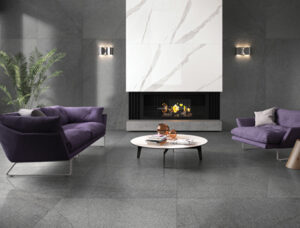 Technology
Colored body porcelain panels and slabs.
7 mm Sizes
160×320 cm, 120×240 cm, 120×120 cm, 60×120 cm9 mm Sizes 60x60cm, 30×30 cm, 10×60 cmX20 20 mm Sizes
60×120 cm R11 for exterior use.
Colors
Moon, Ecru, Earth, Lead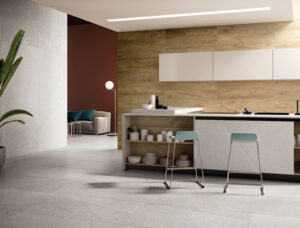 Contact Details
(The article was originally produced in The Tiles of India magazine, Nov-Dec 2017 issue)