Reading Time:
3
minutes
Architect Thom Mayne and The Kolon Group
Architect Thom Mayne of Morphosis has designed The Kolon Group's new corporate headquarters and research facilities to support the collaborative work model of the brand.
Morphosis is a global architecture and design firm, creating compelling work that is intelligent, pragmatic, and powerful. Committed to the practice of architecture as a collaborative enterprise, founder and Pritzker Prize-winning architect Thom Mayne works in tandem with Partners Arne Emerson, Ung-Joo Scott Lee, Brandon Welling, and Eui-Sung Yi, and a team of more than 60 architects and designers in Los Angeles, New York, Shanghai and Seoul.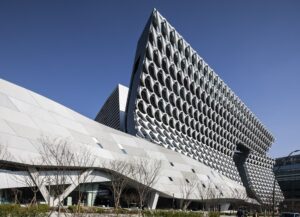 The Kolon Group, based in Seoul, is a diverse corporation whose activities range from textiles, chemicals, and sustainable technologies, to original clothing lines in the athletic and ready-to-wear fashion markets. The headquarters is located in the Magok district, an emerging hub for technology and light industry that is revitalizing the Han-River area in south-eastern Seoul.
The building folds towards the park, providing passive shading to the lower floors. Bridging the three extending laboratory wings, this folding volume contains conference rooms and social spaces, augmented by flagship retail and exhibition galleries at the street level to communicate the brand's vision to the public.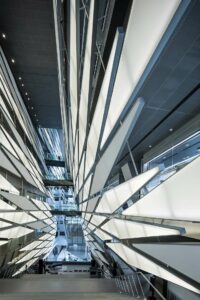 A transparent ground plane extends the landscape into the interior, drawing light and movement towards an open pedestrian laneway and grand entry. At 30m tall and 100m long, the expansive multi-story atrium serves as the building's social center. Movement is revealed on all floors through the atriums transparent liner system, which is comprised of massive, 8m 'stretchers' that allow for a changing display of Kolon's own fabrics.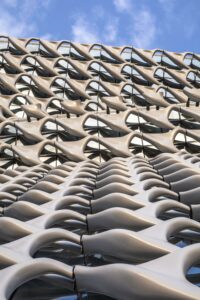 The performance of the building was approached as a holistic concept encompassing energy efficiency, resource conservation, and environmental stewardship, working in concert with education and employee health and wellbeing. Along with goals for LEED Gold and the most rigorous sustainability certification in Korea, the project focuses on the quality of the work environment through roof terraces, courtyards, and other measures that increase access to natural light and air for employees.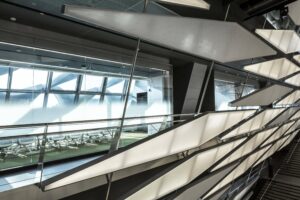 Other sustainable measures include green roofs; recycled materials; and utilizing a bubble deck slab that reduces the amount of concrete used by 30%. The distinctive brise-soleil system on the western façade is both a performative and symbolic feature of the building; the façade units have been parametrically shaped to balance shading and views, and are made from a GFRP formulation that uses one of Kolon's own high-tech fabrics, Aramid, to dramatically increase the material's tensile strength. Together, the building's siting, spatial qualities, and technological innovations express Kolon's investment in and commitment to sustainability.
Contact Details: www.morphosis.com
(This article was originally produced from The Tiles Of India May- June 2019 issue)