Office space by Architects Krupa Zubin & Zubin Zainuddin
Office space by Architects Krupa Zubin & Zubin Zainuddin displays clean and liner designs. ZZ Architects is a multidisciplinary and multi-award-winning design firm led by Principal Architects Krupa Zubin and Zubin Zainuddin.
A recent project and an excellent display of clean and linear design are the Realtors Office at BKC, Mumbai. Spread over an area of 8000 sq.ft, this state of the art office has been designed for a leading real estate developer in Mumbai. The client is an established developer and wanted to build up its brand image and was looking to expand its setup and team. The brief was to design a modern and functionally efficient, yet warm and inviting workspace. A clean material palette has been maintained to get a very contemporary and international appeal. The reception area is designed in grey tones which makes the place warm and welcoming. The color tones change from grey to simplistic beige that can be seen in the flooring, ceilings and the wall finishes. A unique concept of in-house sales pavilion and client interactive space has been introduced considering the functionality of the organization. A separate Executive wing for MD and directors of the company has been created too. Audio Visual and automation technologies have been seamlessly integrated which makes the space at par with international corporate spaces. The internal finishes stand apart with intensely yet simplistically detailed interiors, the green carpet was a bold introduction to liven up space for the workstations without losing the ethos of the space.
 Sharp design with efficient execution gives this project the advantage of high functionality which is a key element in designing office spaces.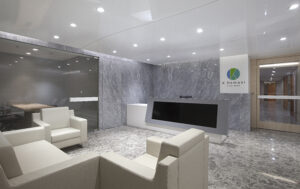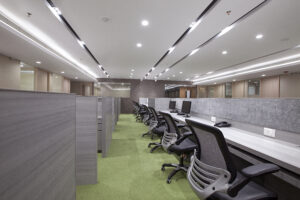 Contact Details: www.zzarchitects.net