Moroccan theme fine dining
"Nawwarah", a Moroccan themed fine dining designed by young designer Ankita Baid is a glittering example of design inspired by a confluence of both the Mediterranean and the Arabic.
Morocco, a North African country bordering the Atlantic Ocean and the Mediterranean Sea, is distinguished by its Berber, Arabian, and European cultural influences. Marrakesh's medina, a mazelike medieval quarter, offers entertainment in its Djemaa el-Fna square and souks (marketplaces) selling ceramics, jewelry and metal lanterns. Resplendent in its beauty and mystique Morocco brings to one's mind dazzling and brilliant azures, moss greens, and rich tagines. Warm, hospitable people and a beautiful relaxed atmosphere make it a favorite destination for most travelers. Moroccan culture has been shaped by a confluence of various cultures like the Arabic, African, and Mediterranean influences and has evolved into something unique.
Designer Ankita Baid, interior designer and Founder Director Ark & Arts wanted to bring a slice of this exotic culture to her design for 'Nawwarah' which means brilliant and dazzling in Arabic.
Nawwarah is a three stored café cum fine dining and lounge located in the heart of the city of Kolkatta. The restaurant has G+2 building comprising of fine dining and ice cream parlor on the ground floor, a bar on the first floor, and hookah café and lounge on second. The fine dining area is made luxuriously in gold and teal colours. The intricate wood carvings on the ceiling and massive crystal chandeliers give a rich and exotic look. The ice cream parlor is fresh and vibrant with greenery and flowers cladding on walls. Glass mosaic flooring and cluster of Moroccan lights on the ceiling gives a dashing look.
A bar on the first floor is adorned with mother of pearl and brass furniture. There are metal mirrors on walls and also a heavily cladded mirrored ceiling.
The most amazing thing about this space is the Moroccan printed floor tiles and colourful sofas that completely uplift your mood and senses the moment you enter the space. Anikta says, "The toilet on this floor is very luxurious with prints, crystals, mother of pearl fittings. The bar counter is hand-painted with colorful Moroccan prints", explaining the meticulous effort that has been taken to create a unique experience for the visitors.
On the second floor is the café which is perhaps the best exploration in terms of bold prints, fancy colours, elegance, and detailing. A beautiful experience with antique swings, sofas, tables, and chairs, everything is made in perfect Moroccan style leaving us totally amazed!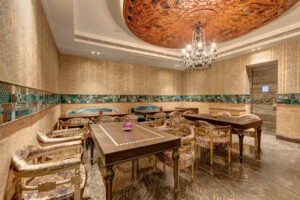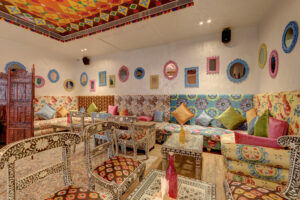 Contact Details: arkandarts.com