Architect Sanchit Arora of Renesa Architecture Design Interiors Studio has blended a concoction of design theories in his latest project, The Pink Zebra.
Renesa Architecture Design Interiors Studio in New Delhi, has designed the funkiest project called, The Pink Zebra aka Feast India Co. (FIC), situated in Cawnpore (now Kanpur). The project highlights the bygone British culture in the city of Kanpur with the extravagance of the European Grandeur.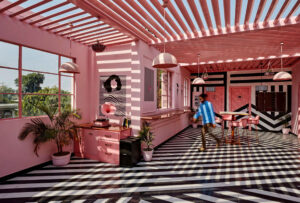 Architect Sanchit Arora said, "The purpose of making "The Pink Zebra" was to speak of a complex and contradictory architecture based on the richness and ambiguity of old and modern experience including that very experience which is inherent in art. The core idea was to create a hybrid rather than pure, compromising rather than clean and leave the visitor hanging in the middle of an artistic sea."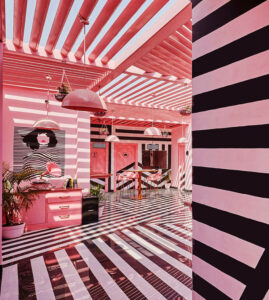 The love for extreme symmetry and restricted color palettes can often give the expression of a surreal, self-contained world but adding that certain bizarre elements to break that monotony of wes's spatial ideology came through the black and white zebra lines dipping themselves in the pink monotone set in the British Raj's colonial order.
How about we dip a zebra into deep pink sea?
The Pink Zebra (FIC) sits on one of the oldest buildings of Kanpur and helps in identifying that transition of the old to the new through the design channeling and re-architecture in this playful setting. The site is a fascinating experience of cultivating the idea of the renaissance of old structures in the British Raj Era to the new age Kanpur experience through a very bold and fierceful narrative. Sometimes, architecture seeks to find a harmony between the disconnect of design and gastronomy through a phenomenological relationship of branding. The Pink Zebra breaks the monotony of the normal style of food culture in Kanpur and creates an exhibition blend of architectural elements into the culinary mode.
Contact Details
Studiorenesa.com
(The article was originally produced in The Tiles of India magazine, Jul-Aug 2018 issue)