A residence designed by architect Manish Dikshit of AUM Architects is a classic example of art deco done right.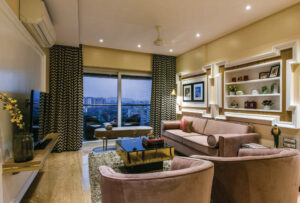 The client brief for the 3 BHK residences was to create an exclusive and cozy home for them and their two daughters. The designers decided to go for the currently trending Art Deco theme through most of the property, right from the entrance of the house to the master bedroom. At the entrance is a very architectural element from that style; a big keystone with golden trimming reminiscent of Empire State building. Sherbet-colored wall with white ornamental pilasters in the passage leads one into the living room that resonates the Art Deco theme.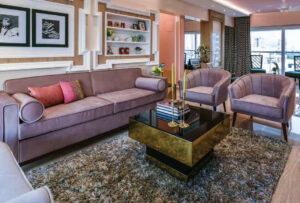 Characterized by rich color, bold geometry, and decadent detail work; the living room is vibrant. A fixed dining area was not needed so they planned for a drop-down table with a beautiful etched glass top. When closed this etched glass forms part of the wall panel; with mirrors on either side, that help creates an illusion of volume.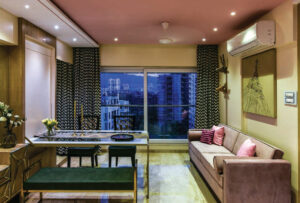 The black and white chevron print runs along the length of the parallel platforms. A pop of the color teal, has been used sparingly on the overhead unit. The opulence of gold has been strewn across the area in the form of handles, metal inlay work and paint. The aesthetics unite the various sections of the long passage with various elements of Art Deco.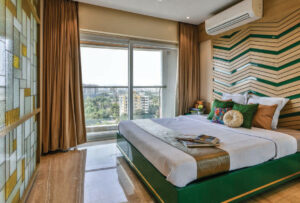 The passage- kitchen and the living room have been done in a complementary color scheme whereas the master bedroom is a distinct representation of the same style. A 3D chevron pattern headboard made of the veneer and color lamination resonates the style but in a way that makes it unique to the room. The first bedroom is very modern and very English in style and essence with a stark indigo blue wardrobe that is a stand out in the overall ice grey room. The celling profile is slopping giving it an attic room feels. The other is designed with a very minimalist approach keeping it clutter free with a low bed. Subtle, elegant and refreshing at the same time, it is a fine example of art deco done right!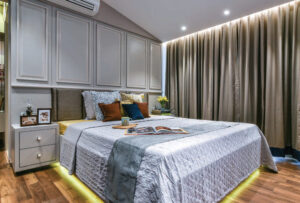 Contact Details
www.aumarch.com
(The article was originally produced in The Tiles of India magazine, Jul-Aug 2018 issue)