Mercure Almaty Hotel by CaberlonCaroppi
Architects Chiara Caberlon and Ermanno Caroppi of CaberlonCaroppi, have designed The Mercure Almaty Hotel keeping in mind the latest trends without losing sight of the comfort scenario.
It starts from the location, from the place, and from the city, to get to know the genius loci of each structure, to catch its soul and transfer it to the project, always stirring emotions. "From architectural and graphic design to materials and fabrics, everything is in line with the identity of the place". This is how architects Chiara Caberlon and Ermanno Caroppi speak about the design spirit of CaberlonCaroppi Italian Touch Architects, the associate studio founded in 2004 with the aim of sharing and putting together the various experiences gained over years.
The architectural planning is the starting point, the true soul of every project. From the study of space and its connections to the analysis of customers and their habits, everything contributes to the creation of a functional layout able to better reflect the needs of the client, maintaining a strong link with local traditions and at the same time to detach from a standard and conventional output.
The Mercure Almaty Hotel is a project where international chain standards and the charm of Kazakhstanare flawlessly fused together. A colorful, fully detailed, and eccentric Interior Design is the main character in every space where textures and graphic decorations are inspired by Kazakhstan traditional art.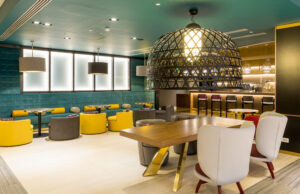 The hotel located in a strategic position, in the city center, has eleven floors and boasts 117 well-appointed guestrooms with a unique design inspired by local culture and traditional art. The spaces and services include two restaurants with the finest cuisine, lobby-bar, 4 spacious conference rooms and a relaxing spa-center with an amazing view of the mountain landscape.
All the graphic elements remind the traditional decorations of the place. Starting from the brand wall in the entrance hall, to the moquette in the common areas, to the patterns of top tables, to the carpet and wallpapers in the rooms. Guests could perceive the tradition of Kazakh also in the choice of colors and color contrasts. In the lounge, the welcome space is created using huge lamps that recall YURTA, the traditional house of the nomadic people of Asia.  Nature is another important theme in the design of the space and we can find natural elements in the artworks.
All the materials and details are matched by the attention to the latest trends without losing sight of the comfort scenario making the hotel the perfect combination to reach success for an international professional or businessman who is planning a business trip or a leisure trip.
Contact Details: www.caberloncaroppi.com
(The article was originally produced in The Tiles of India magazine, Mar-Apr 2019 issue)