Pantone Color of the Year Very Peri
As we cross the threshold into 2022, it seems appropriate that Pantone's
color of the year stands for courage, inventiveness, and creativity. While
many of us have spent a good chunk of the last two years sheltering in
place, the rate of transformation of the outside world has only accelerated –
as Pantone puts it, "As we emerge from an intense period of isolation, our
notions and standards are changing, and our physical and digital lives have
merged in new ways". It stands to reason that in a dramatically changed
landscape, we're going to need huge doses of courage, inventiveness, and
creativity to navigate it. In interior design, we are also seeing the
the resurgence of yesteryears' bold art forms taking on new forms, such as
Neo-Deco and Neo-futurism, paving the way to the future with their sleek
lines and curved edges that challenge us to rethink our design conventions.
Breaking out of the relative safety of the 2021's color, Very Peri fits
naturally right into these movements, acting as a visual catalyst for change.
Interested to see how you can incorporate Very Peri into your interior
design?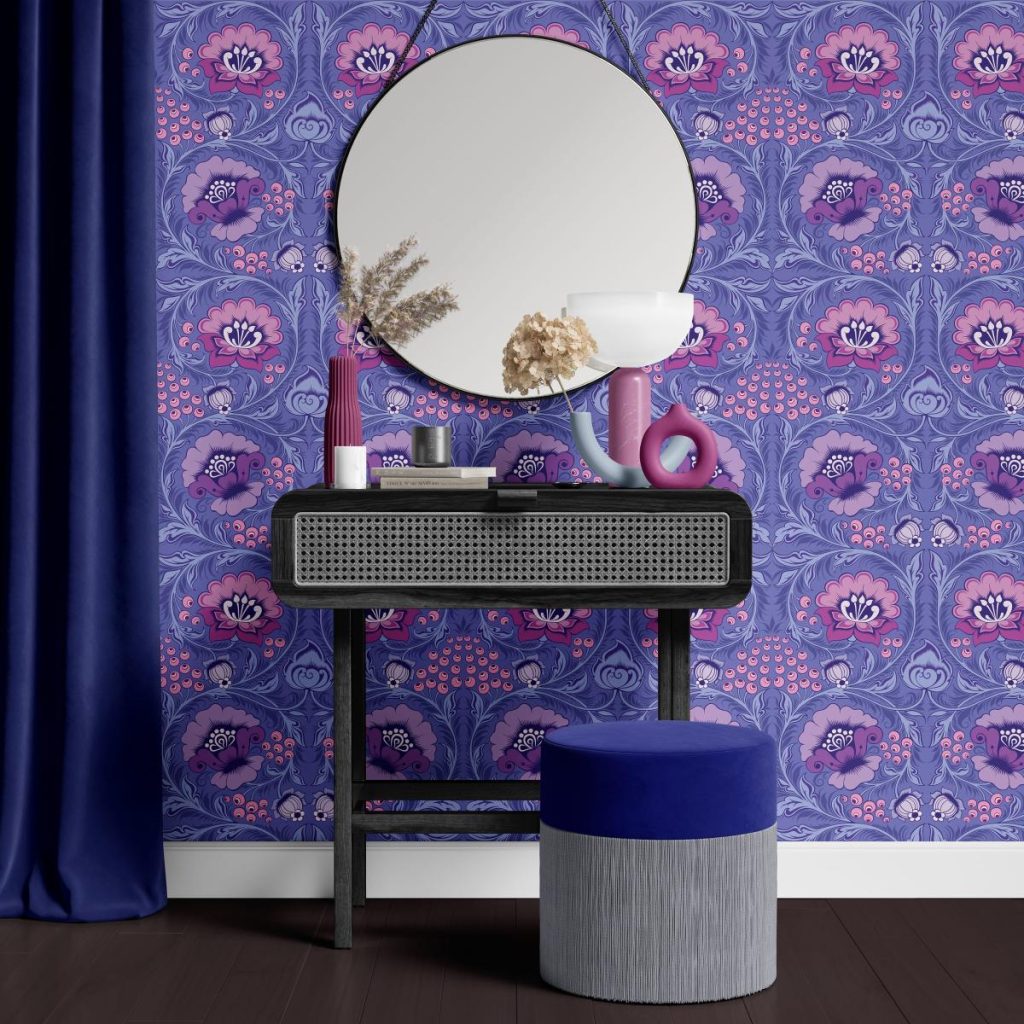 Add Color palate on Walls
Go for amazing shades of purple on your walls. Mix and match with other
tones. Very Peri is not only a very versatile shade, but, thanks to its
periwinkle blue base, is also good at instilling a sense of comfort and
tranquility, and for this reason is highly recommended for rooms such as
the living room, bedroom, or study. Once you have decided on the room
and the match that is right for you, the next decision to make is whether to
try painting one or more of the walls in your home. Sometimes a simple
color accent is enough to give a room a new twist, so the advice is to try a
single one and, if the result is satisfying, continue with the others.

Statement Items
Add statement pieces in your house like a giant chair or sofa in the center.
Or wall art with shades of purple or lightings to set a mood. Smartly place
them focusing on a single statement item, capable of capturing attention
and changing the look of living rooms, bedrooms, and kitchens. So, instead
of opting for the classic neutral tones or colors that are now commonplace,
such as green and pink, why not add to the much trending color.

Decor Accessories
Go for small décor accessories in the corner of your home such as décor
pieces, walls Small accessories like a rug, a poster, a candle, a plaid, a
vase, a pillow, or a holder. The possibilities are many and different
depending on taste and range.

Revamp bathroom
A bold bathroom with a very peri vanity and a yellow tile wall, pendant
lamps and a rich-stained storage unit opposite it will make your bathroom
look more attractive.

Go for trendy Tiles
A cottage very peri kitchen with white countertops, white subway tiles,
wooden beams on the ceiling and stainless steel appliances will help to
give a boho look to your kitchen and make it more bright and lighter,
welcoming lot of natural lights.
Featured Image: Courtesy Olenka Design
Contact Details