Reading Time:
3
minutes
Marbé Briceno-Velázquez
Marbé Briceno-Velázquez, founder of Marbé Designs, Inc. residence project is elegantly inviting with the luxe of metals, natural stones and views that together with the furniture selection and the pieces give an "Art Deco experience."
"The human being, by nature, tends to follow trends. I once heard someone say, "life itself is a trend"." – MARBÉ
Marbé Briceno-Velázquez, founder of Marbé Designs, Inc. is an award-winning, full-service architectural interior design studio based in Los Angeles, California, specializing in high-end residential as well as hospitality sectors across the country and overseas; with an eccentric knowledge of creating both refined and authentic designs.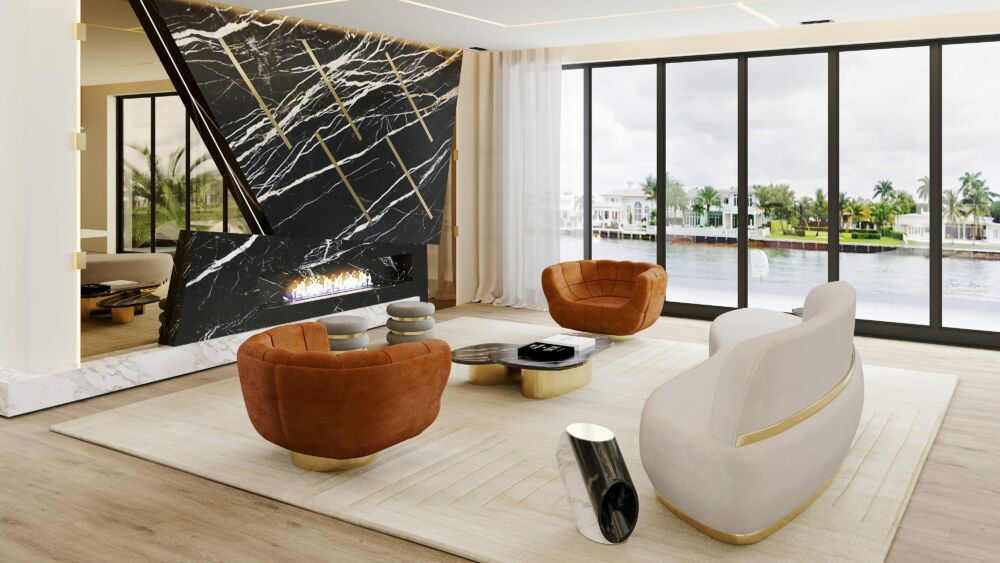 The studio strives with passion and devotion to transform any space into something unique, creating a comfortable environment while experiencing the beauty of art.
A grand, luxurious home is one of the many homes she has designed, from LA, New York, and Florida. With a curated selection of DelightFULL and Essential Home's products, Marbé Designs created modern art deco spaces that will inspire you and show you how to incorporate furniture as if they were high-end pieces of art.
Marbé's interest in Art & Design began as a little girl by watching her mother, an impressionist artist, painting in her studio, who also taught her to create art with oil and acrylic painting.
Born in Northern Venezuela, Marbé spent most of her time outdoors surrounded by beautiful mountains and stunning beaches, entranced by the colors and patterns found in the natural world. While living in Miami, Florida, for more than two decades (which she also calls her hometown), she became fascinated by the exotic Art Deco architecture. Since 2013, the fusion between landscapes as well as architectural and eclectic scenes in her surroundings fostered her ability to create. "I have always enjoyed appreciating the art within nature and architecture.
Stepping away from the most popular areas in any residential project, Marbé's unique residential approach of this "Modern Art Experience" is all about those spaces that showcase the essence of the unique art deco style.
Everything starts in the hallway, a home area that many interior design enthusiasts don't pay attention to. For this luxurious experience, Marbé highlighted the beautiful artwork by Lynette with an explosion of light provided by DelightFULL's iconic suspension piece called Blakey.
"For this project, in particular, I'll say the focal point is the metals, the natural stones, and our effort to try and stay away from designing that typical house in front of the water…" says MARBÉ.
In the bespoke media room, the design was divided into two main areas: one small bar area and a luxurious living space which makes this the perfect entertaining space. Essential Home's unique product set composed of the Mansfield armchairs, Miller center table and Vinicius side table are statement pieces that show the high-end side of the popular mid-century modern style.
"We designed it for the family and at the same time maintained that luxury feeling that you find in the most prestigious 5-star hotels in the world…" says the designer.
A piano room is an essential space in a home decor design for every design enthusiast that is in love with the art deco style and its unique details.
Featuring a luxurious mid-century twist due to the fabulous statement lighting feature created with DelightFULL's Ike Pendant lamp, this unique room is all about simple lines and a sophisticated color palette that pops up the classic yet timeless piano.
"This house is elegantly inviting with luxe of metals, natural stones, and views that, together with the furniture selection and the pieces we designed, give colorful accents, saturations and cherishes the whole space and the homeowners' life." – MARBÉ
Next up, there is the sophisticated living room design, where the luxurious marble wall takes the place as the main character of the entire space. To complement this beautiful feature, Marbé complemented the space with some beautiful furniture designs from multiple luxury brands such as Essential Home, Caffe Latte, Boca do Lobo, and Brabbu.
Although all of these unique products are made with a high standard of quality excellency, it is Essential Home's Jacobsen side table, made entirely of two different marble types, that brings the space together into a cohesive and sophisticated look.