Luxury penthouse
Taiwanese based interior design firm EDICOM CORP has designed an extravagant penthouse with Boca do Lobo pieces which gives a contemporary and bold look.
An extravagant and glamorous penthouse in Taiwan designed by interior design firm EDICOM CORP and Boca do Lobo is bold and dynamic. The well-known furniture and decoration Taiwanese firm has chosen Boca do Lobo pieces to be the stars of this amazing project. The interior design is contemporary and bold marked by the light, both natural through the big windows and unnatural, by the amazing luxurious chandeliers.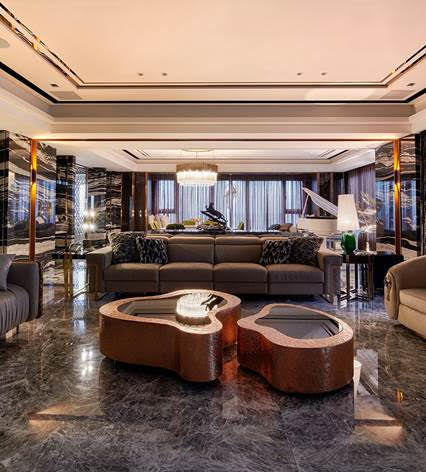 Noble is the key adjective to describe the open space, of the living room and dining room. The floor and walls are dressed by marble combined with touches of gold, which are a signature of this interior design as almost every piece has metal details. Adding some colour to the decoration of the space, the colour green is present in some pieces, as in the chairs and table lamp, making once again the connection to luxury and ostentation.
Boca do Lobo pieces couldn't be out of such a remarkable project. From the centrepieces of the living room as Soleil Sofa, Imperfectio Armchair and Wave Centre Table, to one of the key elements of the dining room, the Lapiaz Sideboard, that marks the division of the two spaces, these pieces perfectly fit in the eclectic and bold vibe of this interior.
Not only by the irreverent and avant grade design but also by the materials that combine perfectly with the design's aesthetic gives an extravagance and boldness to the design. The different combination like brass, different textures and shapes add a touch of creative and unique design.