Minimalist in design and explosive as an experience, this residence designed by The BNK Group in Nasik is a visual treat.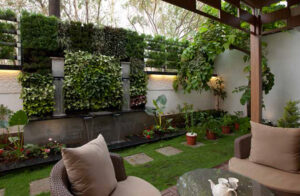 A winner at the International Property Awards 2016- 2017 under two different categories of Highly Commended Architecture Single Residence- India and also the Best Interior Design Private Residence – India, this residence designed by the BNK Group is a very good example in minimalist design with a contemporary edge.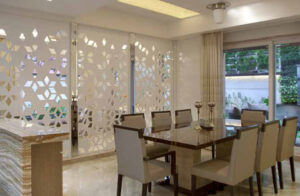 The concept was to have a very modern plush luxury house. The main door has been customized with 3D Leaf work done in MDF with a self on self design and a similar technique was used to create texture & movement in the living room ceiling.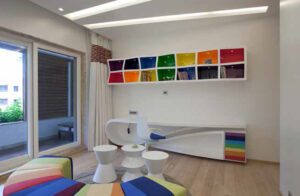 The central courtyard which is the heart of the bungalow has a Japanese breakfast table laid out in the centre with a greener experience within an enclosed structure.
The kids' bedrooms reflect their personality with the use of colors, The theatre room has use of grey and red to create a strong feel of an entertainment area. Leaning heavily on a design process that aspired to play with straight line design and clean geometric forms there are also ample surprises thrown in with interesting features such as the leaf in the courtyard.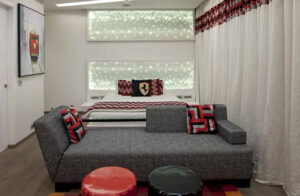 This residence is truly an ornate experience with clean and classic lines.
Contact Details
(The article was originally produced in The Tiles of India magazine, Sept- Oct 2016 issue)