Moroccan theme restaurant "Nawwarah" by designer Ankita Baid
"Nawwarah", a Moroccan themed lounge and fine dining designed by young designer Ankita Baid is a glittering example of design inspired by a confluence of both the Mediterranean and the Arabic.
Nawwarah is a three stored cafe cum fine dining and lounge located in the heart of the city of Kolkatta. The restaurant has a G+2 building comprising of fine dining and ice cream parlour on the ground floor, a bar on the first floor, and a hookah cafe and lounge on the second.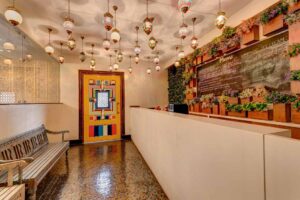 The most amazing thing about this space is the Moroccan printed floor tiles and colourful sofas that completely uplift your mood and senses the moment you enter the space. Anikta says, "The toilet on this floor is very luxurious with prints, crystals, mother of pearl fittings. The bar counter is hand-painted with colorful Moroccan prints", explaining the meticulous effort that has been taken to create a unique experience for the visitors.
A beautiful experience with antique swings, sofas, tables, and chairs, everything is made in perfect Moroccan style leaving us totally amazed!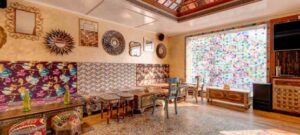 Contact Details: www.arkandarts.com
(This article was originally produced in The Tiles of India magazine, Jan-Feb 2017 issue)