Reza Kabul villa project in Lonavala
Reza Kabul villa project in Lonavala is designed, keeping in mind the different tastes and needs of visitors. The client had purchased two adjacent villas. The challenge to merge the two as one final product with clean straight lines and minimum walls. This was achieved by breaking down the central wall enlarging the area to greater spaces. The whole design was made keeping in mind the idea of a weekend home, where entertainment plays a major role and space is a must.
The exterior is made up of 50 percent natural stone cladding while the remaining is painted, done with modern lines in sync with the interiors of the place. Keeping the wide variety of likes and dislikes of various people on a holiday in mind, the basement was equipped with various indoor games like pool, table tennis as well as an AV room and disco area with fully-equipped DJ instruments. This helped ensure neighbors as well as residents were not disturbed. A courtyard along with a barbeque area was provided outside for the client to entertain guests beyond the walls.
The living room is done up in white and enhances the feeling of space while lending a calm, luxurious feel. The dining area has a bar counter nearby. Keeping the dining and bar area near the pool table helps one to continue a conversation without any break in flow.
Wood has been used at various points in the living areas, especially in the ceiling and walls to ignite warmth in the surroundings. The flooring of the lounge too is covered in wood to help transform the space into a dance floor.
Light plays a vital role to set different moods for the various areas. A warm and cozy feeling in the bedroom has been created while relaxing and subtle lighting has been used in the living area. Disco lights have been used in the lounge.
Since it is a second home, the furniture had to be minimal but relaxing and luxurious. The elaborate four fixture bathrooms are also modern. The overall villa is a luxurious, easy-to-maintain home with alive elaborate spaces for entertaining people with all moods and tastes.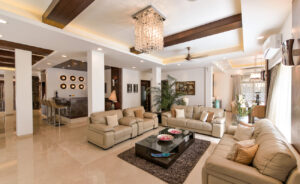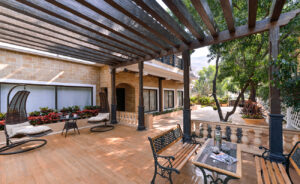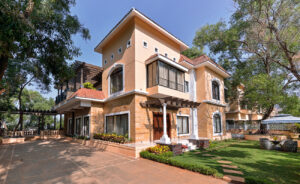 Contact Details: www.architectrezakabul.com
Global Architects Award Winning Projects