Architect Hiten Sethi's Iconic Projects
"You are what your deep driving desire is. As your desire is, so as your will. As your will is, so is your deed. As your deed is, so is your destiny." He is a strong believer of this philosophy, has made it to the top by sheer hard work and perseverance. Founder, Owner, and Director of the firm Hiten Sethi & Associates (HSA) since 1993, Sethi has a stronghold on strategic planning, high-volume and high-value negotiation, and fast-track delivery of large-scale projects in both public and private sectors.
A former student of Sir JJ College of Architecture in Mumbai, Architect Hiten Sethi is a registered member of the Council of Architecture, an associate member of the Indian Institute of Architects (IIA), past-Chairman of the Navi Mumbai Chapter of the IIA, and an associate member of the Practicing Engineers, Architects and Town Planners Association  (PEATA).
He has been felicitated by former union minister for agriculture Sharad Pawar for designing Wonders Park in Nerul, the iconic design of the new headquarters of the Navi Mumbai Municipal Corporation and by former Member of Parliament Dr. Sanjeev Naik for the sports complex for Mira Bhayander Municipal Corporation.
The Tiles of India features his 3 iconic recent projects:
National Cancer Institute (NCI) in Nagpur
Located in the heart of India, the upcoming National Cancer Institute (NCI) in Nagpur is spread across 14.20 acres. Comprehensive cancer centre, palliative care, and sustainable charity are three key phrases that sum up the mission of the institute. The project is not only functional but also sustainable, energy-efficient, and aesthetically designed.
The Navi Mumbai Municipal Corporation's (NMMC) head office in Belapur
An icon which reflects the spirit of Navi Mumbai, the NMMC headquarter houses various administrative and political departments under one roof. Imposing and expressive, it has helped the NMMC create an identity that reflects uniqueness, progress, transparency, discipline, respect for art and culture and readiness to embrace technology and growth.
National Institute of Securities Markets (NISM), Patalganga
Designing this campus that reflects the appropriate scale, image, functionality, and integration of the physical environment came easily to Architect Hiten Sethi & Associates (HSA). They succeeded in bringing together allied departments and their ideas in an environment that creates the potential for intellectual and social exchange. The buildings and landscape promote a sense of community.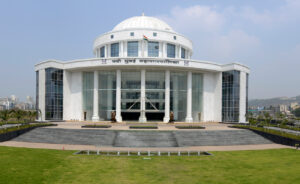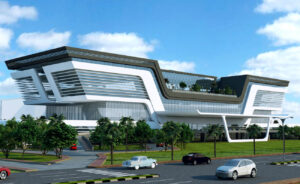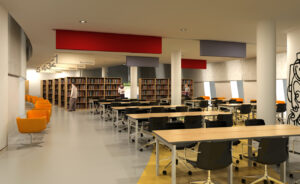 Contact Details: www.hitensethi.com
Global Architects Award Winning Projects