Reading Time:
2
minutes
The Factory Outlet-A chic resto-pub in Kolkata designed by Ar Pooja Bihani
The Factory Outlet designed by Spaces & Design buzzes with a very youthful vibe and intends to cater to the youth of the city. The 1800sft fine dining space has bold colors blending with rustic industrial charm accentuated by edgy design concepts. Spaces & Design was started by Pooja Bihani in 2006. Pooja graduated as a Gold Medalist from College of Architecture, Kolhapur, Maharashtra in 1999.
She is passionate about design, photography. Pooja has always believed in upgrading and updating to new trends and designs. She says that "Kolkata being a creative city with many artists, filmmakers, and musicians, has always inspired me profoundly. From the age of 15, I knew I will get into designing spaces. So architecture was the obvious profession!"
The design inspiration was to create a bold design to attract the youth. It had to be out of the box and well defined with separate zones for different age groups and occasions.
Many interesting elements give the place a unique feel. There are origami birds, customized birdcage seating areas, beer bottle top bar stools, bar counter with construction pipes, Fuschia pink chandeliers and to top it all the Medusa backdrop coming together to create a stunning experience that promises to transport you to an exotic world.
A major challenge in terms of designing the project was the low height of the area and also the need to designate the proper circulation of people as the floor houses other public spaces as well.
Birdcages made out of ms and iron and welded to perfection houses about 6-7 people and create a self-defining area. There are solid wood crafted beer bottle tops of 15″ diameter fixed on hydraulic stands. Dimmable led bulbs at the top form a chandelier lending the area a charm that is both enigmatic and cozy at the same time.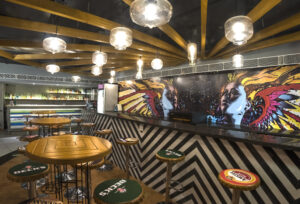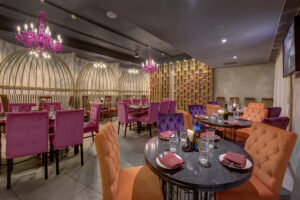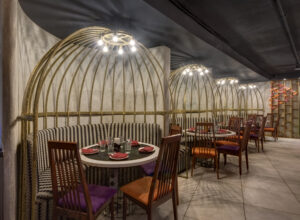 Contact Details: www.spacesanddesign.com