The Urban Terrarium project designed by Neenu Elizabeth and Harikrishnan Sasidharan
The Urban Terrarium project designed by Neenu Elizabeth and Harikrishnan Sasidharan is an example of just how their craft responds to the environment. The idea was to design the landscape for a studio in an urban context. The ambitions for the project were to develop a sustainable landscape that would improve the microclimate of the area by using indigenous plants, adding to the biodiversity, and also simultaneously create a balance of wildlife habitats and usable outdoor spaces to be a part of the studio.
No Architects Designers and Social Artists is a group of architects, designers, and social artists applying; iterative, process-oriented design for addressing the challenges in architecture.  They believe in delving deep with intense research into the characters, characteristics, conditions, programmatic requirements, their interdependencies, and relations to define the design challenge. Their work is further informed by the very decisive parameters of social context, economy, and sustainability, giving their design a unique edge.
This site was an abandoned yard, with a seventy-year-old dilapidated structure in the middle. The original structure has been modified a few times resulting in the loss of its architectural character and function.  They first recreated the original architecture and used recycled materials like old tiles and windows to arrive at the current solution.
Traditional timber techniques were used in reconstructing the roof structure. Recycled wood was used as a structural member. The entire assembly can be disassembled as metal nails were not used in the construction of the roof. The spatial frames for the landscape were made with galvanized iron tubes of square cross-section. The junctions were welded for a smooth finish.
The building materials were sourced locally. Roof tiles, windows, ceiling rafters, and planks were procured from scrap yards and reused to reduce the carbon footprint significantly. Locally produced terracotta tiles were used for flooring. The existing brick walls were repaired and given a fresh coat of white paint.
An existing well on the site is the source of water supply for the building and landscape. By adding layers of landscape, the water-retaining capacity of the well was gradually increased through the course of the project. The rainfall in the area is also allowed to percolate into the ground.
The project was challenging at multiple levels. Architects Neenu and Hari recollect how they had to recreate an entire ecosystem out of a barren site using minimum resources. All the plants used in the project where locally sourced and are found along the Western Ghats. Sturdy and resistant varieties were selected for the project. The idea was to cater not just to human beings, but to the various flora and fauna endemic to the region.
A design that merges with the environment almost seamlessly, it is organic, unobtrusive, and an extension of what surrounds it, making it truly, a beautiful example of a design that expresses itself through the mere void of it.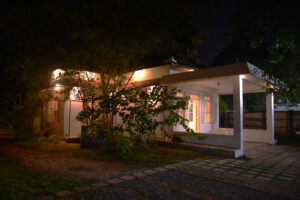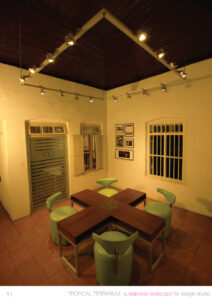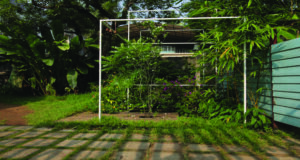 Contact Details: www.noarchitects.com