The Imprint by MVRDV, a paradise city in Seoul, South Korea
MVRDV has completed construction on 'The imprint', a new building, featuring a nightclub in one building an indoor theme park in the other, the features of the windowless structure of surrounding buildings, lifted entrances, and a golden entrance spot covering one corner of the nightclub building. Given the proposed program of the 2 buildings- a nightclub and indoor theme park the client required design with no windows, yet one that still integrated with the other buildings in the complex.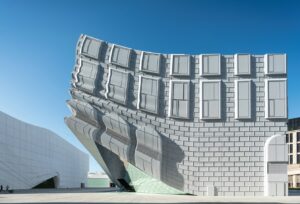 The design achieves this by projecting the facades of the surrounding buildings in the complex, which are 'draped' over the simple building forms and plazas like a shadow and 'imprinted' as a relief pattern onto the facades. In order to achieve the desired 'imprint' of the surrounding building, the façade of 'The Imprint' is constructed of glass-reinforced concrete panels. As many of the 3,869 panels are unique, the construction required molds to be individually produced using MVRDV'S  3D modeling files from the design phase.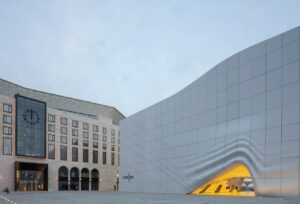 As Winy Maas explains, "Two months ago most of the cladding was done and the client said, 'then is an art piece. What is interesting about that is that they are looking for that momentum-that entertainment can become art or that the building can become artistic in that way. What, then, is the difference between architecture an art? The project plays with that and I think that abstraction is part of it, but it has to surprise, seduce and it has to calm down."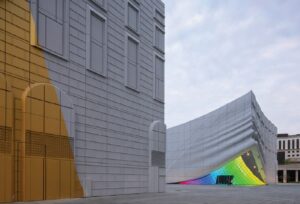 The golden spot is the project's most obvious and attention-grabbing expressive element, even catching the eyes of passengers coming in to land at Incheon Airport. The golden color is achieved simply, by using gold paint instead of white, and is reinforced by the lighting of the facades at night: while the majority of the façade is lit from below, the gold spot is highlighted from above. "The virgin building has received a splash of gold. This makes it as if the entrance is also illuminated at night by a ray of sunlight," says Maas. "Passengers in the incoming aircraft can already see this 'sun' from above the ocean, as a kind of welcome to South Korea."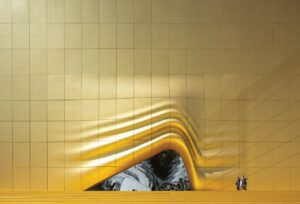 "Reflection and theatrically are therefore combined," concludes Maas. "With our design, after the nightly escapades, a zen-liked silence follows during the day, providing an almost literally reflective situation for the after-parties. Giorgio de Chirco would have liked to paint it, I think."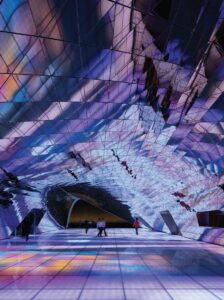 (The article was originally produced in The Tiles of India magazine, Sept-Oct 2018 issue)